With spring fully upon us, it's a good time of the year to get out and make some upgrades to the garden. Gardening is a great way to add a little sustainability to your life by growing your own food; keep the endeavor as sustainable as possible with these clever garden upcycles. From recycled pallet vertical gardens to upcycled wind chimes, there are ideas here for all living situations.
1. Pallet Porch
This porch, featured over at
A Piece of Rainbow
, is a creative use of some previously boring porch space. "Yes we are RENTERS, and yes, we sneakily 'REMODELED' a tropical island style retreat, with pallets!" wrote Ananda at A Piece of Rainbow. It's a good example of how classy you can make recycled materials look. The porch upgrade contains a box garden and incorporates potted plants, so even if you don't have a lot of space, you can still rock a small garden while making a tropical paradise out of upcycled materials.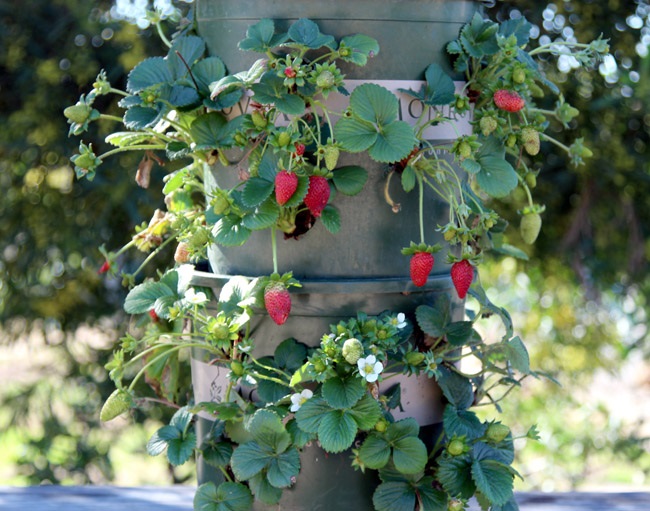 2. Strawberry Tower
Here's a great idea for strawberry lovers. "This year we made some big improvements, it worked so well that we already got strawberries, in February!" Ananda at A Piece of Rainbow wrote. This project features five-gallon plastic nursery pots, so it's a great project if you have some nursery pots to recycle. Plus, this idea comes complete with a reservoir for easy watering. Head over to
A Piece of Rainbow for the full tutorial
.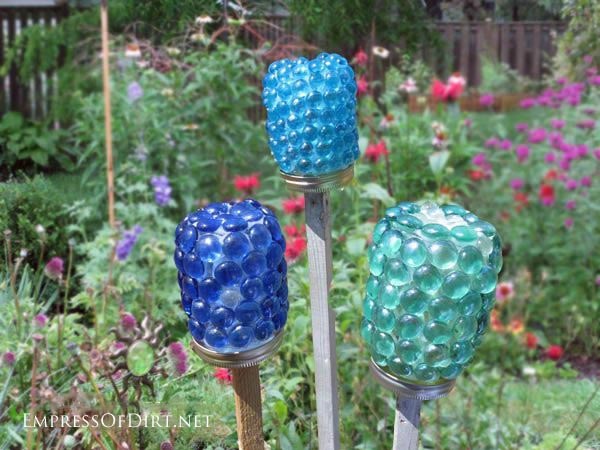 3. Garden Treasure Jars
If you want to add a little flair to your garden, these attractive jars would catch the light nicely. Upcycled mason jars could form the base of this project, with old glass beads attached to the outside of the jar. The full tutorial is at
Empress of Dirt
.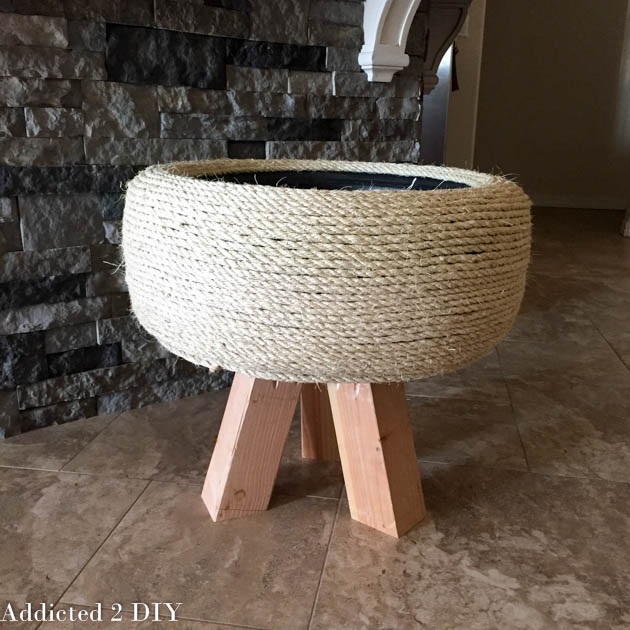 4. Tire Planter
Tires are a popular upcycle item: the rubber is easy to work with, they're easily accessible and they usually add a pleasantly rugged look to any area. Although, this project does a good job of covering the tire so the planter has a classy, universal appeal. You can find the
full tutorial at Addicted 2 DIY
.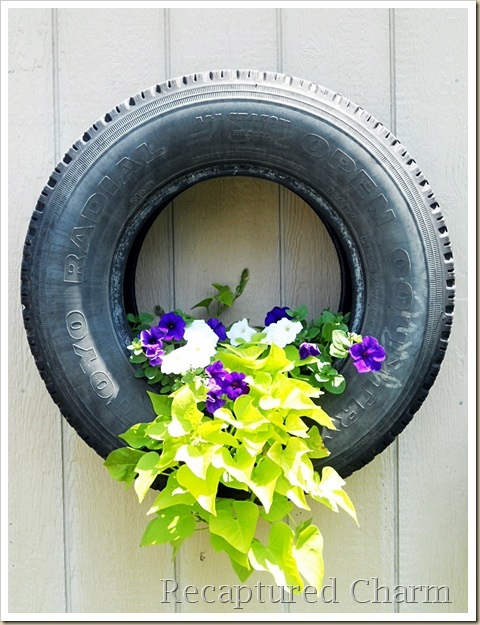 5. Wall Tire Planter
Here's another great use for an old tire. This is a great idea if you don't have a lot of space, but still want to have an outdoor garden, of sorts. It would also look great in a home with a rugged, country feel, since the tire is left exposed. You can find
full project photos at Recaptured Charm
.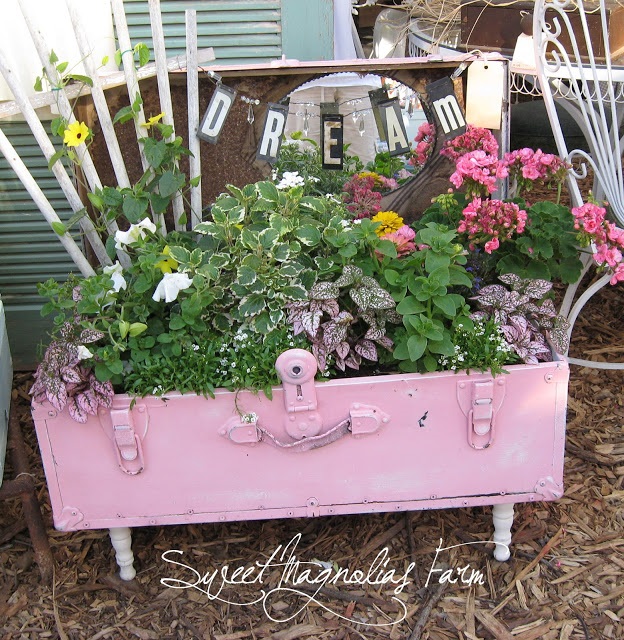 6. Trunk Garden Planter
Even old metal trunks can look attractive in the garden. This item was painted pink, and then the wooden legs were added. The lid of the trunk was well embellished too. You can
find out more at Sweet Magnolias Farm
.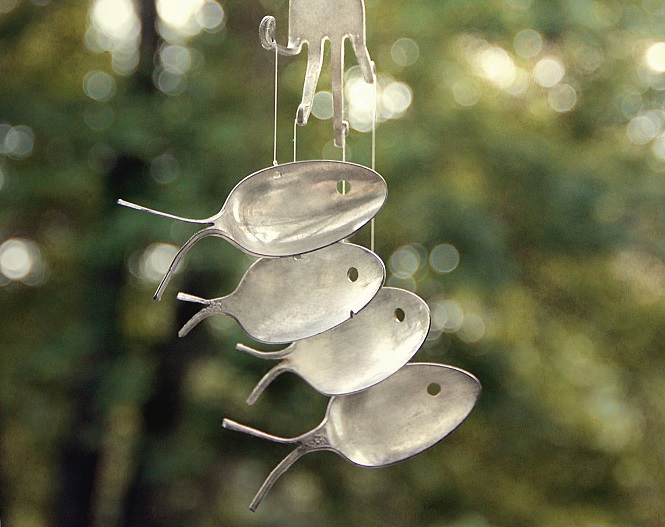 7. Spoon Wind Chime
Here's a clever use for some old spoons. These antique spoons date back to 1786. It was made by
NevaStarr at etsy
, and would look nice hanging in any garden. The patina on the old metal adds a classy, retro look.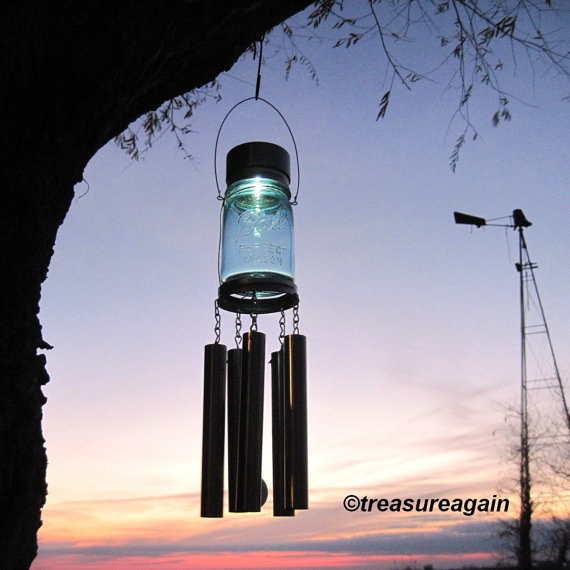 8. Mason Jar Wind Chime
Here's a wonderful use for an old mason jar. It was
made by treasureagain at etsy
. This wind chime has a solar light inside, making it extra sustainable. The chimes themselves were made out of repurposed metal, as well. The reused mason jar makes it great in any country or rustic garden, especially.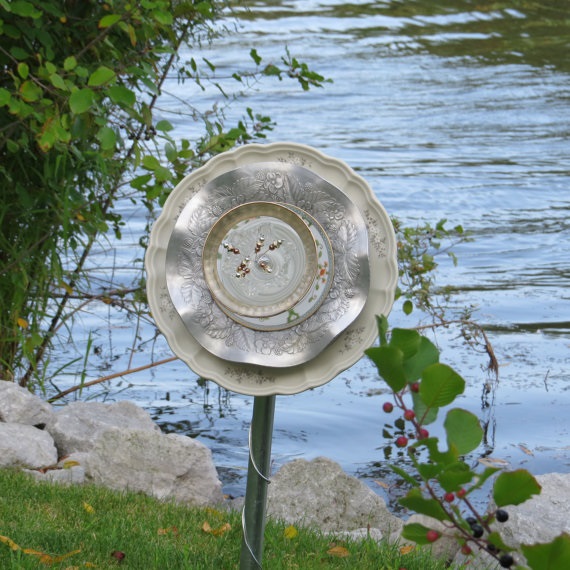 9. Upcycled Garden Flower
This garden decoration was made out of upcycled dishware
by LakeLifeBlooms at etsy
. It contains a ceramic dish, a silver bowl, a ceramic teacup dish and two glass votive candleholders. The center contains wired silver beads.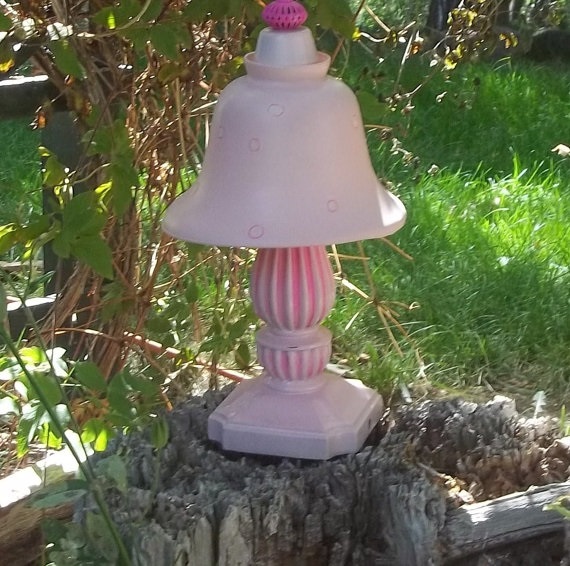 10. Garden Mushroom
The adorable mushroom above was made out of a vintage lamp
by ameliebelle at etsy
. The lampshade itself is glass. As the listing says, it would go great in a country, fairy or English styled garden. The spots on the lampshade and stripes on the base were painted to glow in the dark.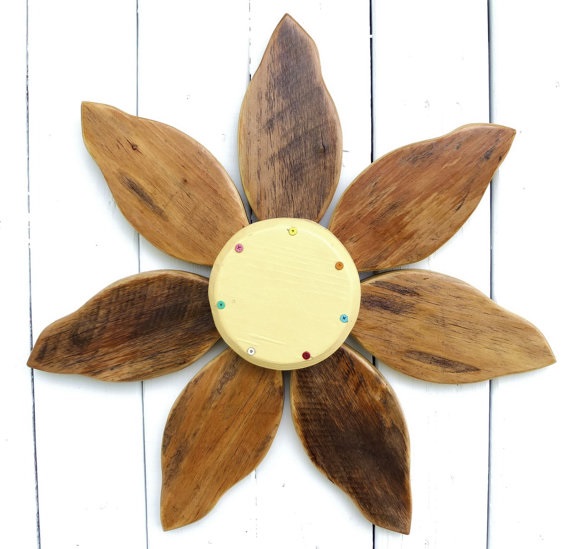 11. Recycled Garden Flower
This flower was made out of recycled barn wood. It would look great hanging in any garden. It was
made by SalvageandBloom at etsy
. It's protected with an exterior sealant for years of use.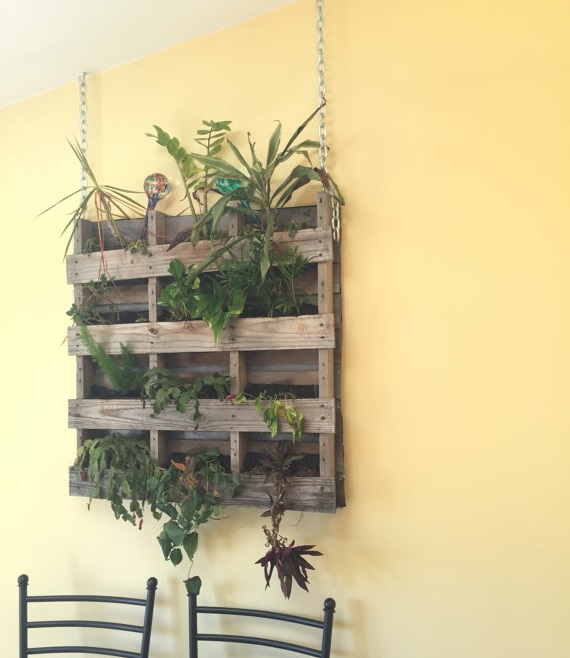 12. Pallet Hanging Garden
Don't have a lot of space for gardening? You can still make the most of garden upcycles. This vertical garden was made from a recycled pallet and is perfect for apartment gardening. It was
made by ReclaimYourWood at etsy
. It was designed to hang outside or inside, and it has a water resistant and padded back to protect the wall behind it.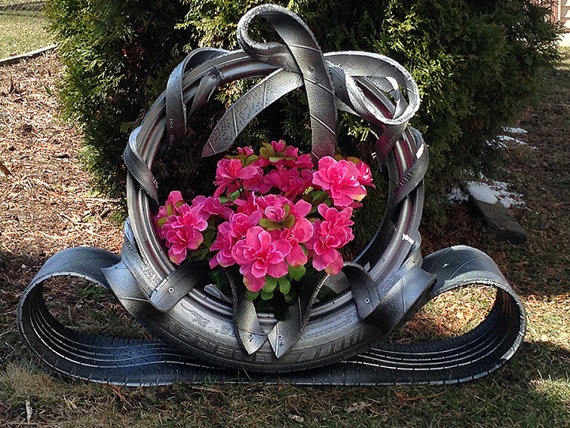 13. Artistic Tire Flower Pot
The above image really shows how classy recycled tire art can be. This would look perfect in any place in the yard. You can
find it from BeautifulTirePots at etsy
. Each of these is made to order and looks different based on the tire used.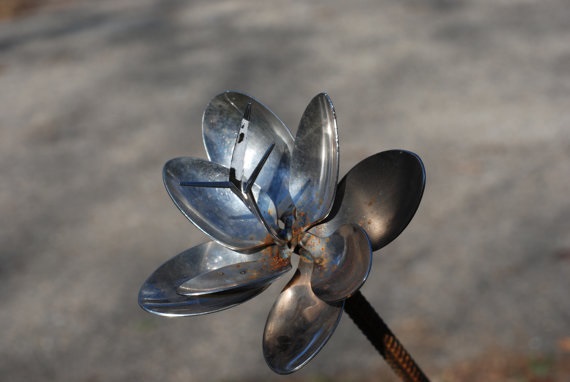 14. Recycled Silverware Flower
Here's another creative use for old silverware. It was made out of old spoons and forks. The imperfections add a bit of a rustic feel to the piece. It was
made by nbillmeyer at etsy
.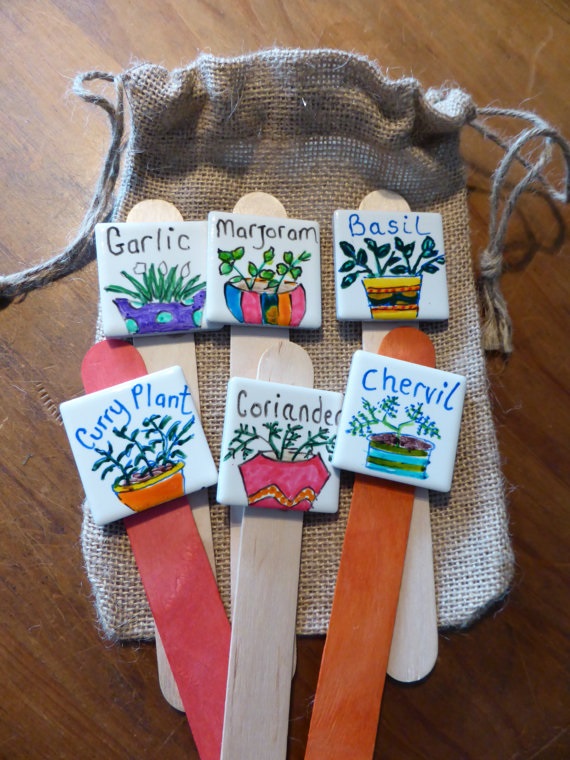 15. Tile Garden Labels
Perhaps one of the best opportunities in the garden to upcycle is when making the plant labels. You don't need anything too fancy for those materials-wise, but it's still nice to have something that looks pretty. That's where these
hand-painted, recycled tiles from BOWERBIRDMOSAICS at etsy
come in.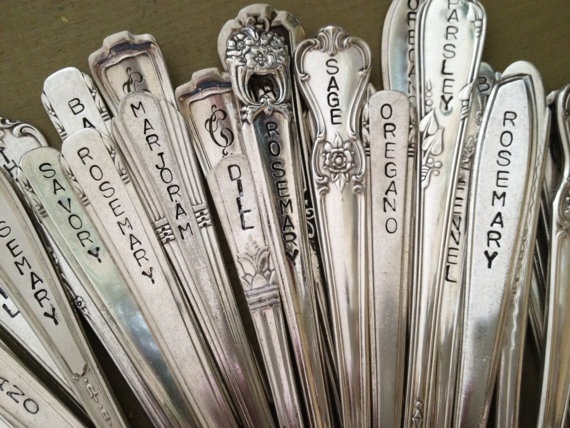 16. Silverware Garden Markers
Speaking of garden markers, these upcycled silverware markers will lend a classic look to any garden. These were hand-stamped and can be made to order by BellaJacksonStudios at etsy.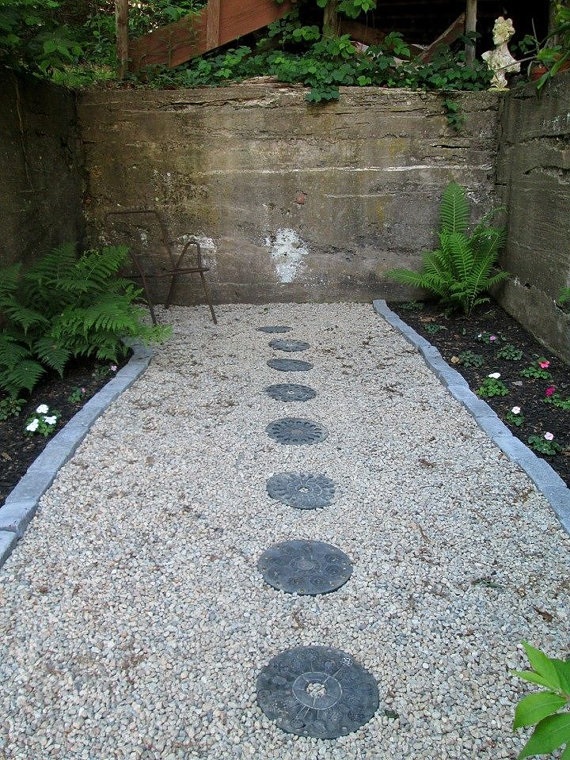 17. Retro Mold Stepping Stones
These stepping stones were actually made out of salvaged jewelry molds. It's the perfect look for if you want a more industrial touch to your garden. They're available
from midmoddave at etsy
.