Before you toss those old jeans in the garbage, here are some reasons to think about upcycling them instead:
According to the U.S. EPA Office of Solid Waste, Americans throw away more than 68 pounds of clothing and textiles per person, per year.

A typical cotton shirt requires

more than 70 gallons of water

during production, and that is being conservative. Many have been found to use more than 700 gallons.

According to

the New York Times

, about 15 to 20 percent of fabric used to produce clothing ends up in U.S. landfills.

It takes around

1,600 gallons of water

to grow one pound of cotton and it takes about two pounds of cotton to produce one pair of men's jeans.
Here are five ways to upcycle your no-longer-useful jeans. By putting your own spin on them, you'll discover your own creative variations:
1. Make shorts.
Moms have been using this upcycling trick since pants were invented. Not only does it extend the life of your now eco-chic cutoffs, it keeps the material out of the waste stream. Just make sure you cut them longer than you think they should be. It is easier to cut more if you need to, but not as easy to make the shorts longer.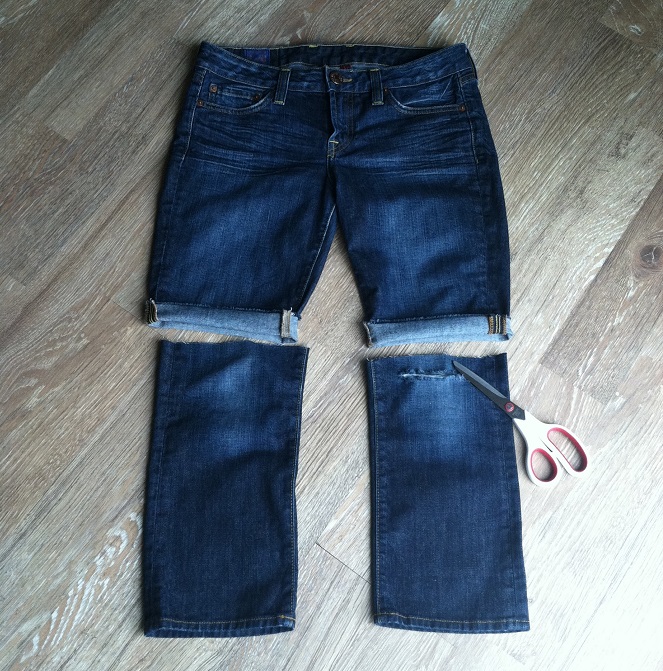 2. From the material left over from your new shorts, the possibilities are endless. For example, you could
make an adorable bunting.
First, cut out a triangle shape to use as a template. The size will depend on how large you want your finished bunting to be. I wanted a petite bunting to hang across my mantle, so my triangles are roughly 2-½ inches long. Use cord or leftover trim to attach the denim triangles either with a needle and thread or craft glue. Then hang your new bunting wherever you need a touch of cuteness.
3. Another cute project to make from your leftover material is
a fabric flower.
I have made dozens of these flowers from fabric scraps and have turned them into hair clips, pins and napkin rings. The possibilities are endless. For this project, I used a glue gun. You could also use craft glue or a needle and thread.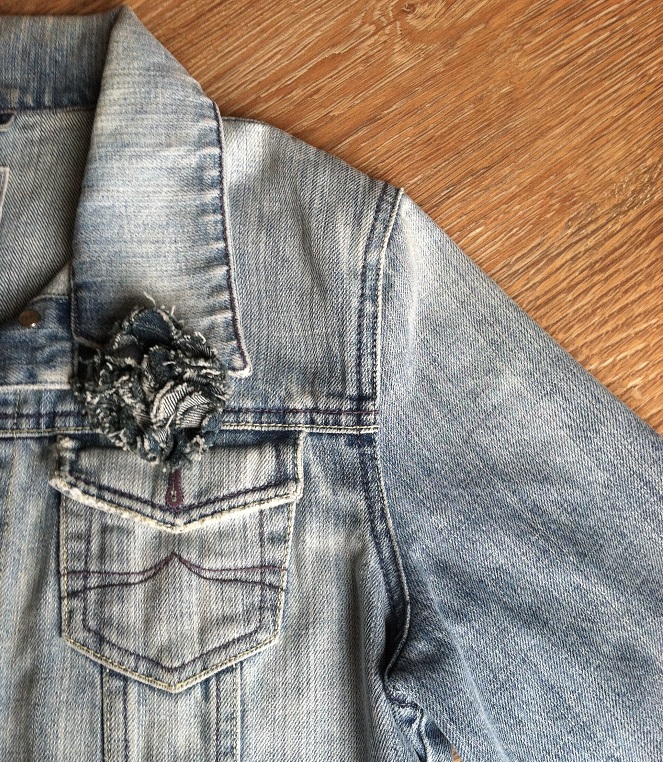 First, freehand a flower shape onto a piece of paper or felt and cut it out. My flower shape is roughly 3 inches in diameter. Next, use your template to cut out at least seven flowers from your fabric. You will also need to cut out a circular piece. This is what you will glue your fabric flowers onto and it should be the diameter that you want your finished flower to be. I decided to glue my flower to a clothespin so I made my circular piece a little oblong.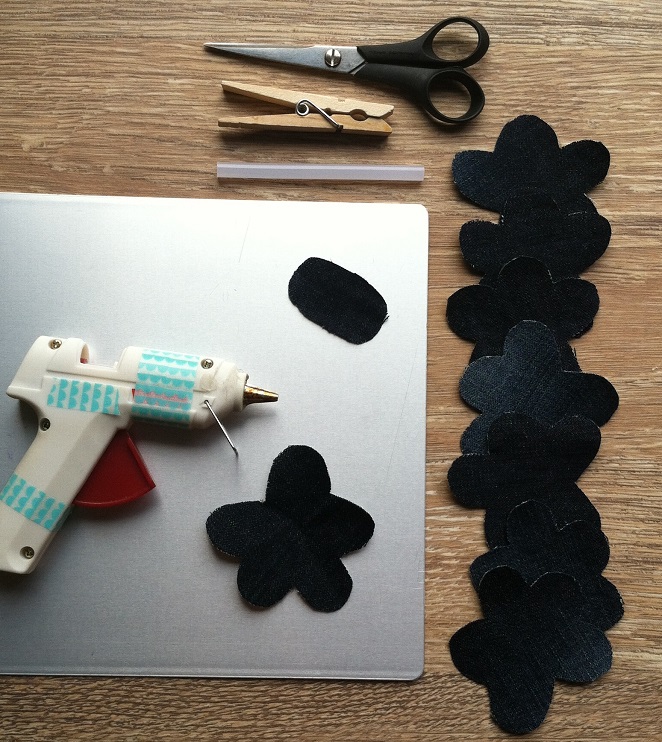 Next, fold your first cutout flower in thirds and cut off the bottom so you have a straight surface to glue on to your circular piece of fabric.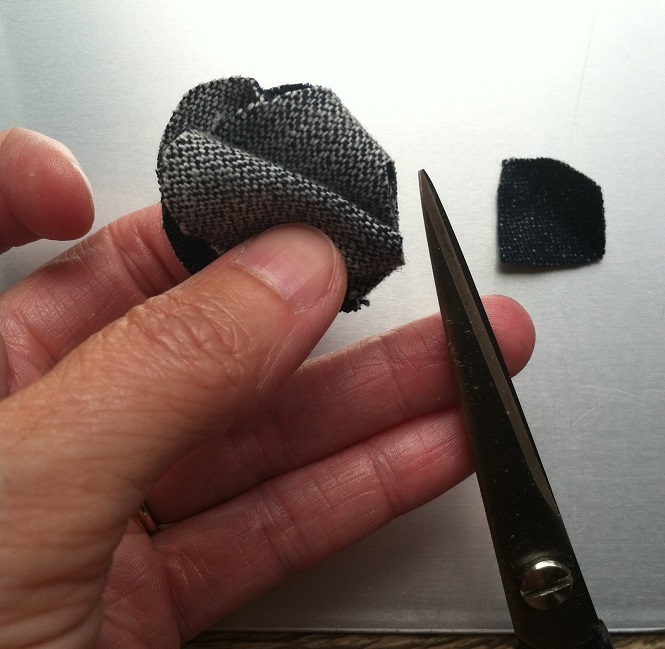 Glue your first flower into the middle of the circular piece of fabric. Continue folding, cutting, then gluing your flowers to the circular piece. I used seven flowers for this project.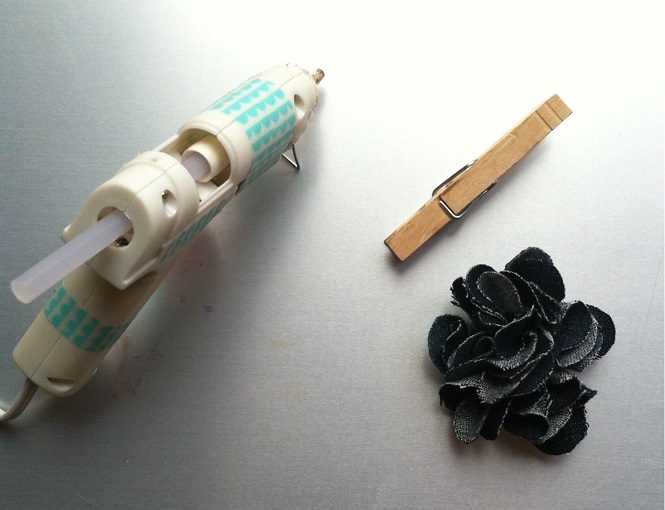 Glue your completed flower to your clothespin or hair clip, pin, etc. and you have a lovely fabric flower to gift or to keep for yourself.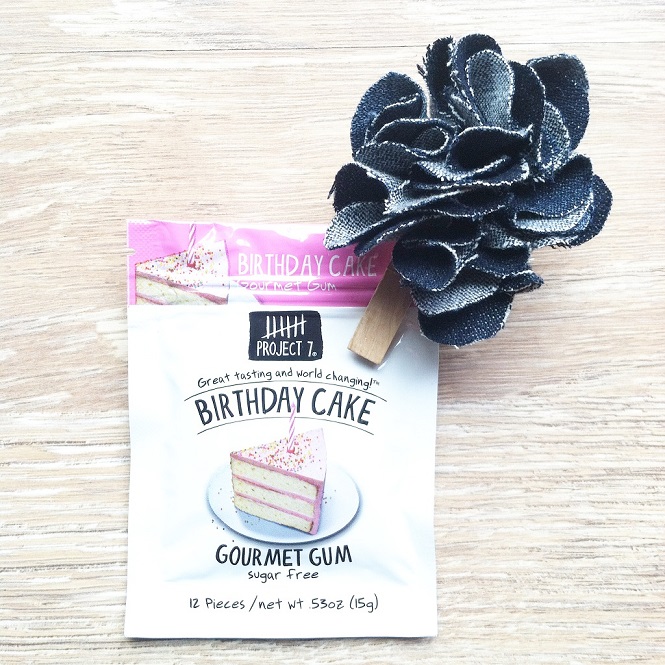 4. Another fun project to do with your leftover denim is to make
unique cloth bracelets.
This is an easy project that can be as simple or complex as your imagination makes it. It is also a great project to do with kids. My girls helped me design four beautiful bracelets. We used buttons and embroidery floss to complete our patterns. For our bracelets, we cut out strips of fabric and we used the seams already sewn on to the denim to our advantage.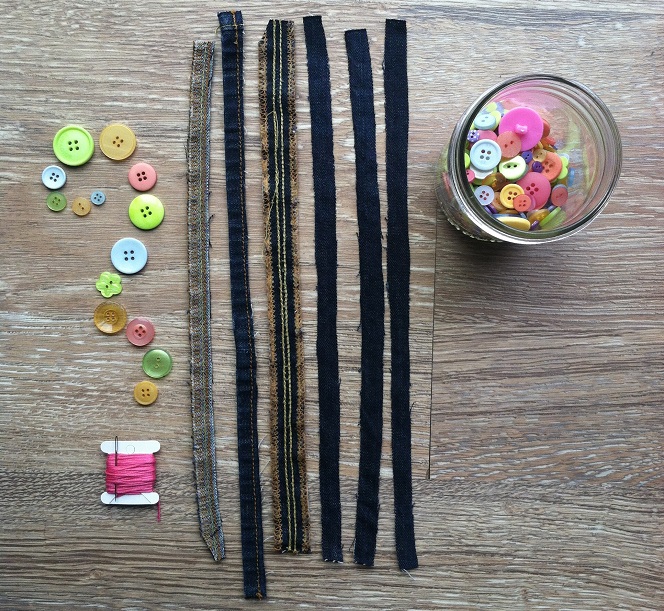 Cut a thicker strip of denim. You can fold it to make a cleaner edge and use it as a canvas for your embroidery floss art.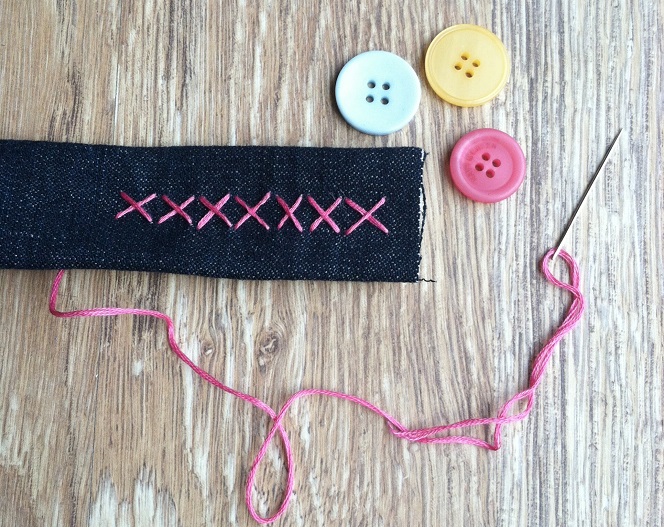 You can also braid your strips together or recycle old buttons for embellishments. Again, the sky is the limit. We used elastic trim to close our bracelets, so they would fit but still be comfortable. We will be making more of these!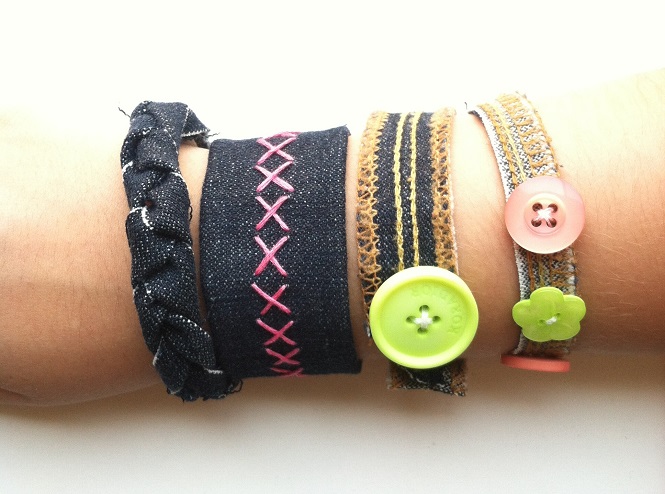 5. The last project is
a simple bag.
This is also a project that can be more or less complex depending on how you will be using your completed bag and on your sewing acumen. I decided to make a bag to hold our chip clips and refrigerator magnets. I simply stitched a straight seam to make the bottom of the bag.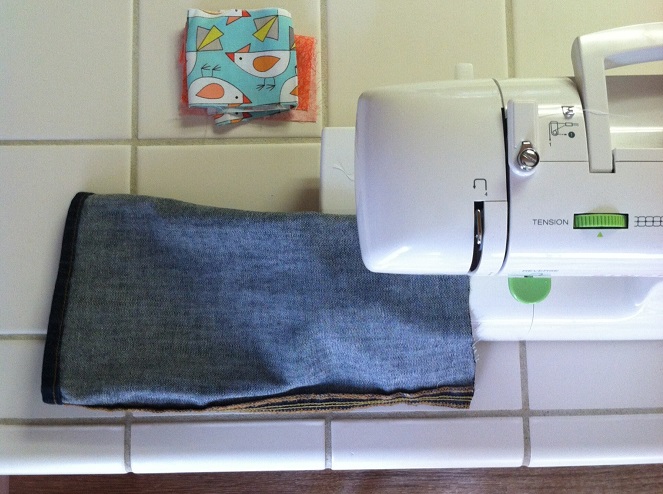 I then stitched both sides to make a square bottom for my bag. Here's
a great tutorial
on stitching a denim bag including detailed instructions on how to measure and stitch to a make your square bottom. And now I have a great looking way to keep our chip clips and magnets handy.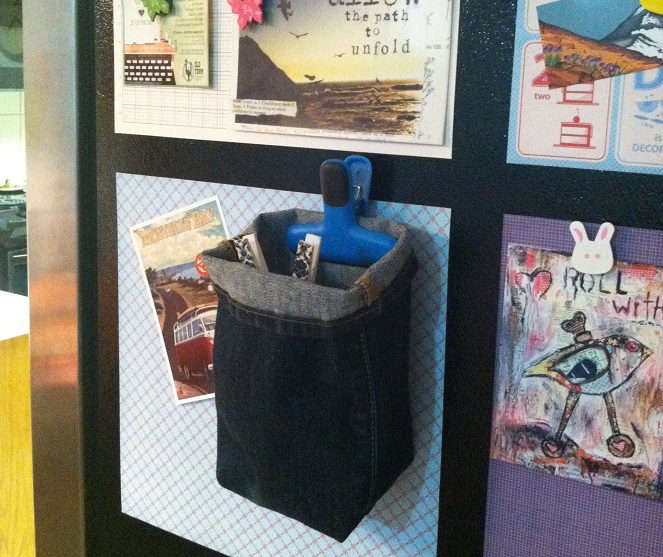 With these five simple projects, I have recycled all the fabric from a pair of unused jeans. If you don't have jeans that need a new life, you could always rescue a pair from your local thrift store and upcycle them into an amazing host of new creations.