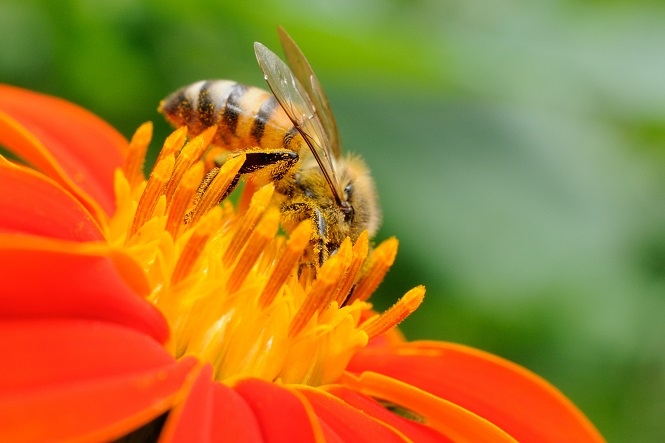 As the weather keeps getting warmer, we're spending more and more time outdoors. Maybe we're spending time in our garden again or planning a fun outdoor
dinner party
. But nothing can ruin the fresh air quite like bees buzzing all around you. This means it's time to start planning for how to keep bees and other insects away while spending time in the sun – and not harming the environment. Many people will turn to insecticides to get rid of bees, but it's been proven this
isn't the best route.
. The bee population has been in decline since 2006, and insecticides are a big part of that. Bees are beneficial to us for many reasons, so it's best to avoid methods that kill them off. And, luckily, there are easy, natural solutions to keep bees away from your outdoor activities without killing them and, ultimately, harming the environment.
Cucumber peel

Cucumber peel is great for

keeping bees away from specific, small areas. For example, you may begin to open your doors and windows to let in the nice, warm air. But if bees decide to let themselves in as well, you may want to consider taking bits of cucumber peel and setting them out on or by your window frames. This also works well for certain areas of the garden.

Peppermint Bees want to avoid the smell of peppermint in the areas and plants they hang around. If you put peppermint plants outside or around your house, they will avoid the plants and, by default, your house. It's a win-win situation – you won't have to deal with buzzing around your head and you'll have delicious peppermint for yourself when the plants are done growing!

Cinnamon Spreading cinnamon in areas that bees frequent is a great way to drive them off. You do have to make sure to do it daily for at least a week, but it will have a lasting effect.

Crushed garlic If you chop up garlic and soak it in water for a few days, it will make a great bee repellent if you set it up around your plants or places where humans frequent outdoors.

Vanilla mixture Maybe bees are more attracted to your skin than your home or garden. Vanilla extract is great for keeping bees off of your body. Mix a tablespoon of extract with water and you will keep them away from you, even if it is an area that's popular for bees (if you're not a fan of vanilla, baby oil will work fine, too).

Baby powder

And finally, not all kinds of baby powder are completely natural, but organic baby powder is a good solution for keeping bees away. Sprinkle it around any areas you deem necessary, and voila! Bees should be gone!