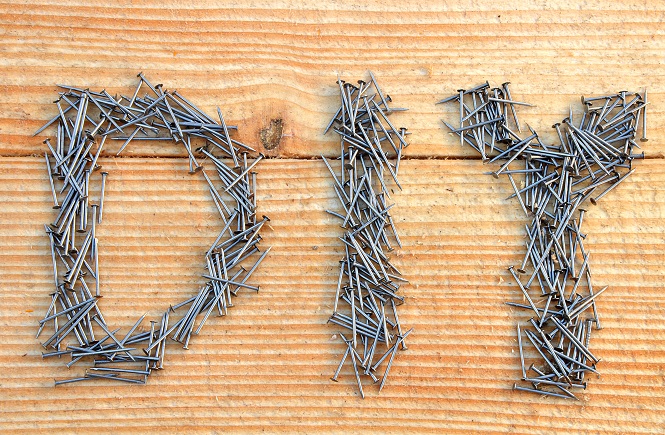 Summer is quickly approaching, and it's the perfect time of year to get your hands dirty and engage in some DIY. While doing some spring cleaning, you may have found some old dressers, tablecloths or other random household items you no longer need. You could certainly donate them to a worthy charity, but you could also breath new life into what you already have to create something new? With so many amazing DIY upcycled furniture ideas out there, it will be easy to get some inspiration. Here are some fun upcycled furniture ideas we knew would be a hit.
Take dresser drawers and create bookshelves
Many people have an old dresser with one broken shelf that they keep using anyway – eventually becoming quite frustrating. If you have decided to move on and purchase a new dresser, don't think that old one needs to go to the curb. The leftover drawers can be made into super cute
wall bookshelves
. All it takes is a little power tool action and maybe some fresh paint and voila – custom drawer bookshelves, perfect for a child's room or a shabby-chic living room.
Transform that dresser shell into a mini bar
The drawers weren't the only pieces of that dresser that can be repurposed. There are endless things to do with the shell – this
post
has loads of cool ideas. One we liked was a vintage-looking mini bar. Put some cute wallpaper or wrapping paper on the back board for a personalized look and attach hooks to store bottles and glasses. This
Apartment Therapy blog
has some great examples of DIY mini-bars you need to see to believe.
Make a DIY doggy bed out of a side table
There are lots of 80s-era side tables roaming around – the ones that have a large door for storing whatever. While not exactly chic anymore, it would certainly make a lovely space for your favorite four-legged friend. Remove the door, give the unit a good scrub, sand and paint and it's almost ready. Place a dog pillow or
make your own
and place inside. Before you know it, your little buddy will have his or her own in-home alcove. Check out this
website
for a full tutorial.
Create a cute ottoman from an old rug
There's nothing better than a good pouf or ottoman to lay your tired feet on. Instead of paying a fortune for a brand new piece of furniture, make your own for only around $15. If the only rugs you have laying around are stained, you can always buy small, flat-woven rugs at Ikea for about $3. After a bit of cutting, sewing and stuffing you will have a comfy and unique pouf you made all by yourself. Check out
this website for a step-by-step guide
and ideas for what to stuff your ottoman with!
Take old tires and made an outdoor table
Looking to update your patio furniture in a creative and cute way? This tire table is adorable and easy to make. Simply take two old tires, spray paint them the color of your choice, and put some plate glass on top – preferable round. Put some twinkly lights or cute stones in the middle for an extra touch of class. If you want a full outdoor makeover,
this blogger
also made custom benches and pillows with her tire table.
Build a DIY pallet home theater
Upcycling old pallets is all the rage this day, and this
DIY home theater
is a mega-impressive yet surprisingly simple thing to build. Sand and paint some pallets, stack them in a stadium seating order, then cover with futon cushions and pillows. And no, you do not need an expensive movie projector in order to enjoy your new hangout area. Hang a white sheet on the wall and make this simple
DIY projector
out of an old shoebox and magnifying glass.
Make a gorgeous nightstand out of a trash bin
This may sound crazy, but
this blogger
found an adorable way to upcycle a basic metal trashcan into a hip nightstand. Simply flip the trashcan over – the one the blogger used looked like
this
– and spray paint it the color of your choice. That's it – once the paint dries, your new nightstand or side table will go great in any room of the house.
Craft a functional desk out of a crib
Perhaps even crazier than a garbage can nightstand is a crib desk. But it actually makes perfect sense when you think about the crib's structure. Remove the sliding gate on a typical crib and use it as a shelf instead. A piece of nice plate glass over the top – or some other material you find – and you have an awesome desk. See this
example
for some inspiration.
Use wooden shutters to make a rustic bench
Old-style wooden shutters are classically rustic and are perfect for a DIY bench. These are often found in old homes or ones that are being remodeled. Get some basic short table legs, a piece of baseboard and an old shutter to match. Sand and stain or paint your ingredients and then put them altogether for a pretty place to sit. This
website
offers a full tutorial – and lots of other cute DIY ideas.
Turn a vintage window into a cool coffee table
Much like pallets, vintage windows – especially large ones – are having a huge moment. One innovative idea for a larger windowpane is a coffee table – it takes a little bit of craftsmanship but is easier than you'd think. Build the base of the table with two-by-fours, add casters if you want and then attach the window. If you want the window to open for storage purposes, add hinges to one side. This
website
offers a step-by-step guide to getting your window coffee table just right.