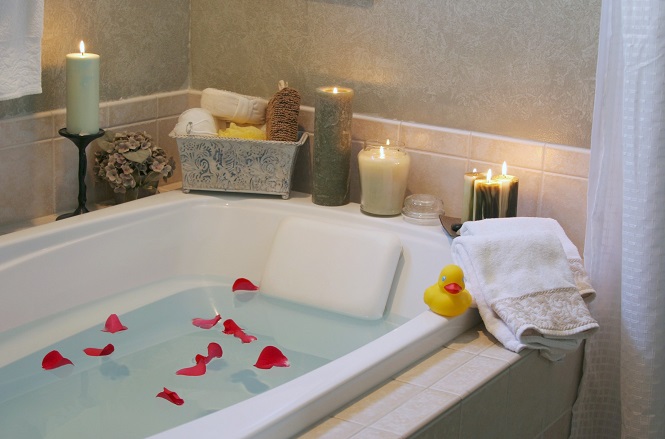 Enjoying a nice hot bath or at-home facial is an excellent way to treat yourself and unwind without spending a pretty penny. There are plenty of luxurious bath and body products on the market, promising to take you away to a different world while also costing a fortune. Taking a trip to the spa for a day of pampering can also set you back quite a bit. Instead of blowing a week's worth of salary for a few hours of mud baths and charcoal masques, you can re-create the ultimate spa right at home with natural ingredients you probably already have right in your pantry. Here are some easy yet lavishing DIY bath treat ideas to bring you into your own personal paradise.
Bath Bombs
There are lots of homemade bath bomb recipes out there, but many of them are way more difficult than they should be.
This recipe
is simple and allows you to choose the scent of your choice. Here are two pro tips: Skip the colorant (it's expensive), but do not use food coloring either – it will stain the tub. If you really want some color in there, add a couple extra drops of essential oil. You may also find it tough to find the ingredient "powdered citric acid" (the stuff that makes the bombs fizzy) but we found it in the bulk section of Whole Foods.
Lavender and Peppermint Foot Cream
This rich DIY foot cream is a bit more advanced to create, but really it is all in the ingredients. There are a lot of different natural butters and oils that you may need to purchase before making the cream, but the good news is that you will now have the ingredients to make future batches (think of what great gifts the cream would be in a cute jar!). Besides, it is totally worth it to collect all of these luxurious ingredients, as you will also be able to make a plethora of other items. Check out
this website for a step-by-step recipe
for the foot cream, as well as other yummy DIY bath stuff.
Sugar Scrub Cubes
These decadent
sugar scrub cubes
smell incredible and leave your skin feeling silky smooth – just make sure not to actually eat them! All it takes is some sugar, soap base, a fun body-safe fragrance and jojoba oil to create these cute cubes. Once everything is mixed just right, you pour the scrub into a baking dish to harden. Once solid you can cut into cubes – or use cookie cutters to make fun shapes. Use the cubes to exfoliate in the shower or bath and then make an extra batch to give as gifts!
Vanilla Bath Salts
Bath salts are one of the easiest things to DIY – if not the easiest. Make a big batch and have every single bath you take become a fragrant oasis. If you are thinking Caribbean, combine one cup of Epsom salt with 1 ½ tablespoons of baking soda. Using vanilla essential oil (or another indulgent scent of your choice), add to the salts drop by drop, gently stirring. Add the fragrance until it is strong enough to suit your preferences (remember, certain oils smell stronger and therefore you will use less). Mix until completely combined and store in an airtight jar. This is another great DIY holiday gift as you can literally cross a dozen people off of your list for next to nothing.
Cocoa Butter and Almond Oil Bath Melts
Bath melts are all the rage right now and for good reason – they envelop your skin with moisture, leaving your body refreshed and hydrated.
The melts
are easy to make, using only cocoa butter, sweet almond oil and an essential oil if you want a touch of scent. Melt the butter, add the other ingredients and pour into a mold – silicone mini-muffin molds work great. Leave until the melts are firm – placing the mold into the fridge will speed up the process. Once finished, pop in the bathtub for a little rest and relaxation. Just remember that they could make the base of the tub slippery – so watch yourself when you stand up!
Honey Bubble Bath
Another fun way to up your bath time game is by surrounding yourself with delicious-smelling bubbles. This honey bubble bath is super easy to make, using baby oil, honey, unscented liquid hand soap or shampoo and vanilla extract. The unscented soaps are apparently difficult to find, so
this blogger
suggest using a honey-vanilla hand wash. She also has super cute printable labels for the bottle you end up storing the bubble bath in.
Aromatherapy Shower Steamers
Some people prefer showers to baths and let's face it – no one has the time or the wish to use lots of water every time they wish to get cleaned up. However, you can still have a spa-like experience during your routine shower.
These shower steamer pucks
will fill your shower with an aromatic steam that can refresh and/or relax, depending on which essential oil you decide on. Peppermint or orange will energize you for your day while eucalyptus and sandalwood will put you in the mood for dreamland.
Pressed Herb Candles
What's a good bath without a decadent smelling candle? Instead of spending loads on one of those designer candles, make your own pressed herb candles using dried herbs, beeswax and essential oil. Beeswax and wicks are readily available at most craft stores, as are mason jars to pour the candles into – that is, if you do not have your own. Tie a cute ribbon around the top of the jar to complete the rustic look. Check out this
full tutorial
to learn how to make your own.