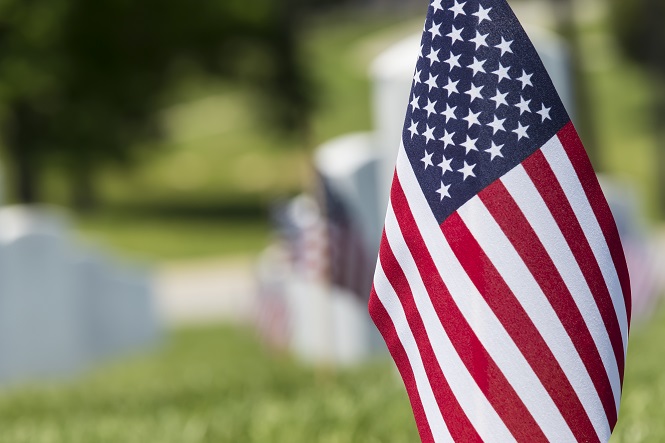 The start of the summer travel season officially begins this weekend with the Memorial Day holiday. This patriotic holiday, wherein Americans celebrate service members and their sacrifices for freedom, generally consists of long weekends at lakeside cabins, BBQs and, of course, gratitude for those who have served. Most people who enjoy this yearly rite of summer focus on avoiding traffic, buying enough hot dogs and stockpiling firewood. But how often do people think about the ways to make Memorial Day a bit more eco-friendly? It turns out there are tons of different ideas for saving resources (and money) while protecting the planet at the same time during the Memorial Day season. From travelling efficiently to making your backyard party more sustainable, you can definitely celebrate your patriotism and your dedication to the earth at the same time. Memorial Day, as with many of our national holidays, is about reflection and gratitude. Why not offer it to both service men and women and Mother Nature at the same time? Check out these tips on how to have a more sustainable Memorial Day Weekend.
Keep travel costs and carbon footprints low
According to AAA, there will be approximately 37.2 million Americans traveling at least 50 miles from home this holiday weekend. Of these, about 33 million will be driving to their destinations. If you are one of the road warriors about to face the open road, there are a few things you can do to ensure an eco-friendly (and money-saving trip). Use the GasBuddy app on your smartphone to check gas prices in your area – find the lowest price and fill up there before heading out. At the same time, make sure to check your oil and tire air pressure in order to ensure your engine is running efficiently. To avoid traffic, try to leave at an off-peak time if possible. But if you must sit in bumper-to-bumper traffic, do not idle – it's a waste of gas.
Remember to respect the Earth – and others around you
A traditional way to celebrate Memorial Day Weekend is to go camping or stay at a cabin. The great outdoors are a wonderful place to reflect and see what Earth has given us – this gratitude should be returned by respecting where you are. Do not litter (obviously!), and remember the old rule – "take nothing but pictures, leave nothing but footprints." Ripping down branches in the woods surrounding your getaway spot is disrespectful both to the local eco-system and to the potential owners of the land. In addition, blowing off fireworks is fun at the time but can be quite an environmental issue the day after as debris fills lakes and wooded areas. Instead of using traditional roman candles or bottle rockets, use sparklers – then dispose of the metal wand properly.
Upcycle your Memorial Day décor
Decorating for any holiday is always a great time, especially if there are children in your home. Patriotic times like Memorial Day are a good chance to teach kids about the importance of the holiday while also making a fun craft or art project. From gorgeous tin can luminaries to line your backyard to a DIY red, white and blue clothespin wreath, the ideas are endless. This
website
has lots of fun and easy patriotic crafts for the whole family that are sure to impress your party guests.
Make your Memorial Day party eco-friendly
Just like any other get-togethers, Memorial Day barbecues and lakeside cocktail parties can always be made more eco-friendly. Remember to avoid single-use plates, cutlery and cups, especially ones made from Styrofoam. If you need to use single-use, there are products out there are made from recycled materials. The same goes for table runners and other party essentials. Encourage guests to carpool or bike to your fete if they can, thus reducing the party's carbon footprint. And don't forget the recycling and compost bins around the property – having a goal of a zero waste party will not only help the Earth but perhaps even educate your guests.