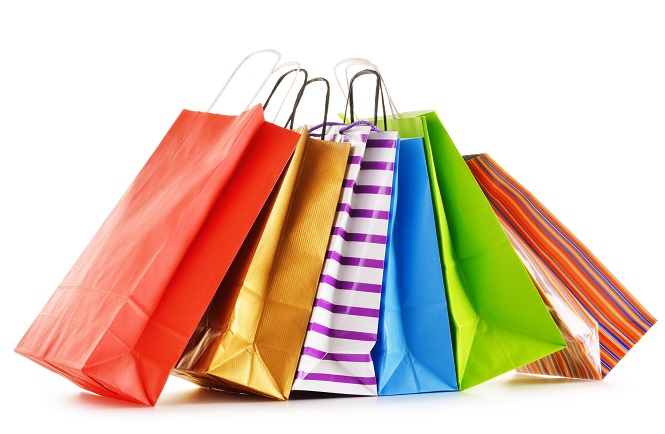 Gift bags are the ultimate recyclable and reusable gift wrap. You can use them over and over again, which saves both money and paper. Gift bags are also handy when you have an odd-shaped gift that is hard to wrap, or are short on time. But no good thing lasts forever. Eventually, your gift bags will wear out and you will need to dispose of them. When that time comes, make sure you check with your local solid waste district to determine their policy on gift bag recycling. Most communities will allow you to place gift bags in your curbside recycling bin if they are made with nothing but paper. In other places, however, this is a big no-no. Need the rundown on all things gift bag recycling? We have plenty more details below, including a list of several communities that say "yes!" to gift bag recycling. We also have some tips on recycling other types of gift wrap, including wrapping paper and tissue paper.
What are gift bags made of?
Gift bags are made with a wide range of materials. Some are paper or lightweight cardboard. It is common for paper gift bags to be coated with a thin layer of clear plastic. Some gift bags are made entirely from plastic. You can also find gift bags made from various types of fabric such as burlap, cotton and organza. Many gift bags have some type of adornment. Rope handles are very common. Sometimes the holes through which the handles are threaded have metal rings around them. The bags may be decorated with fake jewels, glittery cut-outs, wire, feathers, ribbons or foam decals. Keep recyclability in mind when you shop for gift bags. The shiny bag with gold and silver foil decorations might be tempting, but it will sit in a landfill for a long time when it finally wears out.
How to recycle gift bags
Gift bags that are made with paper and nothing else can be recycled in communities that allow it. If your paper gift bag is studded with things like glitter or beads, or has rope handles, make sure you remove them first. Here are several communities that allow residents to place gift bags in their curbside recycling bins:
Kansas City (if Deffenbaugh Industries is your hauler)

Austin

Bellingham

Greenfield, MA

Rockville, MD
Gift bags made with plastic, plastic-coated paper, fabric and other materials will likely need to go in the trash can. If you live in a town that prohibits gift bags in the recycling bin, you will also need to place them in the trash. The rule with recycling is always "when in doubt, put it in the trash." Adding a non-recyclable item to your recycling bin could screw up an entire batch of otherwise reusable paper. It is better to throw away one small item than running the risk that a recycler will need to throw away tons of perfectly good material. If you have any question about whether a gift bag can be recycled, place it in the trash.
Can wrapping paper be recycled too?
Most wrapping paper also receives a thin coat of plastic before it is rolled up and placed on store shelves. Foil and cellophane wrapping paper have also become popular in recent years. None of these types of
wrapping paper can be recycled
. There are a few places, like New Orleans, that will take wrapping paper for recycling if you are certain it is only made of paper. However, most recycling agencies ask people to place wrapping paper in the trash. Tissue paper is made with low-grade paper that will easily dissolve at a paper recycling plant. As a result, tissue paper can typically be recycled. However, check with your local recycling agency to see if they have a policy on this. Some communities prohibit it because their recycler cannot accept it. In other places, residents are encouraged to compost tissue paper rather than recycling it. Make sure you do not recycle tissue paper that has glitter or other items mixed in with the paper. Items often found on wrapped gifts, including bows and ribbons, cannot be recycled. Greeting cards and gift tags can be recycled as long as they do not have too many non-paper adornments, including glitter and foil.
Ideas for crafting your own recyclable gift bags
You can make your own gift bags at home using highly recyclable materials (some of which you may have on hand already). This is a great activity for kids or a fun way to amuse yourself when you are watching TV at night. Here are several ideas for making your own reusable and recyclable gift bags:
Take brown

o

r white paper lunch bags and color on them with markers or crayons. You can also add photographs, stickers, foam decorations and other items, but keep in mind that the user will need to throw those away before they recycle the paper bag.

Place gifts in colorful cloth grocery bags. The recipient can use the bags on future shopping trips. Just make sure you

select bags that do not contain lead

.

Craft a fabric bag using a Japanese folding technique called furoshiki. Wine and other things that come in bottles look particularly festive wrapped up in a length of holiday-themed cloth. The website

So Sew Easy

has instructions for creating cloth gift bags that range from very easy to more challenging.