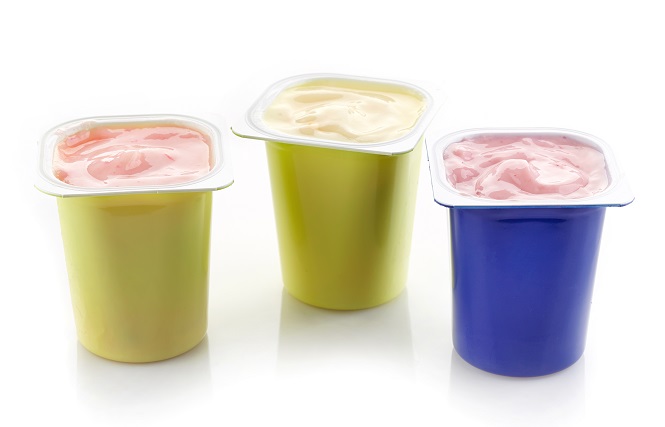 There are many benefits to eating yogurt. It is packed with protein and calcium. The probiotics in some types of yogurt will help boost your digestive system and perhaps even
improve your overall health
. Yogurt is easy to transport, making it a great meal on the go. There are also many benefits to recycling yogurt containers once you are finished with them. Yogurt containers are made of plastic, which will not biodegrade in landfills (but will give off toxic chemicals if incinerated). That plastic can be recycled into new products and reduce the need to divert petroleum resources for that purpose. Yogurt containers can also be reused around your home in a variety of ways. We have the skinny on yogurt container recycling.
What are yogurt containers made of?
Yogurt containers are made of polypropylene, also known as PP or by the recycling #5. It is considered a food-safe plastic, so it used to hold all kinds of foods, beverages and medications. It can also be used to make carpeting, roof membranes and fabric. Most yogurt containers used to come with plastic lids. However, many manufacturers now top yogurt containers with a piece of foil instead. Occasionally, you may find a piece of plastic or wax paper on the inside of a yogurt container to help keep it fresh.
How to recycle yogurt containers
The two most common types of plastic accepted through curbside recycling programs are #1 and #2. Some communities, including Rockville (MD), Raleigh (NC) and Ann Arbor (MI) will take a wider variety of plastics, including #5, but this is rare. It is more common for curbside recycling programs to refuse #5 plastic, which can leave you scrambling for a place to take your yogurt containers. The good news is that you have several other options for recycling your yogurt containers. Check with your local recycling center to see if they accept more types of plastic, including #5. Many counties or private businesses have more comprehensive plastic recycling programs. A company called Preserve runs a
#5 plastic recycling program called Gimme 5
. They collect plastic and use it to make consumer products such as razors and food storage containers. Whole Foods is a major partner in the Gimme 5 initiative and has collection bins for yogurt containers, water filters, prescription bottles and other #5 plastic items in many of their stores. If you do not live near a Whole Foods, you can mail all your #5 plastic to Preserve using the address on their website. There is no charge to recycle these plastics other than the cost of shipping.
How to recycle yogurt container lids
It is important to note that even if your community accepts plastic yogurt containers, they may not accept the lids. Container lids are often made with a different type of plastic than the tub. In addition, it is easy for lids to get mixed in with paper, which contaminates that product when recyclers go to process it. Inquire with your recycling company to find out if they give a thumbs up or a thumbs down to plastic yogurt container lids. There is little information available about whether foil yogurt lids recyclable. However, a few communities (including Portland (OR)) share that foil lids can be recycled in the same manner as aluminum foil. If your community accepts clean aluminum foil, it is worth calling to ask if they will take aluminum yogurt container lids as well. If your community does not, it still may be worth calling and asking. However, the answer is likely to be "no." Any clear plastic or wax paper placed on top of your yogurt will need to be thrown away.
How to reuse yogurt containers
Yogurt containers have all kinds of uses around the house. If you have the lids for your yogurt containers, use them to store leftovers or other food products. Repurpose them into resealable containers for buttons and other craft materials, hair ties, nails and screws, or other small items you keep around the house. You can use an old yogurt container as a popsicle mold or a drinking cup for kids. Simply cut a small hole in the lid, insert a straw, and your kids can enjoy water or juice on the go.
This Old House
has a great idea for reusing old yogurt cups: cut a small hole in the bottom, slip a paintbrush through it and use the cup to catch drips as you are painting the interior or exterior of your house. Even if your yogurt containers did not come with lids, there are many ways to reuse them. Use them to start seeds (just make sure you drill some holes in the bottom first). Toss one in your bag of dog food or bird seed and use it as a scoop. Kids can use them as sand toys or shovels in the yard.
Invest in reusable yogurt containers
My brother-in-law gave me a yogurt maker for Christmas one year. It did not get much use at first. Now that we have kids, I pull it out at least twice a month. I love it because I can make organic yogurt for much less than you can buy it. I can also stir a tiny bit of homemade jam into the yogurt, which gives it nice flavor without all the added sugar. The best part of the yogurt maker is that its glass cups are reusable, which means I never have to throw my yogurt containers away. The glasses are dishwasher safe, so washing them and reusing them is as easy as making the yogurt.