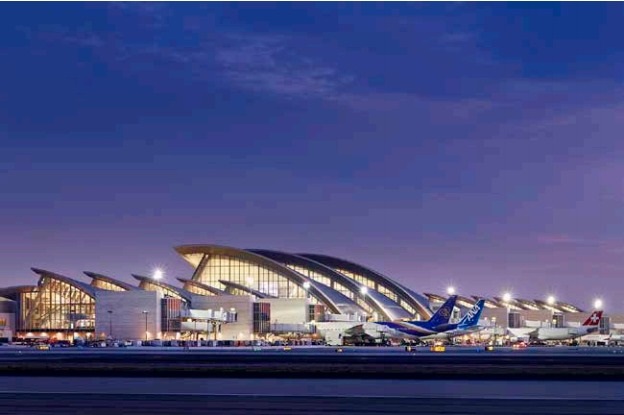 The Los
Angeles International Airport (or, as it is more colloquially known, LAX) has achieved notable recognition for a recent development. No, it has nothing to do with a celebrity sighting, and it is in no way related to the massive size of the development.
Well, I guess the latter could be true. Sort of.
Early in the spring of 2015, LAX's leaders learned the nine-terminal airport was being crowned with a high honor: LEED Gold certification for the many green improvements implemented at the facility's new Tom Bradley International Terminal.
How LEED works and what the certification means
Before delving into the significance of this designation, it might be a good idea to back up and give a crash course in the different LEED certifications – and, for that matter, what LEED even means (for the record, it stands for Leadership in Energy and Environmental Design).




The U.S. Green Building Council

created the LEED certifications

, which are based on a point sale and take into account the extent of green-friendly improvements. The scale is:



Certified: 40-49 Points

Silver: 50-59 Points

Gold: 60-79 Points

Platinum: 80+ Points
The LEED certifications are designed to be flexible enough to apply to all types of buildings, including commercial, residential and entire neighborhood communities. Points can be awarded for a range of projects, including design and construction, operations and maintenance and renovations.
Why is LEED certification important?
Well, having that stamp offers an independent, third-party verification that a building, home or community has been designed to meet some or all of the strategies that have been outlined in achieving human and environmental health. Here are some of the components that can lead to an LEED certified project:



Energy efficiency

Selection of materials

Indoor environmental quality

Water conservation efforts
A number of prerequisites and credits are intermingled into the U.S. Green Building Council's LEED certifications. As the council puts it on its website, "LEED prerequisites and credits work together to provide a common foundation of performance and a flexible set of tools and strategies to accommodate the circumstances of individuals' projects."
LAX goes for the gold
LAX's significantly revamped Tom Bradley International Terminal received a unique designation when the U.S. Green Building Council handed down its certification ranking. Tom Bradley, clocking in at 1.25 million square feet, became the largest terminal of its size to achieve the Gold certification.




The LAX terminal project, outlined in

this article

from Los Angeles TV station KCET, was completed in the third quarter of 2013.




There are a number of highlights behind the overhaul of the Tom Bradley terminal. Executives at Fentress Architects, the Denver-based company behind the project, said sustainability was a key part of efforts.




"The new terminal is bright and airy, with abundant natural daylight and natural ventilation to minimize energy use," Fentress Architects executives wrote in a news release. "Sustainability was a key focus … and all projects incorporate sustainable design features that promote energy efficiency while mitigating adverse environmental impacts."




Some of the features that earned the LEED Gold certification include the use of Low-E glass that has been installed along the concourse areas to minimize heat gain. The lighting controls installed throughout the terminal have also allowed for a reduction in energy use.




Another notable green feature within Tom Bradley is the installation of new low-flow water fixtures. According to Fentress Architects, water usage will decrease an estimated 47.8 percent because far less water will be wasted in restrooms and other areas within the terminal, versus traditional methods.
Details down to the nitty-gritty
Fentress Architects' design plans, at times, were very meticulous, as outlined in the company's details for the project. Executives said planning went all the way down to the specific routes to and from the site for construction vehicles to reduce carbon emissions.




Also, concrete mixers and other equipment were placed onsite to reduce the number of trips to and from the airport, and the construction equipment that was used as Tom Bradley went from the ground up was retrofitted with emission- and noise-reduction devices.




During the demolition process of the former building on the site of the Tom Bradley terminal, recycling construction materials and demolition debris were reportedly repurposed in any way possible. When renovations got underway, regional and recycled building materials were used.




Sustainability was one of several inspirations behind the construction of the new Tom Bradley portion of LAX. Airports across the U.S. have long been noted for having a more utilitarian look, but the folks at Fentress Architects attempted to turn that concept on its head with new interior architecture, which includes seven large media features.




Within the terminal, there are more than 12,000 square feet of light-emitting diode (LED) tiles and several hundred LCD screens for passengers traveling to and from Los Angeles to enjoy.
Part of a bigger plan
As the KCET report outlined, the updates at the Tom Bradley terminal are part of a larger $4.1 billion investment into the overall modernization of LAX. Plans have also been in the works to renovate existing domestic terminals.




Further expansion plans, with green features similar to Tom Bradley, are also eyed at LAX. For example, a second international terminal that is to be located across the airport's tarmac to the west, is being constructed. A bridge will be added to transport travel-goers to the new terminal when it is up and running.




While the LAX plans are a milestone in airports and green building practices – in terms of the square footage being recognized – it should be noted other airports have achieved certifications for implementing sustainable measures as well.



Hartsfield-Jackson Atlanta's International Terminal

Indianapolis International Airport's Midfield Terminal

Campus Oakland International's Terminal 2

Sacramento International's Terminal B

San Francisco International's Terminal 2

Santa Barbara Municipal's Terminal
Photo credit: Nick Merrick of Hedrich Blessing.