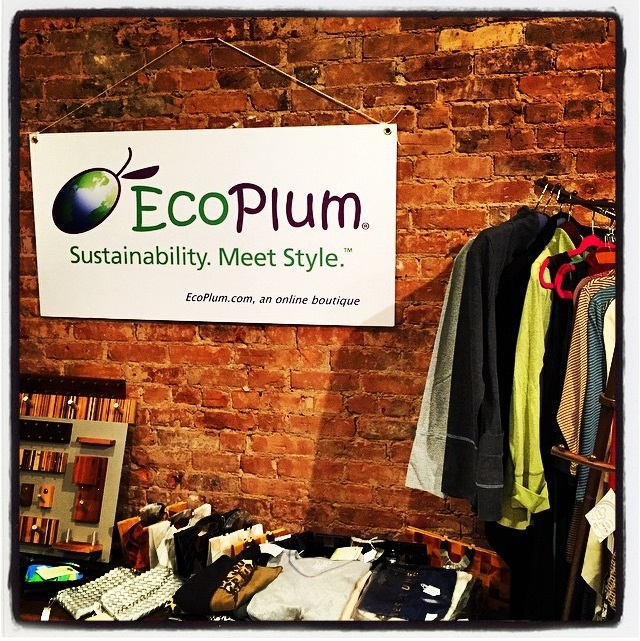 During Earth Week this year,
EcoPlum
, a sustainable online boutique, participated in the pop-up shop craze by opening its own Eco Pop-Up shop. I caught up with Gia Machlin, the founder and CEO of EcoPlum, who was gracious enough to take time out of her busy schedule to answer a few questions and let us know how it went:
You founded EcoPlum when there weren't a lot of online boutiques that were completely focused on delivering sustainable fashion and lifestyle products to consumers. How has the company grown and/or changed since you opened your "doors" in 2008?
Initially, we didn't carry as many fashion and lifestyle items but included items that were more utilitarian, such as household cleaners. In 2010, we edited out a lot of products that didn't make sense for us to carry – the cleaners, electronics – products you could find in other places more dedicated to these categories. We focused on specific fashion categories that we wanted to build out, including clothing, cosmetics, jewelry and accessories. We knew our customers wanted to find healthy and safe products for themselves and their families, too. But we also realized they wanted these products to be stylish alternatives. We did our first big site relaunch at the end of 2010, highlighting many of these new products and companies in profiles on the site, press announcements, and with a regular feature we called Gia's Plum Picks. Recently, we made some major steps forward again. We relaunched the EcoPlum Online Boutique late last year on an ecommerce platform called Shopify. That helped provide us with a more visually attractive way to display our beautiful products and streamlined our order processing, which our customers appreciate. It also enabled us to provide a mobile-optimized site for our shoppers and blog readers. We have also grown in our visibility on social media, with a solid presence on
Facebook
,
Twitter
,
Instagram
, LinkedIn and
https://www.pinterest.com/ecoplum/
, as well as other platforms. We also have a curated daily newsfeed of relevant articles from around the web. Early on, we made a decision to balance our ecommerce business with content on living sustainably. As I had gone on my own journey as a reformed consumer, I thought we could share a lot of information with readers who wanted to learn more and incorporate more aspects of sustainability into their own lives. We have a team of writers who do a great job delivering stories about key environmental issues as well as more in-depth articles on sustainable fashion and cosmetics. We also have a regular column on green entertainment, slow food and a new column on millennials and the environment. Our blog is really a bunch of blogs by all these contributors, including me. EcoPlum has grown from a single website, the
EcoPlum Online Boutique
, to a multiplatform ecommerce and media company delivering information wherever our customers want to find us! It is always a work in progress!
You have a wonderful green rewards program. Can you explain how it works?
EcoChipz is a loyalty program for shopping at EcoPlum. As far as we know, we offered the first green shopping rewards program online, back in 2008 when we launched. We wanted to give people incentives to make more sustainable purchasing decisions. Our first tag line was "EcoPlum, Where it Pays to Buy Green." Shoppers earn EcoChipz points when they purchase eco friendly products in our Online Boutique. They can redeem the points for coupons in the shop or donations to environmental causes that we support. Shoppers earn one EcoChipz point for every one dollar (1 point = $1) they spend on our site, excluding Shipping Fees and Sales Tax. Our automated redemption program makes it very easy for people to apply their rewards directly to their online purchases.
How did the decision to open a pop-up shop during this year's Earth Week come about?
When people see our products, they love them. We had done some showcases at business events and private fairs. The response was so positive. We received many compliments on the merchandise and we sold quite a bit, too. It seemed important to build upon this and give more people the chance to see, feel, try on, test and smell our products! We knew once they did, they would be hooked and would spread the word to others, too. Plus, we knew we would learn from seeing how our customers responded to the products. We started thinking about doing a pop-up shop after relaunching our online store. Since EcoPlum is headquartered right in NYC, it seemed like a no brainer to open a pop-up in Manhattan, in the heart of this fashion and shopping mecca. Environment Furniture was the most willing, enthusiastic partner with us on this idea, and we felt at home there with our similar missions and complementary merchandise. We followed the pop-up there with essentially another pop-up store in key exhibition space at the Green Festival in the Javits Center. Earth Week just seemed like the right time of year to focus on the importance of socially conscious shopping. We carry organic clothing and a line of fashionable tops made from recycled plastic bottles! People are amazed by the innovations, as this fabric is soft, breathable, and durable. We also have colorful jewelry made from sustainable tagua seeds, sourced in the rainforests in Latin America, and made in a fair trade workshop in Colombia. Another jewelry line creates the most dazzling pieces from old vintage glass. Our growing customer base is also concerned about what they put on their skin, so we have organic and vegan skincare and makeup. Your skin absorbs what you put on it and we want people to know they can make better, more healthful choices. We've always strived to lessen our collective environmental footprint by sourcing many products that use reclaimed materials or have third-party eco-labels. Plus we are concerned about working conditions that are healthful and fair, so we carry many fair trade products, including chocolate and coffee. To learn more about EcoPlum and check out their fantastic sustainable products, visit
http://shop.ecoplum.com/
.