Are you creating eco-art? Know someone who is? Contact me on Twitter @_ryanoconnor
For this Artist Spotlight, I am featuring Sarah Turner. I located her simply by browsing the hashtag #ecoart, which I recommend you all utilize as both a search term and for any posts related to environmental art, upcycling or art created out of recycled materials. It is a great way to share your art across the Internet, and also find and connect with other unique artists out there!
Sarah Turner appeared on Twitter when I searched the term #ecoart, with a number of very interesting lighting fixtures. I was immediately taken back by how elegant this lamp looked, for example.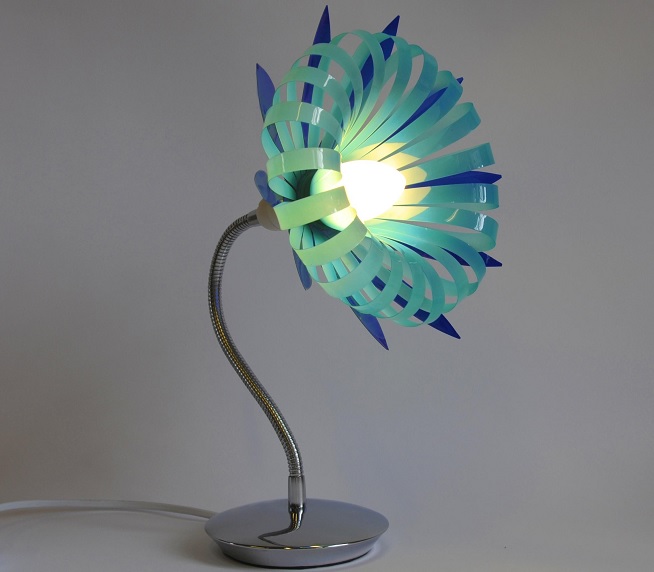 It is made from recycled plastic bottles, but just by looking at it, one might have never guessed. This is not intended to be a criticism of other eco-art, but with some creations, you just know – from a cursory glance – that they originated from garbage. In this case, however, if I didn't know someone made this lamp in their own private shop, I'd of just assumed it was purchased at a large chain store like Target or Bed Bath and Beyond. Likely even manufactured in high volumes. Sarah doesn't only create lighting but also decorative pieces! Take, for example, this bouquet of flow
ers. The vase appears to be made from a popular soda bottle and the flowers are made from bottles as well.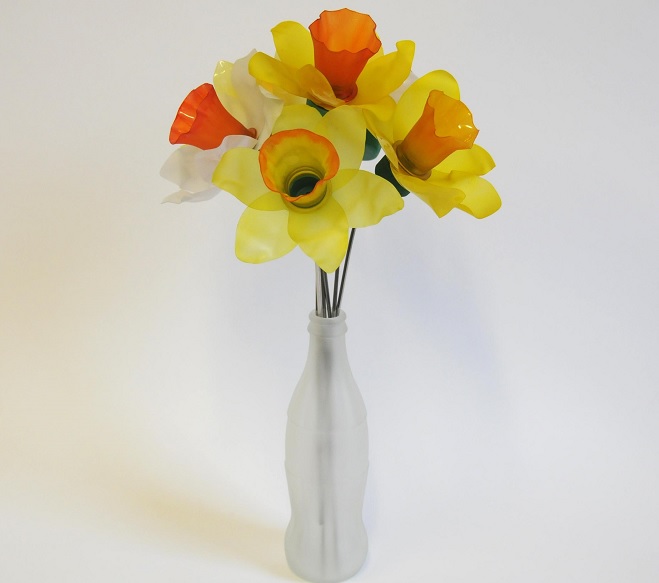 Sarah's background
I was intrigued enough by these images to take a look further into Sarah's background, which she does a great job of explaining on
her website
. Her website explained that she is an award-winning eco-artist and designer, making beautiful lighting and works of art from plastic bottle waste.
Sarah graduated from Nottingham Trent University in 2008, with a degree in Furniture and Product Design. She was recognized as a Finalist for Creative Business of the Year by Nottingham Post Business Awards and took first place in the Inhabitat Spring Greening Competition. Sarah's creations have shown up in magazines like Wired, Vogue and Craft & Design.
Outside of her awards and accomplishments in print media, Sarah's involvement and passion for her eco-art is highly evident. Sarah has
a page on her site
where you can get in touch with her about giving talks – which she has done in University settings all the way down to primary school – about her eco business, as well as eco-art.
Where to find Sarah
I have a couple friends who read this blog and who I hope are going to be excited about this part! Sarah has both participated in, and organized, many different events, but very recently she visited 17 different schools to teach them about Diwali and her plastic bottle creations. Combining the learning about new cultures and recycling is an amazing way to reach young children. Sarah taught schoolchildren how to create plastic flowers out of old plastic bottles, collecting over 500 flowers from the schools.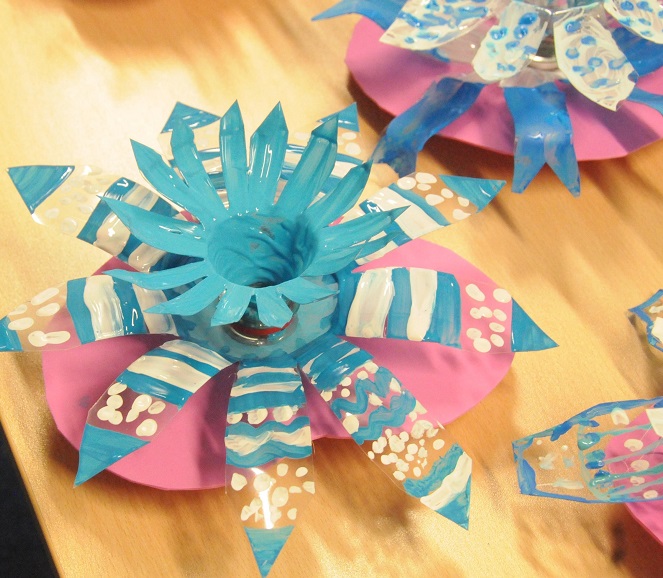 She then lit a candle in each of the 500 flowers, so they could create a very beautiful scene of floating candlelit flowers on a lake at night. More information about the event can be found
here
.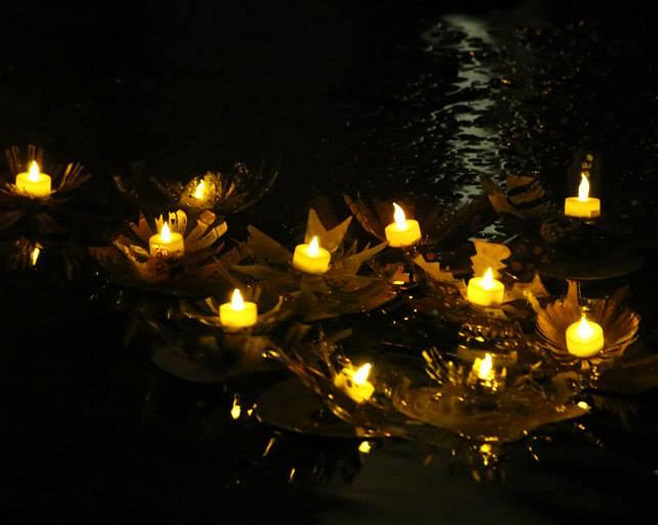 Another event that Sarah participated in was
La Braderie de l'Art
. My editor is going to cringe at my interpretation of the name of this event, but I believe it means "The Art Fair" [editor's note: close enough]. The event is a throwback to a time when rummage street sales were a part of northern France – of which a whole piece could be about. The idea of the event is that around 150 international artists, of all different concentrations (street artists, painters and sculptors, just to name a few), are "locked" in a place for 24 hours to create art live. They can collaborate and work together using everyone's special skills. From this event, artists can then sell their creations, bringing in anywhere from 1 to 300 euros. The overall idea is the art is created out of found objects: an upcycled paradise.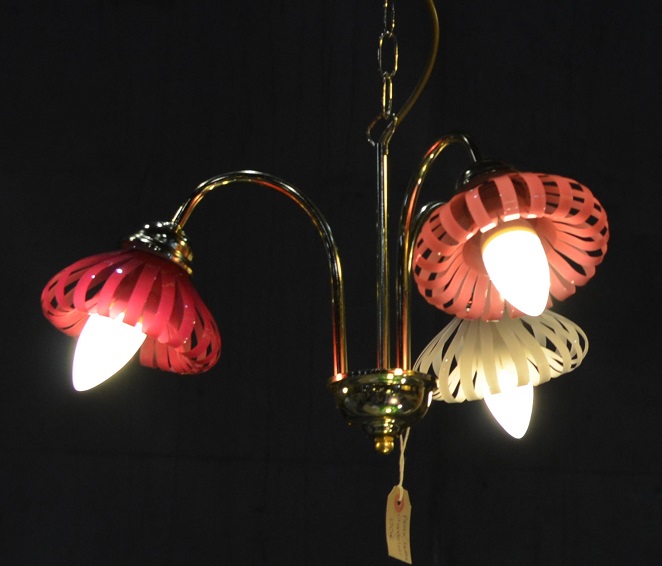 Last but not least, I need to make a plug once more for Sarah's website. I think it is put together very well and has a lot of great information about her as an artist. If you like some of the products you have seen here, you should feel free to see if they might even be available in
her online store
.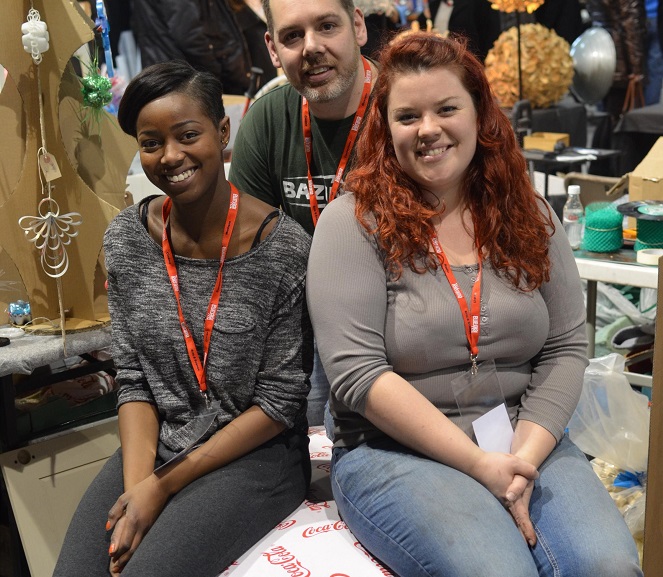 Supporting artists like Sarah is something we should all consider. The fancy lamp you might buy at your large chain store isn't likely going to be made from recycled materials. In addition, by supporting environmental artists like this, you may be helping to keep eco-art alive and well and also, more specifically, support artists who are helping the environment over anything else.
Twitter: @SarahEcoDesign