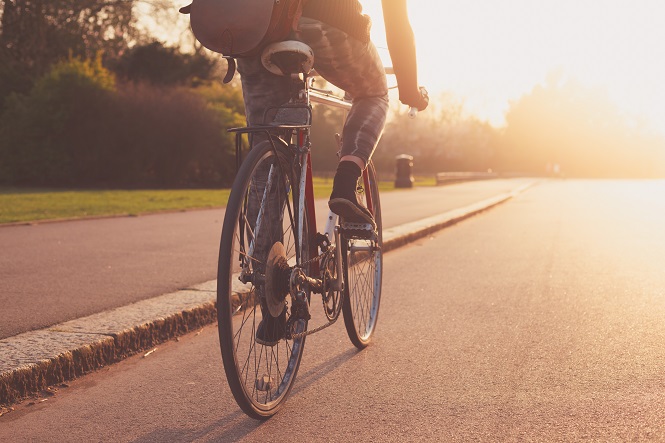 Riding a bicycle is a fun and eco-friendly way to exercise, commute to work or just get outdoors with friends and family. As Americans continue to pursue desires to both be more sustainable and efficient with their money, biking is exploding in popularity. Many cities are building or adding dedicated biking paths and bike-sharing programs, and bike ownership rates continue to rise each year. While most Americans state they ride bikes for exercise or fun most, the rates of bike commuters has continued to grow.
Getting back on the saddle
Adults who are interested in getting into more serious bike riding, such as dedicated trail riding or commuting, may not be fully aware of where to start. That old banana seat in your dad's garage probably won't work for you anymore and you may not be aware of updated safety requirements. The best way to prepare yourself for a newly or rediscovered love of biking is to read the crash course below. The tips listed will help to get you ready for a new two-wheeled adventure, whether you are looking to cruise about the town occasionally or commute 20 miles round trip to work every day.
Find the perfect bike for you
You may not realize it, but there are a ton of different types and configurations of bicycles. From fixed gears to racing bikes, there is a two-wheeled partner for everyone. Begin by evaluating your needs and budget; used vintage cruisers can be found at yard sales for $10, while top-of-the-line road bikes can cost thousands. Find a local bike shop and ask the employees tons of questions – they have lots of knowledge and love to chat. Check out potential bikes and their seats – there is nothing worse than having a great bike with an uncomfortable saddle. Don't forget to do a test ride before buying to make sure you and the bike are a good fit – literally.
Learn your local riding laws
Riding a bicycle is just like driving a car – you follow traffic signs, signal when you turn and use proper safety precautions. Also like driving, there are certain rules and even laws on the books in order to protect both riders and other citizens. This could include a requirement of using bike lights at night, wearing a helmet or staying off certain roads. The website
BikeLeague.org
has a state-by-state breakdown of bicycle laws so you can make sure you are following all the rules of the road. Understanding the regulations set in place will keep you safe and help maintain a positive relationship between drivers and riders.
Blaze a trail…or find one
More and more cities are adding dedicated bike paths for riders in urban areas, while off-road nature trails are also on the rise. Whether you're looking for a day trip or a trip to the ballgame, you can do either on bike. Lots of larger cities offer free maps of their dedicated urban bike paths, both on and off street. These maps are often found in print at bike shops or visitors' centers but are also often online. When searching for park trails to cruise through,
Pedaling.com
offers a bike route search engine. Just type in a zip code or area of a state and you will be shown links to all of the lovely trails in your vicinity. Remember to always follow posted rules and local regulations for the safety of yourself and others.
Learn basic bike maintenance
So you have your bike and helmet, learned the local trails but what if you get a flat tire or your chain comes off – could you fix it? Knowledge of basic bike maintenance is definitely worth having and investing in. Many community education programs, bike stores and other local organizations offer basic bike maintenance classes – often for low or no cost. In these classes, you will learn about everything from brake repair to preparing your bike for winter. More advanced classes on how to ride in the city or build additions for your bike, such as a trailer, can also be found for those people who want to go the extra distance.
Find riding buddies or groups
Solitary rides where you blaze through the urban jungle – beats pounding in your headphones – can definitely be fun. But it is also super fun to ride with friends or groups, either for pleasure, honor or charity. If your significant other needs a reason to get off of the couch, why not invite them on a nice ride around the lake? It will bring you together and promote healthy lifestyles for you both. There are also many events across the country every year where people ride for charity or sport. Some are more fun – think a cross-town beer ride – while others, such as triathlons are intense and meant for advanced riders. Whatever your skill set is, hop on that bike and have some fun!