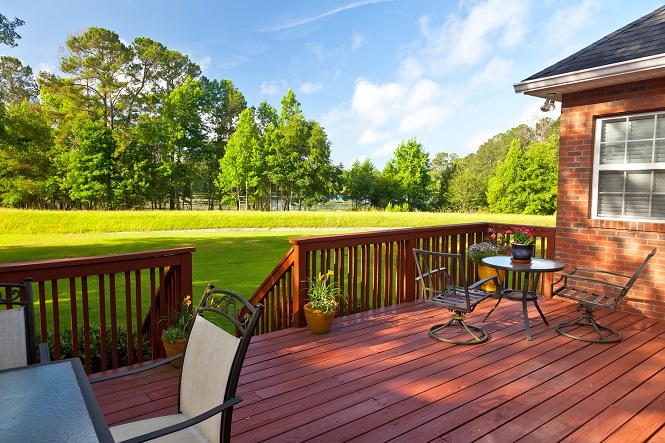 Now that it's summer, you're probably spending a lot more time out on the patio. Finally. While it may feel good to sip a drink outside, your efforts to live a greener life don't need to stop when you step outdoors to kick back on the patio. There are tons of ways to make sure your patio life reflects your green ambitions. Here are 10 ways to make your outdoor life as green as your indoor life.
1. Find recycled or upcycled patio furniture
Want to add a new sense of style to your patio? When looking for patio furniture, don't feel like you have to run towards the nearest big-box home retailer. There may be plenty of attractive, usable finds at your local re-store, a garage sale or if you ask around. You never know what people may want to unload. Giving a piece of furniture new life is a perfect way to go green. Another option is to get into the fun world of upcycling.
Funky Junk Interiors
has a good list of patio furniture that was made out of everything from old spools to used bathtubs. It might be the perfect way to get a fun, artsy look for your patio.
2. Start some organic container gardens
The porch is also a perfect place for organic container gardening. Your plants will get plenty of sun. Find organically produced seeds, an old pot and some certified organic soil, and get to work. If you'd really like to keep it organic, you can start a compost pile and use half garden soil and half compost so you really know what's going into your soil. The best part of container gardening is these plants typically don't require pest control, since they are off the ground and close to the home. That means no need for harsh, inorganic pest deterrents. At the end of the day, you'll have the ultimate in local produce and have the satisfaction of being just a little more self-reliant.
3. Make your own bird feeders
Want something natural to watch while you relax on the porch? Consider making your own birdfeeder. There are dozens and dozens of designs out there.
Go here
to see some interesting takes on bird feeders, like a bird feeder made out of an old juice bottle or a bird feeder made out of old china. You can find complete tutorials for many of them there as well.
4. Make your own wind chimes
Along the same lines, you can make some of your own wind chimes.
Bobvila.com
has a great slideshow detailing some works of art for inspiration. Some of these designs are great for upcycing. You can use everything from an old flowerpot to some old pencils.
5. Find green ways to clean
Time to clean the patio? Make sure to be green about it. For instance, try not to hose off anything or use a high-pressure washer. Think water conservation. A broom works perfectly fine, and that way you can scoop up any grass clippings or leaves and add them to the garden. When cleaning furniture, remember the elbow grease. Go here to find some all-natural
DIY cleaning solutions
.
6. Plant perennials around the patio
If you want to make your patio area gorgeous in the spring and summer, try to plant perennials around your deck. Since they come back on their own every year, that's less resources you'll need to devote to gardening. It cuts back on seedling containers and seed wrappers every year. It's a small bit, but it helps.
7. Build a deck out of sustainable materials
Want to redo or update the deck? Remember to go sustainable. Try to go for companies that use recycled decking materials. Also, look for lumber that has been certified by the Forest Stewardship Council, which guarantees that the wood has been harvested in a sustainable manner.
8. Place awnings over windows
When thinking about how to design your deck, remember the awnings. Placing awnings over your patio windows and doors will reduce the amount of heat coming through the window.
Energy.gov
states that awnings can reduce summer solar heat gain by up to 65 percent on south-facing windows and up to 77 perfect on windows that face west. It's that much less work for your AC to do. Awnings today are built to last, making them more sustainable than ever. The EPA recommends you choose an awning that is opaque and woven tightly. Light colors will reflect light better than dark. Also remember to keep in mind ventilation, which will keep hot air from being trapped by the window. Openings by the tops and sides of the awning will provide the necessary ventilation. Try to make sure your awning can also roll up to naturally allow heat to get to the window on colder days. You can look into technology like lateral arms. Your wallet will thank you when it becomes time for the heating bill.
9. Sustainable grilling options
When grilling, remember to go sustainable. You can find sustainable barbeque utensils made out of bamboo and recycled stainless steel,
like the ones here
. If you really want to go all out with it, you can find completely sustainable cooking options, like
this solar grill here
. It harnesses the sun's rays with its satellite dish-type design. The device can barbeque on sunny days and serve low-temperature dishes on cloudy days. Although this is part of the Lapin Kulta Solar Kitchen Restaurant, it shows the potential for solar cooking. You can buy commercial solar ovens for the backyard or you can find out how to
make your own solar cooker here
.
10. Use solar lighting
While on the topic of solar power, remember to go with solar lighting options if you want to light your patio up at night. Solar lighting has gotten to the point where it fits any design style and whim. From LED starbursts to solar spotlights, it's just that much more you can save on your electricity bill.