If you're a wine connoisseur, or even a passing enthusiast, you probably have tons of wine bottles lying around that you haven't taken to the recycling bin yet. Luckily, bottles are highly versatile items. If something around the home requires a classy, sophisticated looking container, a used wine bottle is a great resource. Plus, something about a wine bottle adds a touch of class and culture to any area. From birdfeeders to chandeliers to serving trays, here are some of the top ways artists have reused wine bottles.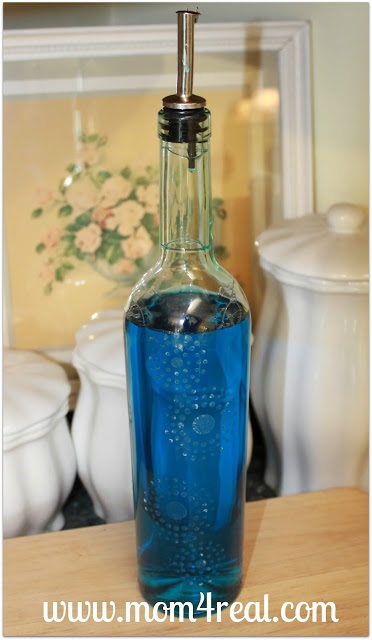 1. Wine bottle soap dispenser
This soap dispenser from Mom4Real adds a bit of high class to any kitchen. The simple DIY project requires a stopper to control the soap flow and a wine bottle. The design on the front of the bottle was made with a stencil and some frosted glass paint. She also gave a good tip for removing labels: just smear the label with dish soap and let the bottle soak for two hours. You can find the
full tutorial with photos here
.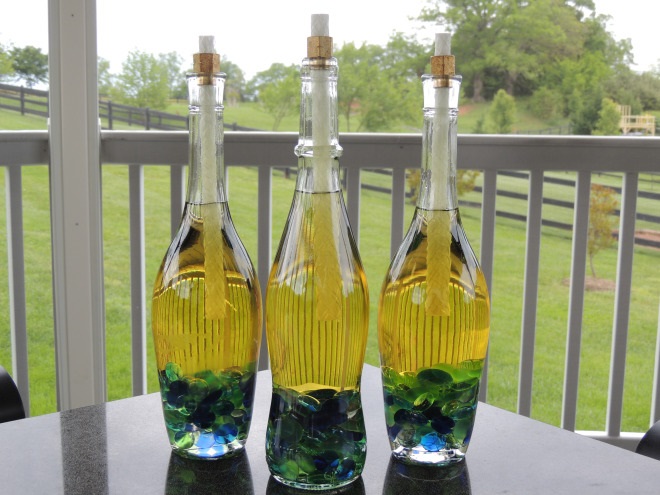 2. Wine bottle Tiki torches
Here's a clever use for wine bottles when you want to light an outdoor area. These were primarily made with Tiki fuel, Tiki wicks and a brass coupling to keep the wick in place. It's be great for any outdoor party. Go to
The Armchair Sommelier
for the full DIY tutorial.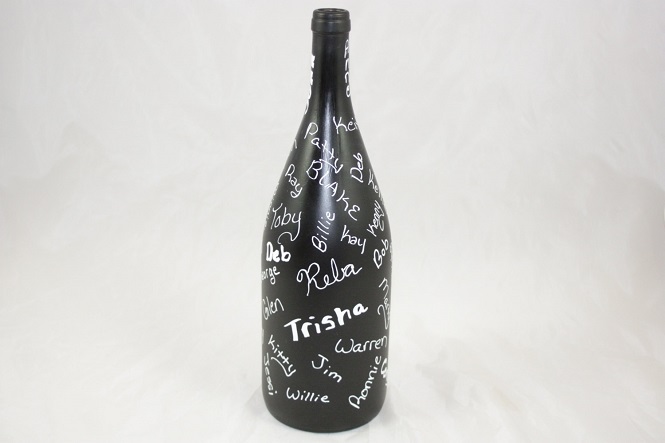 3. Guest bottle
This is a great design if you have a wedding coming up, or even a house party. It was made by
CountryRichDesigns at etsy
. It works best with chalk pens, and would look great with some flowers added or placed as a centerpiece to remember good times with friends.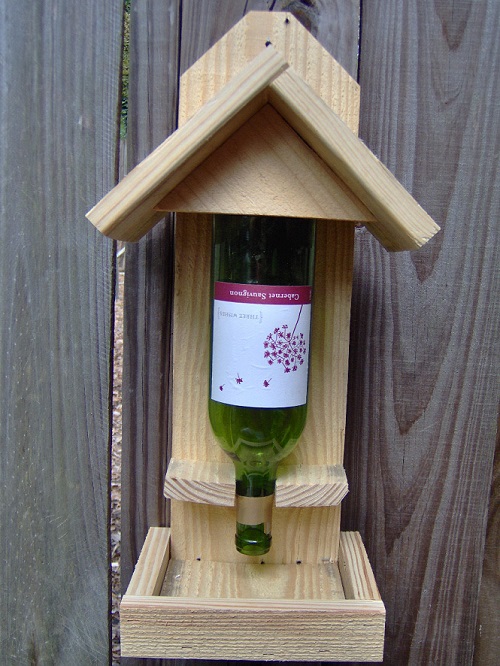 4. Wine bottle bird feeder
Here's a classy way to feed your birds. In addition to the wine bottle, this item was also made with upcycled pallets. This one's from
HideyHoleCrafts at etsy
.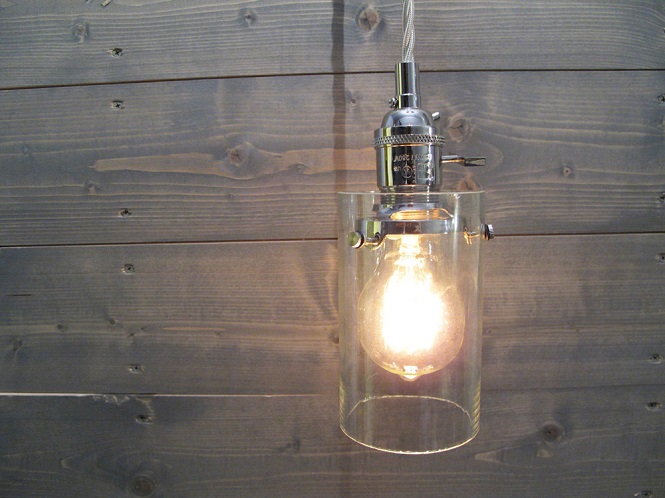 5. Wine bottle pendant light
This pendant light from
VexDecor at etsy
would look great in rustic or industrial styles. You can choose between several metal finishes and cord colors. It's a great use for a clear, cut wine bottle.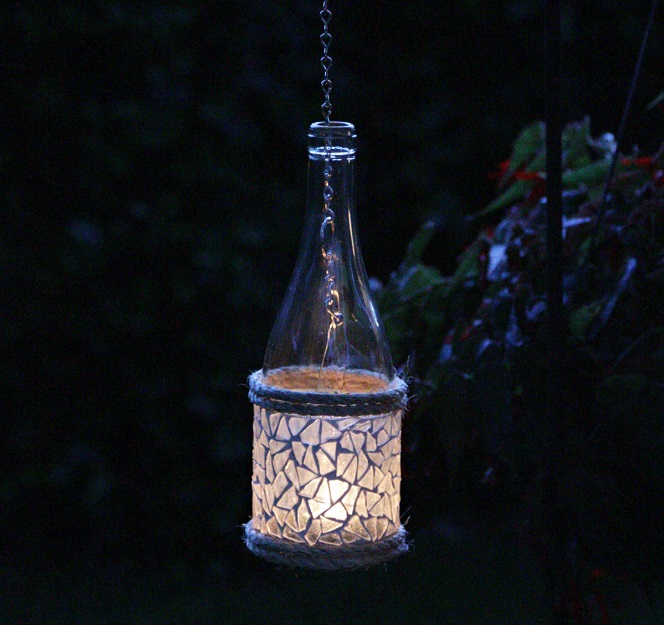 6. Wine bottle luminary
This classy item hardly even looks like a wine bottle in the dark. Tea light or votive candles add a nice iridescent shine, and the mosaic lights up beautifully. This one is from
LivinginGlassHouses at etsy
.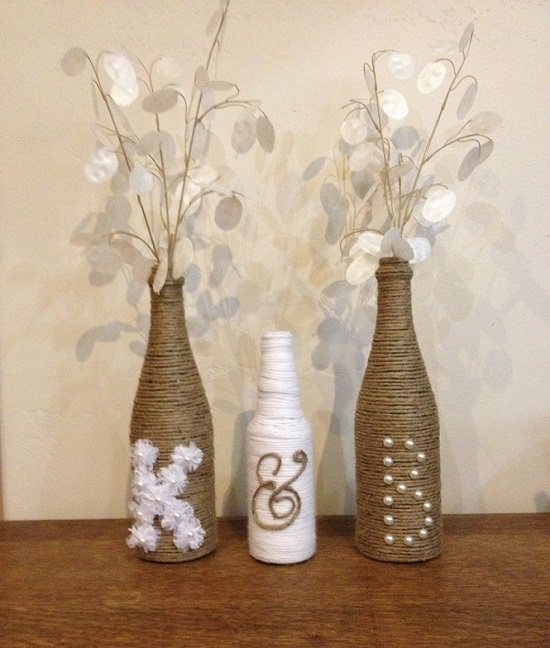 7. Twine bottles
Here's a classic project for bottles that would look good with any décor style. A wine bottle wrapped in twine goes a long way in terms of customized looks. These come in customized initials and are from
KyndrasKreations at etsy
.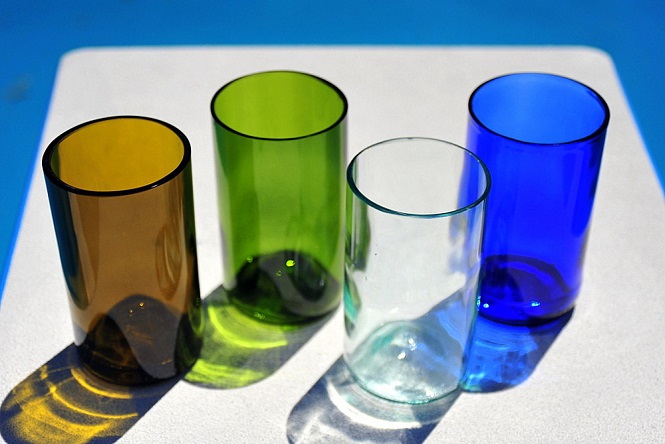 8. Wine bottle tumblers
This is a classic, functional use for cut wine bottles from Kristin Moore with
OutsideTheBottle at etsy
. These make either great glasses, or you could use them as candleholders. They either come in the four colors above, or you can have a set of matching colors. These glasses look a lot classier than standard plastic cups, and you'll know you're reusing old materials.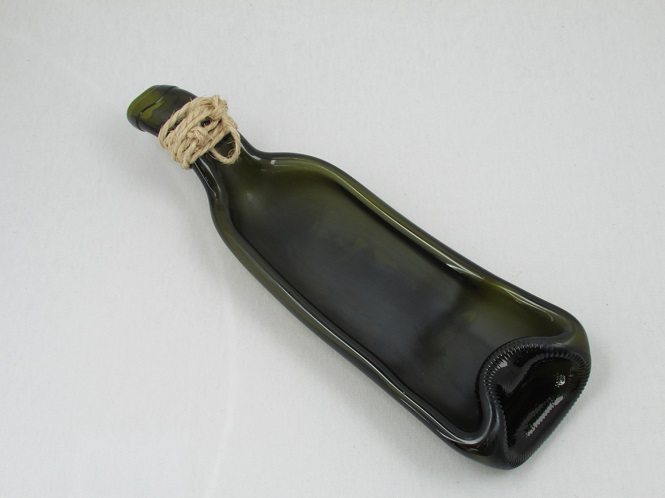 9. Wine bottle server
This wine bottle was "slumped" to make a great serving tray. It has a curved handle and is in a bowl shape to hold fruits, cheeses or whatever else you may be serving. This was made by
CuSiCo at etsy
.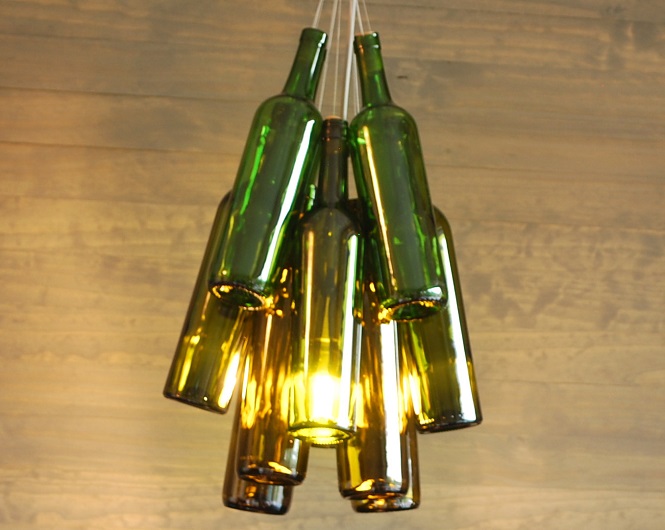 10. Wine bottle chandelier
Here's a creative use for a dozen wine bottles or so. It would look great in a rustic or artistic setting where repurposed art is the norm. Or use it as an artistic focal piece in an otherwise minimalist style. Something like this would also look great in a wine room, as the listing states. You can find it from
IndustrialBlush at etsy
.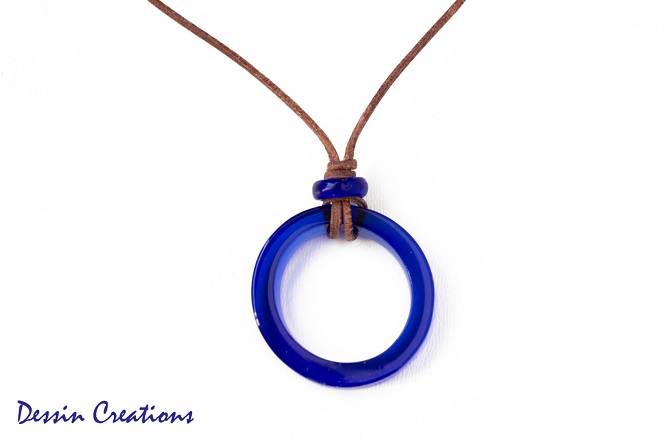 11. Wine bottle pendant
If you're not looking for a larger item that could go around the home, this wine bottle pendant might be right up your alley. This piece was hand worked and fired in a kiln to get the smooth shape out of old wine bottle glass. It's from
DessinCreations at etsy
.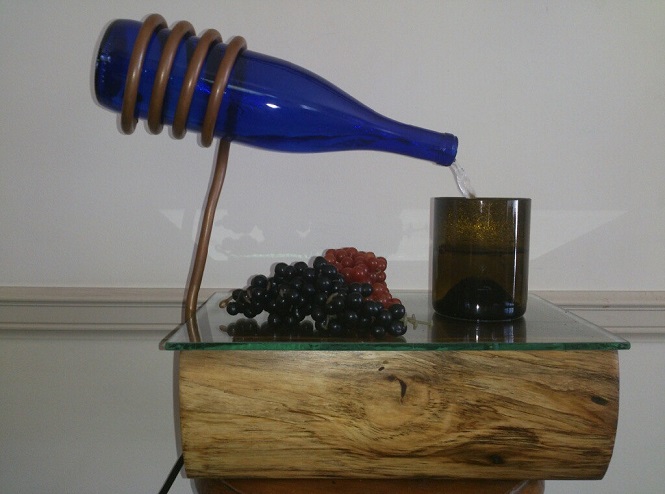 12. Wine bottle fountain
This creative piece is from
RayMels at etsy
. It's a working fountain that is a cute imagining of a reused wine bottle. The fountain looks like it's constantly pouring. The wood tabletop portion is also part of the piece. You can
see it in action here
.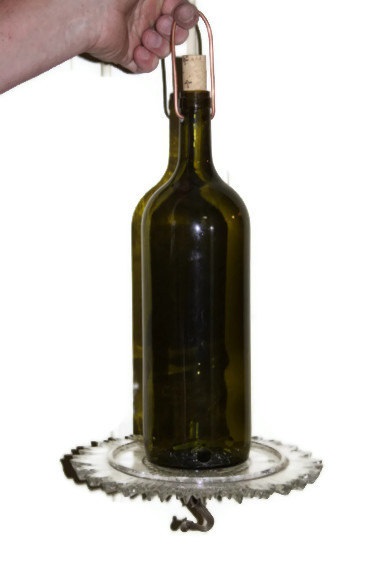 13. Hanging wine bottle bird feeder
Here's another creative take on the wine bottle bird feeder. The seeds go in the bottle and come out of drilled holes at the bottom. The design has a hook on the bottom to hang wind chimes from. This item is also from
RayMels at etsy
.
14. Wine bottle lamp
Here's a classy way to repurpose a wine bottle into some great accent lighting for any room. Stringed craft lights act as an attractive light source. The glass grapes and leaves keep nicely with the wine theme. This lamp is from
KBKreationsShop at etsy
.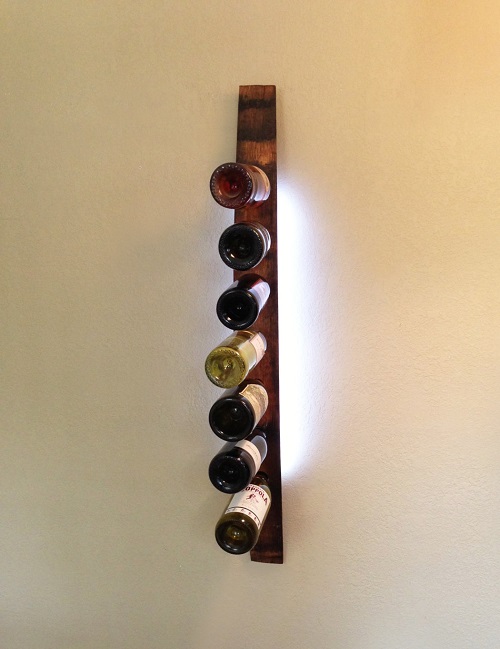 15. Wine rack light sconce
Speaking of accent lighting, this clever piece acts as a wine rack, but is also a functional LED light. You can display your favorite full wine bottles. Or use old bottles to display your favorite wines while repurposing. You can find it at etsy; it was
made by rorabaughdesigns
.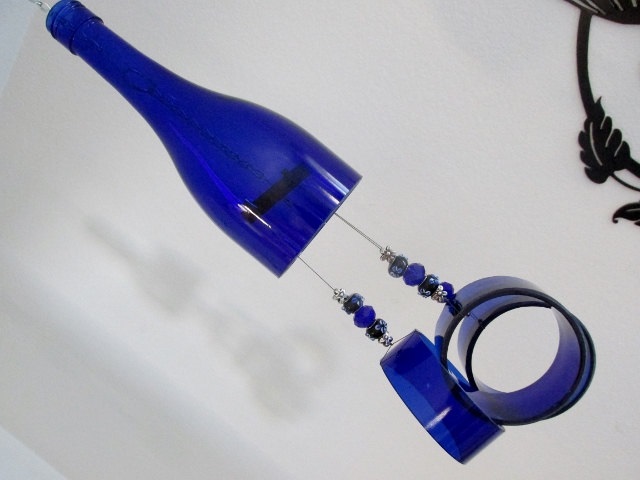 16. Wine bottle wind chimes
Here's a great use for old glass: Make it into a musical item for any garden or porch. The cobalt blue glass is very attractive, and the beads add a nice accent. It was made by
LindasYardArt at etsy
.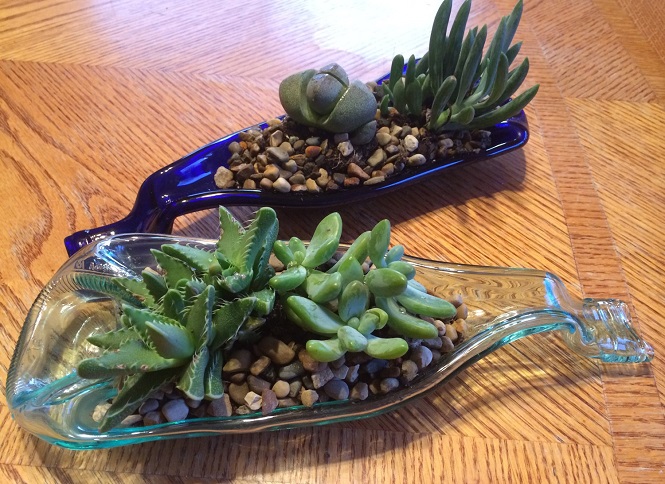 17. Wine bottle planters
Here's another use for kiln-slumped wine bottles. These planters are nice and open, so they're great for low-sitting succulents like the ones in the photo. Though these items could also be used as a spoon rest or server, as the listing states. They come in blue, light green, green, olive green, brown, yellow or clear. You can get them from
mlglassdesigns at etsy
.