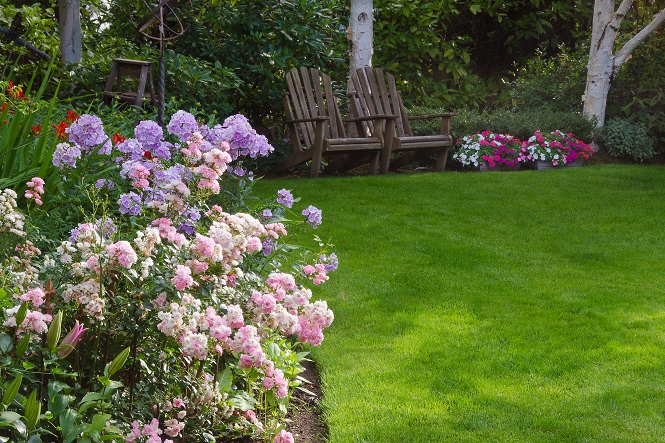 Gardening season is in full swing! And while your pretty plants, flowers and veggies are no doubt starting to come into bloom, every garden could use a little glitz and glamor. Cute garden gnomes or mosaic tiling around the edge is well and good, but there are literally hundreds of different DIY ideas out there. Create your own mushroom grove or get the kids involved and let them help you build a garden pal. Any of the following ideas would be a wonderful day project – and a great addition to your garden.
Terra Cotta Garden Mushroom
This may not be the last time you see terra cotta pots and/or drain trays on this list – they're cheap, you can paint them and they last forever. For this project, take a few pots and paint them grey for them to become the stems. Paint the bottoms of the matching drain plates different fun colors and add white circles. Glue the plates to the upside down pots and you will have your very own mini-mushroom area where the pretend garden elves can run and play.
Outdoor Placemat Pillows
Everyone loves fun pillows, but let's face it – they aren't cheap. If your garden sitting area is lacking something cozy, make a super simple placemat pillow. The idea is to take two of your old cloth placemats that are double layered, stich three sides together and then stuff with fluff. After the pillow is sewn up, spray with a waterproof fabric protectant. Before you know it, the garden bench will become
the
summer sitting spot. Check out
the full tutorial here
.
Plastic Bottle Hedgehog
These incredibly adorable garden hedgehogs will make a perfect addition to your garden – and they are actually made out of plastic bottles. Follow
this tutorial
to see how to build a handsome hedgehog friend, You will need (in addition to the bottle), a bit of burlap, some glue and buttons for eyes. When the shell is complete, you can stuff in grass or another fun plant to complete your new pal. For a bit more fun, the tutorial also features a link to make penguins!
Broken China Garden Stones
Have some chipped china or other random dishware lying around? They would be perfect as
mosaic garden stones
! Smash up pieces of china or porcelain glassware inside of a safe and secure area (especially if kids or pets are around). Pick up some garden stone cement and evenly layer it into a special tray to form it – you can find this stuff at any gardening center. Begin layering pieces of glassware throughout the still-wet cement, making sure to place the shards carefully. After pressing everything in gently, place a paper towel over the stone in case any extra water comes up. Once everything dries, you will have gorgeous garden stones perfect for your path.
Terra Cotta Planter Pal
They're back! Get the family together with terra cotta pots of different sizes so everyone can make their own pot person. There are a few ways to approach this project, making it adaptable for all ages and skill levels.
This blogger
used strong twine to string together pots of different sizes to make a proportional-looking plant man. You could also go the simpler route by flipping the pots over and painting faces on them. Either way you can have a whole terra cotta family in your garden if you'd like – or maybe just one big guy.