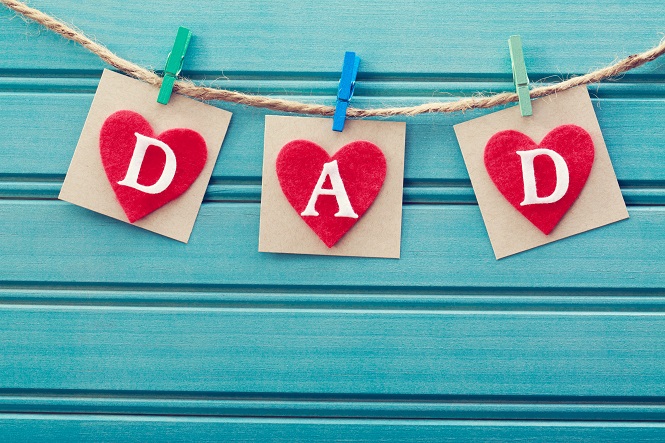 Father's Day is this weekend, and if you and the kids haven't gotten around to buying a card, worry not. There's no real reason to spend money on a greeting card when there are plenty of ways to DIY a unique and personalized card at home. By encouraging your kids to make their own special card out of craft materials or recyclables, you will bring out their natural creativity. You will also be instilling the Three Rs by showing how fun and easy it is to make things yourself instead of buying them. Make one of the five fun cards below with your children and use it as a teachable moment – you will be modeling empathy, creativity and sustainability.
Fishing for You
For dads that enjoy fishing, this cute card will definitely be a winner. Cut a fish shape out of construction paper and then have your children cut up colorful magazines or newspapers to create the fish scales – crepe paper works too if you already have it. Glue the scales onto the fish, draw on an eye (or glue a wiggly one) and have your child write (help if needed), "Fishing you a Happy Father's Day." Check out
the full tutorial here
.
Yoda handprint card
Another cute idea – especially if you have Star Wars fans in the family – is
this Yoda-themed card
. All you will need is some thicker paper, green and brown paint and a sharpie. Have your child paint the palm of their hand green and their fingers brown. Have them place their painted upside down on the paper and use the sharpie to draw Yoda's body around the handprint. Depending on how detailed you want to be, you can add details with a darker green color. And the cute text to write on it – "Yoda Best Dad" – how adorable is that?
DIY wood-burned card/décor piece
These rustic Father's Day gifts make great cards and décor for the home or office. This craft will require the use of a wood-burning tool – so be very careful when operating, especially as the kids help. Get a 1×6 piece of wood and cut it into squares slightly larger than your child's hand size. Sand down the rough edges and trace the child's hand with a pencil – have them write their names on the top if they are able. Use the burning tool to trace along the pencil markings and voila! The perfect Father's Day gift. Check out
this step-by-step guide
for more information.
Tape Coloring Card for Toddlers
This incredibly easy project is perfect for dad's first Father's Day.
This blogger
used painter's tape to write, "I heart daddy!" on a piece of white cardstock. She then taped the paper down and had her toddler daughter color all over it. Really let your kids get creative and "go wild," as the blogger did. Then remove the tape and you will have a cool picture with a loving message from you little one.
Gold Medal Father's Day Card/Gift
This super fun gold medal is fun to make and fun to receive! Gather some blue paper, an empty Laughing Cow cheese container (or a similar sized one), yellow paint, markers and butterscotch candies. Paint the container yellow – while it dries, cut two "ribbons" out of the blue paper (if you already have ribbon – go for it!). Once the container is dry, use a sharpie to write, "Dad, you deserve a medal" on the lid. Fill with the butterscotch candies to complete a cute gift any dad would love. See
the full tutorial here
.