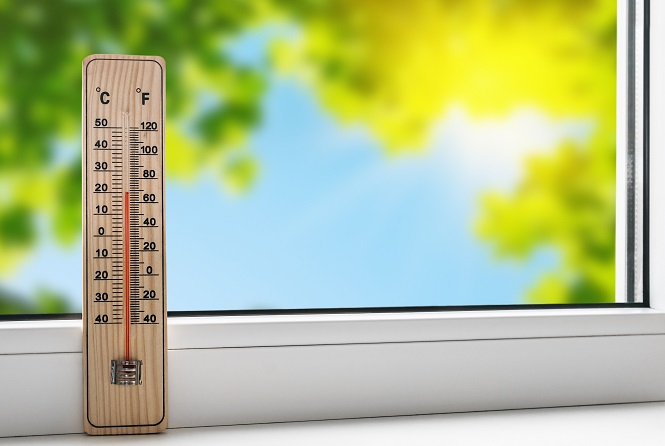 Summer has finally arrived! And while this of course means lots of time outside or traveling with your friends and family, the mercury does sometimes rise to uncomfortable heights. Let's face it – it can get hot out there, and sometimes all you want is to sit in a freezer to get relief. This is especially true if you don't have air conditioning or wish not to use it. While it may seem like crisp A/C is the only to beat the heat, that is simply not the case – plus it costs an awful lot to run both window units and central air. Remember: Our ancestors survived without air conditioning, and so can we. Check out these five great tips to stay nice and cool without the use of A/C.
Set your ceiling fan to run counter-clockwise
Did you know that by changing the direction of your ceiling fan it could actually create a cooling breeze? By adjusting your ceiling fan to run at a higher speed counter-clockwise, you and your guests will feel that extra wind-chill, which can be helpful on its own. By placing a box fan in the window, you can also create a wind tunnel that will suck hot air out and allow cool air to flow. In addition, make good use of those exhaust fans in the bathroom and kitchen in order to eliminate any heat produced by showers, cooking or too many bodies in a room.
Change the fabrics in your life
Everyone knows that clothing comes in four different seasons – just like our weather – so make sure to adapt! Wear loose, breathable clothes that can let air flow through. Khaki shorts for guys and decorative maxi dresses in light colors will help to reflect the sun and its heat. The linens on your bed should also be changed according to season. Sure, flannel sheets and thick comforters are nice and toasty in the winter, but they will have you sweating through warm weather months. Switch out your sheets for a lighter cotton, as the textile breathes easier and tends to stay cooler. Investing in a mattress cover can also help whisk away sweat in the night.
Close doors and blinds
According to
a recent study from the Family Handyman
, up to 30 perfect of unwanted indoor heat comes from windows. By utilizing shades and curtains, you may be able to save up to 7 percent on your cooling bills while reducing indoor temperatures by up to 20 degrees! This doesn't mean you have to live in the dark – the hottest windows tend to be south- or west-facing windows, so try to cover those more often. Along the same lines, close doors to unused rooms during the day in order to prevent the loss of cool air. At night when things cool off, open the blinds, windows and doors in order to let the crisp night air flow into your home.
Remember to stay hydrated
Have you heard the phrase you're supposed to drink water today to stay hydrated tomorrow? It actually makes sense when you think about it. In fact, our bodies are not necessarily supposed to feel thirsty. So make sure to drink at least eight glasses of water per day – ice water will help your body temperature regulate. If you're still feeling the heat, try placing a cool wet rag on your neck or wrists – these pressure points can also help you chill out quickly.
Build a DIY Air Conditioner
Still can't seem to beat the heat? Why not go old school and make your own A/C out of a fan and some ice? This idea comes from the days before air conditioning as we know and love came to be, and all you need is a fan and a shallow container filled with ice. Place the container (roasting pans seem to work nicely) in front of the fan – the breeze will pick up cold water from the ice's surface as it begins to melt. The nice cooling mist will keep you comfortable but remember: You will have to change out the ice frequently if the temperature is extra high.