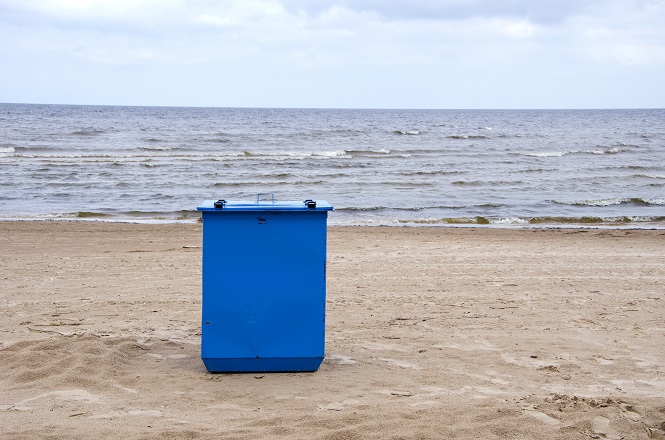 During the summer, the beach is a favored spot to cool off for tourists, locals and wildlife alike. But with so many beach-goers in the summertime, it's important we're cognizant of our impact on the environment. It's easy to be tired after spending a long day out in the sun on the beach and end up forgetting some of your belongings. The beach can also get windy, so it's not unlikely some of the items you bring with you could get swept away in the cool ocean breeze. Even though beach gear can accidentally sometimes get added to the "plastic soup," also still commonly referred to as "the ocean," it doesn't negate the fact that lost or left items affect local wildlife and the people around you. There are more than a few ways to combat this problem, but these were some of the ones I found interesting:
1. Incentivize people to not leave "stuff" on the beach.
Many beaches have started creating ordinances about leaving trash and other debris on the beach, such as the
"leave no trace" ordinance
in South Walton, Florida. The area's beaches enacted this ordinance in order to help save sea turtles but also to keep the beaches looking as clean as possible. Local entrepreneurs have started to capitalize on the issue. Businesses, like
Treasure in Paradise
, accept used beach gear for store credit. This type of incentivizing of people to trade in old beach gear, rather than abandon it, is a great way to inspire others to recycle!
2. Invest in eco-friendly beach gear.
Let's be honest, most beach gear is made of plastic, and most people have made a sand castle at one time or another. Likely, they used one of those plastic buckets littering the ocean like carrots in a stew to do so. These castles are constructed with the same types of materials that pollute our oceans and harm wildlife. As an alternative, some companies have started to offer biodegradable beach toys;
zoë b organic
is one of those companies. Its plastic beach toys are biodegradable – taking 2-3 years to break down – contain no BPA and are made of corn instead of petroleum.
3. Choose reusable bags over plastic ones.
Let's not forget, though, that other beach gear tends to include plastic bags, which cities like Ventura are
trying to get rid of
. The City has a
video slideshow
full of images showing where plastic bags end up all around the city. People bring chips, drinks and any other snacks they can think of when they go to the beach. While plastic bags might be a convenient and accessible way to transport these snacks, consider using one of the many types of reusable and
eco-friendly bags
that are widely available these days. These can be purchased online, in most grocery stores or even handed out at countless free events.
4. Don't forget your containers.
While you're at it, think about the snacks you might be bringing. Glass bottles can endanger other beach-goers if they break, while plastic bottles may be more likely to harm wildlife. Whatever container you're going to choose to transport your liquid of choice, don't forget to clean it up or use the trash/recycling receptacles that are at most popular beaches.
Another thing to consider is the packaging and the production. In my opinion: Keep it simple. Fruit is a great snack and always biodegradable. Apples and bananas are a couple of my favorites. I won't list off the entire produce section of the grocery store for fear of boring you, but I promise there are lots of goodies there for you to eat.
5. And what about your beach towel?
Why not go 100% cotton?
This is an example
of a beach towel that does not contain any other fibers or materials that negatively impact the environment.
6. And your sunscreen?
Keep it clean!
Honest sunscreen
is free of PABA, phthalates, chemical sunscreens, nano-particles, CFCs, aerosols, fragrances, parabens, dyes and most common allergens.
7. Share or reuse materials from friends and family.
I'm pretty sure my family has had countless numbers of plastic beach buckets and pails. Some of them have turned into various items around the house – help me weeding the garden or to catching other liquids that might be seeping out of my car while I'm working on it. Others have been handed down to friends and family. It's not a gimmick; it's very low-tech. Simply take the beach gear you have, and let someone else borrow it. Or if you need something, ask around! Even when you get to the beach, plenty of families will be building sand castles or burying each other. Why not join in the fun? No matter how you decide to enjoy the beach this year, keep in mind these ideas for recycling and using sustainable beach gear. It's up to us to keep our oceans and safe, limit the amount of harmful plastics being produced and keep our beaches and other national parks pristine.
Also, don't forget to mention us or tag us in any photos you might have of your eco-friendly beach trips. Remember to find us on Instagram or on Facebook.