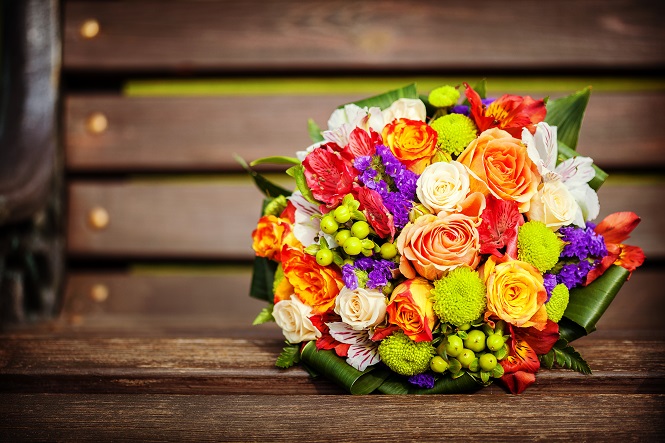 Between weddings, graduations and other summer fetes, there tend to be a lot of flower bouquets purchased this time of year. While many people do attempt to dry their flowers, they suddenly do not know what to do with them once they are. Aside from making cute centerpieces or flower pressings, there are many ways to preserve or upcycle your bouquet. These flowers often represent an important moment in one's life – so why not keep them around? Check out some fun DIY dried flower projects that we found to keep those posies perky all year.
Dried bouquet shadowbox
A big trend for brides looking to preserve their wedding flowers is to dry them and then assemble them into shadowboxes, often with other small mementos from the big day.
This DIY shadowbox
is super easy to make and will give you something to do while your flowers dry (an easy way to hang the bouquet upside down for a couple of days). You can then arrange the flowers in different ways, either filling the box completely with buds or your other special items. If you are worried about the flowers deteriorating over time, there is special preserving spray you can find at craft stores.
Wax dipped flowers
One unique way to preserve your flowers is to dip them in wax. Many people use paraffin wax but soy wax can work as well.
This blogger
used a small crockpot on low to melt her wax and then quickly double dipped her recently trimmed roses – turning them into glistening and permanent decorations. She noted that some other flowers she dipped changed color a bit, so do a test before you dip the entire batch.
DIY dried flower potpourri
This fragrant project will fill your home with decadent and natural scents. Different dried flowers and herbs, combined with spices and essential oils will create a unique potpourri that can be enjoyed all day long.
This article
shows different ways to make your own personal potpourri – and fun accoutrements to display along with it. The mixture can be simmered, placed in a mason jar or stored for future use.
All-natural confetti cones
Everyone loves confetti, but the conventional confetti you buy in the stores is paper – and vary rarely gets recycled. Use crumbled dried flowers instead for an impressive DIY project and a whimsical way to say "cheers."
This rustic-themed wedding
featured paper cones tied with twine and filled with dried flower particles, which guests could use instead of the traditional rice or bird seed you see tossed at other weddings. Talk about sustainable confetti to the max!
Flower garland wall hanging
This garland is a wonderful way to preserve those special flowers and create a brand new wall decoration at the very same time. By using twine, a large tree branch or twig and a few other implements, you can make a gorgeous hanging garland that will last quite a while. There are a few different ways to make these pretty wall hangings –
this step-by-step tutorial
shows how make both a simple version and a bit more advanced one. These garlands can be used both at home or to decorate a wedding, shower or other festive event.
Memory capsule holiday ornament
This is one of the most unique and incredible DIY dried flower projects we found.
One couple
decided to use the rose petals left over from their wedding ceremony and place them in clear glass ornament bulbs. All you need to do is unscrew the small metal cap on top of the ornament and gentle push your flower petals through individually – bigger petals can be carefully folded and pushed through the same way. Add a satin ribbon and you have the perfect baubles for your first Christmas tree as husband and wife.
Pressed flower gallery wall
When framed and hung together as a gallery way, pressed flowers or other plants make for an interesting and dramatic décor choice.
This example
includes white flowers framed in black – making for a modern yet rustic art gallery. You could easily do the same with different colored frames and flowers in order to fit in with your current home color scheme, or as a tribute to the event the flowers came from.
Lavender and chamomile bath soak
Perfect for those days you just need to soak your cares away in the tub, this combination of dried lavender, chamomile and Epsom salts will fill your bathroom with relaxing fragrance.
This recipe
calls for dried lavender buds and lavender essential oil, as well as coconut oil and muslin tea bags to hold the ingredients together in the bath. A sweet-smelling bath won't feel as relaxing if you have to clean all of the particles out afterwards.