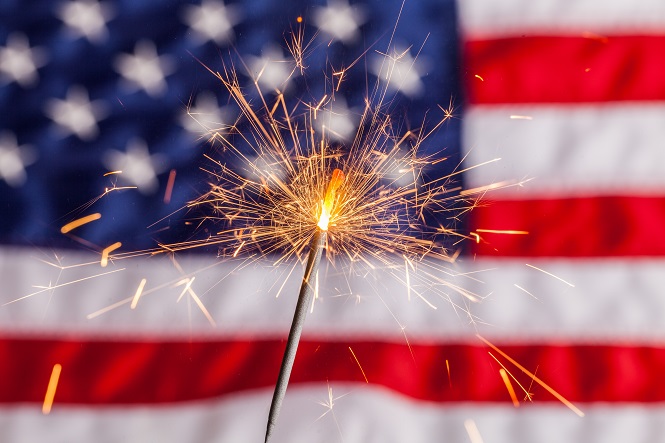 Celebrating Independence Day is always full of fun, family and excitement. From the BBQs to the fireworks, the Fourth of July brings people together across the country to celebrate America and its freedom. If you want to jazz up your household or picnic décor in order to show your American pride, try one of these fun DIY projects that promise the happiest Fourth of July ever!
Tin Can Windsock
This adorably patriotic windsock is not only made of recyclables, but it's also a perfect way to introduce reusing items for DIY to your family. You will need some tin cans (empty baby formula cans are perfect), blue spray paint, twine and red and white ribbon. Remove any labels from the cans and make sure they are totally clean before spray-painting them blue. Once the paint dries, use a hot glue gun to attach red and white ribbon to the open end of the can. For extra flair, let the kids paint stars on the can or apply stickers. When the can is ready, poke a hole in the closed end and feed in the twine for hanging. Check out
the full tutorial here
.
Painted Flag Coasters
Sure to impress all of your Independence Day party guests are these homemade painted flag coasters. All it takes are some white shower tiles, paint and some small adhesive dots or furniture pads. The tiles cost next to nothing and can be found at any home improvement store. Let your kids paint American flags on the small tiles – the easiest way is to paint a small blue square in the corner and then paint the stripes at the same time – as
this blogger
had her kids do. Dry overnight and then add some adhesive dots to the bottom in order to protect surfaces. Pro tip: Place the coasters in the freezer for a bit before your BBQ – the tile holds temperature well and could help those drinks stay cool.
Dried Beans Luminary
This DIY Mason jar luminary is simple yet unique. The idea is to use food coloring to make white northern beans patriotic. Take one cup of dried beans and put them in a Ziploc bag along with a capful of vinegar and few drops of red food coloring. Close the bag and shake around until the beans are covered. Pour them onto a paper towel to dry and repeat – this time with blue food coloring. When everything is dry, layer the beans inside the Mason jar for a patriotic look. Add an electric tea-light to the top and you have gorgeous – and cheap – décor centerpieces for your Fourth of July fete.
Cute Cupcake Liner Wreath
This DIY project is not only east to make, but it's also incredibly cheap to do so – you could probably find all of the materials at the dollar store or your own cupboard. Gather some patriotic looking cupcake liners and a Styrofoam wreath (available at most craft stores). The more varieties of liners the better.
This blogger
used 64 liners (16 each of four different kinds) to create a fun pattern on her Fourth of July wreath. Cut the liners and hot glue them around the wreath in your pattern. Embellish with red, white and blue stars, yarn, or even a cute red flower. Loop red string or ribbon around the top and hang your new Fourth of July wreath proudly.
Upcycled Confetti Launchers
This incredibly fun DIY project is a great alternative to fireworks (which can frighten or hurt children) and is made out of easy to find materials. Plus, the kids will love them so much they'll forget all about those bottle rockets. Gather some toilet paper tubes, markers, 12-inch balloons – in patriotic colors, of course – some tape, paper and a scissors. Cut the paper up into confetti-sized squares and set aside. Next, invite the family to decorate their own rockets, using the tubes and markers. Cut a balloon in half and tie the end. Wrap the tied end around one end of the tube and secure with tape (don't let the balloons bend the tubes). Fill empty ends with the confetti and pull the balloon end and let go – out comes the confetti cannon! See the
step-by-step guide here
.