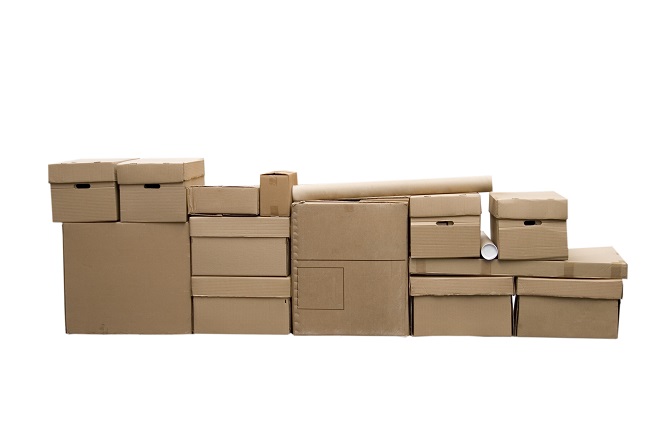 Cardboard is something we encounter almost every day. Pizza boxes, shipping packages and cartons that hold file folders are just a few examples of cardboard items you may have at your home or office. But every once in a while you end up with a large amount of cardboard. Maybe you moved or cleaned out a storage unit. Perhaps you ordered a bunch of furniture, appliances or electronic gear that came packaged in giant cardboard boxes. Under normal circumstances, you would flatten that cardboard and put it in your home recycling bin. But if you had to recycle a large amount of cardboard using just your curbside bin, it could take months. What should you do in these circumstances? We have the answers.
Drop cardboard at your local recycling center
Most cities or counties have a recycling center. If they do, it is very likely they have a dumpster capable of accepting large amounts of cardboard. Break down all your cardboard boxes, load them in the back of a van or pickup truck, and drive them over. Most recycling centers accept materials at no charge, although it is always worth asking. Also, you do not need to limit your search to a government-run facility. Many private companies have recycling yards where people can drop off large amounts of cardboard and other goods. To help find a recycling center near you (which is especially handy if you are new to town), use RecycleNation's
Recycle Search tool
.
Give them away for reuse
Unless you live in a small town, chances are someone else in your community is seeking cardboard boxes. Rather than breaking yours down and recycling them, give them away to people who can reuse them. There are several ways to connect with these folks. You can put an ad for moving boxes on Craigslist. U-Haul Customer Connect is another free online forum where you can give away cardboard boxes and other supplies. If you have access to any kind of university listserv or bulletin board, post information about your boxes there.
Give them away for composting
If a school, community garden or similar program is just getting started near you, or likes to create their own compost, they may be on the lookout for large amounts of cardboard. Broken down cardboard boxes are great for a method called
lasagna gardening or sheet composting
, where you put down layers of organic materials and wait for them to break down into a lush place for planting vegetables, herbs and flowers. Lasagna gardening starts by laying down cardboard to block weeds, so anyone who is just starting will need a lot of cardboard. Cardboard can also be used to make garden paths, or shredded and added to compost as a "brown" material. You could be doing a new gardener a huge favor by arriving at their door with all your unwanted boxes.
Look into a bulky goods collection
Many communities offer bulky goods collection services to pick up waste that will not fit in your normal trash or recycling bin. In some places you must call to schedule a bulk collection. In other places, bulk collections are done on a regular schedule. If you have a large amount of cardboard to recycle, find out if your waste hauler offers this service and whether they accept cardboard. The bulky collection service in Chandler (AZ) and Oklahoma City will take cardboard. However, cardboard is considered an unacceptable item for bulky goods pickup in Austin (TX) and Los Angeles. The question to ask your bulky waste hauler is if your cardboard will be recycled or thrown away. Bulky haul programs pick up all kinds of items, including things that are tough to recycle (like furniture, carpet and large plastic children's toys). Chandler's program specifies that they have bulk haul for recycling and bulk haul for trash, but not all services are that specific. It never hurts to ask what will happen to your cardboard once it leaves your yard.
Rent a cardboard dumpster
If you have a huge quantity of cardboard, it may be easier to rent a dumpster for a day or two. Waste hauling companies can bring one of these small dumpsters, then take it away for a fee. While this is more expensive than moving it yourself, making someone else do the work will save you time and hassle, especially if you no longer have access to the large vehicle that moved all your boxes in the first place.
One final suggestion: How to buy or find large amounts of recycled cardboard boxes
Recycling your cardboard boxes when you finish with them is definitely a worthwhile thing to do. Cardboard is very easy to recycle, and it cuts down on the number of trees that have to be… well, cut down. But if you care about the environment, here is another really great thing you can do: buy or find reusable and recycled cardboard boxes. As mentioned above, Craigslist and U-Haul's Customer Connect are great resources for finding recycled cardboard boxes. You can always pick up boxes from a grocery store, although finding them can be pretty hit or miss. Several companies make boxes from 100 percent recycled paper. EcoEnclose and Pratt Plus are a few examples. This may be your best bet if you really want all your packing boxes to be uniform sizes and quality, or if no one in your community happens to be moving or packing things up for storage at the same time as you.