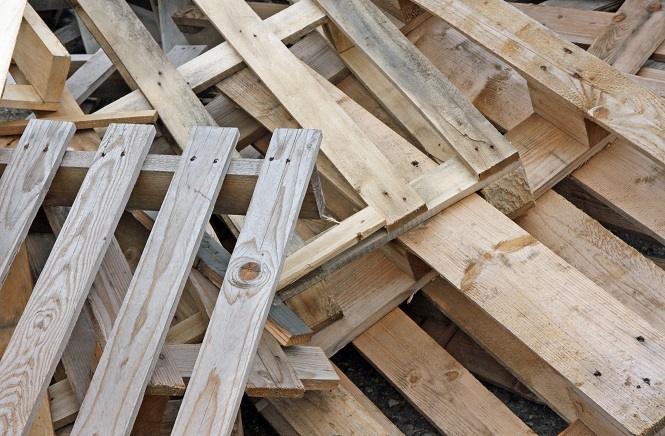 Wooden pallets are fundamental in how we ship items around the world. In the United States alone, it's estimated that over
2 billion wooden pallets
are currently in circulation, and once these pallets are no longer functional for transportation, a huge amount of wood is left over. Instead of allowing these pallets to go to waste, many people have begun upcycling them into creative and useful items for their homes. With a little ingenuity, a few tools and some wood stain, you can beautify your home while recycling wood that might otherwise end up in a landfill. One thing you will learn quickly when working with pallets is breaking them down can take time. To save your back and decrease the chance of breaking boards, use a reciprocating saw with a bi-metal blade. With the saw you can cut between the boards and right through the nails, instead of attempting to pry the nails out. Many recycled pallets are going to be rough and probably require some sanding. In addition to wearing normal safety gear when working with wood, also make sure to wear a face mask. Many pallets have been treated with
chemicals that can be toxic
. For this same reason, always make sure to seal your pallet creations properly to minimize any possible contact with these chemicals.
Workbench
Before you start going crazy, building everything in your home from pallets, you are going to need a place to work. Enter a pallet workbench, which will not only provide work space but also get you accustomed to working with pallets. Since your workbench isn't supposed to be perfect, a mistake or two won't be the end of the world. If you haven't worked with pallets before, it is recommended you start with
an easier design
. A basic flat area to work on may not look fancy, but it will provide ample working space to build, stain, paint and pry your next pallet projects. For this project, your main focus will be creating a sturdy surface that is at a good height for you to work on. You will be using the structural pieces of the pallet for your legs and the thin boards to build your tabletop. Once you feel comfortable working with pallets add on some areas for tools by
creating a back to your table
. If you want to build a more elaborate workbench,
check out this video
, which will walk you through the process.
Bookshelves
Having finished your workbench, you might want to build a spot to hold all your books and DIY plans. As an avid reader, a pallet bookshelf sounded like a great idea to organize my own collection while recycling some wood. One design I found that looked cool and useful was this v
ertically stacked pallet project
. This bookshelf uses the structural beams of the pallet as a base and the boards for the vertical sides. The easiest way to build this bookshelf is to create a few rectangular boxes before attaching them to each other, offset vertically to make an interesting pattern. By varying the width of some boxes, you can create larger areas to fit books horizontally instead of vertically if you prefer. As your library grows, this bookshelf can easily continue to expand to hold your collection.
Swing
With your bookshelf finished, it is time to relax and maybe do a little reading. To get comfy, you need a nice place to sit and relax. Use some more of your recycled pallets to make a swing, so you can kick your feet up. One design that looks really cool uses paracord to lash individual pieces of wood together to
make a flexible swing
that contours to your body. You begin by cutting the pallet boards down the middle vertically and end up with a series of wood planks about 20-inches wide. After this you will make a series of holes about two inches apart and a half inch on the long edge of the wood. You will then weave your paracord through these holes in an X pattern to connect them together, long-ways. Drill two last set of holes on the short end of your pallet swing to run some more paracord through and it can be hung up from a tree or from your house.
Wine Rack
After a long day of breaking down pallets and building new furniture, you might want to relax with a glass of wine. Hopefully, one of your projects for the day included
a wine rack
to hold your glasses and a few wine bottles. To begin, take your recycled pallet wood and create a box just wide enough to hold your wine bottles. One pallet board each for the front, rear and base should hold a few wine bottles perfectly. Next, you will use a hand drill to cut out circular holes in a piece of pallet board to create areas to hang your wine glasses. This will be attached to the bottom of the box you created so the glasses can hang upside down underneath. Once everything is put together, all you need is a nice place to hang it up before you can sit back and enjoy your newest creation.
Bed
Finally, you need a place to lay your head. If you are like me and just barely made it by budget-wise in college, you may not have had a proper bed frame. Instead of sleeping on the floor find yourself a few pallets and create one of the many bed frame designs that are littering the Internet. One
quick and easy design
I found requires little else than stacking a few pallets together to make a frame. To get started, you will place four pallets together to create a rectangle and then stack a second layer of four pallets on top. If you want to be able to take the frame apart easily, you can use a few large zip ties to hold the pallets together. This is the most basic bed frame, if you would like a nice headboard you can use two pallets placed vertically at one of the long ends of your frame. Having finished your pallet bed lay out your mattress and sleep well knowing you just recycled a bunch of would be waste into useful furniture.
Plan on making any of these wooden pallet projects or have a different idea of your own? Let me know about your projects at @ResfordRouzer on Twitter.