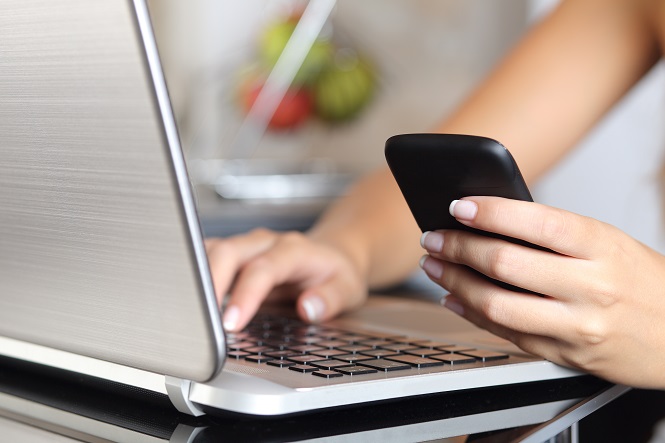 You want the next new gadget but not quite sure if it's good for the environment? I'm here to not only give you some examples of new tech accessories on the market but also some tips for buying new tech and how to make an eco-friendly choice. I tried to find an array of materials to display due to the fact that so many recycled tech accessories are cases, bags, covers or other similar items. I don't know if I'm the only one who mistakenly thought that recycled tech accessories would be more electronic devices, but those types of devices were a little bit harder to uncover. Recycling raw metals and circuit boards are a much more time-intensive processes. A lot of circuit boards are so specific that it's hard to reuse them like you would a fabric. Most companies making recycled tech accessories do the best they can to use as many recycled materials as possible to make up the object. Below are some of the more interesting ones I found.
1. Green Earth Office Supply – Messenger Bag
This messenger bag
looks like any normal sleek and stylish shoulder bag, but it is actually made from rubber. With a cell phone pocket, adjustable shoulder strap and zipper flap, no one would ever guess that you're carrying your laptop in a repurposed tire.
2. Paola Mirai – Cirkuita: jewels from junk
This is an artist I would love to feature in one of our Recycling Artist Spotlights.
Paola Mirai
creates beautiful jewelry from recycled circuits. Each one of these jewels is handmade in Milan and intended to fit in with the ecological spirit of the era. Shee certainly is capturing that spirit; even a single camera can yield many different pieces of jewelry due to the intricate circuitry.
3. Revealshop.com – Bamboo Earbuds
Not only does this tech look nice, but it's made out of bamboo – one of the fastest growing woody plants on earth.
These earbuds
have received excellent reviews and are better on the environment than the plastic headphones that are so commonly handed out on planes, at conferences and with new cellphones. If you need to replace any of your broken headphones, I'd recommend giving these a try.
4. Revealshop.com – Becca Wallet (Vegan Leather)
Last but not least, if you're in the market for leather, but you also want to be vegan-friendly, take a look at this
Becca Wallet
. It's hot pink and has plenty of storage for cards, coins, IOUs and anything else you might cram into your wallet. Of course,
revealshop.com
has other vegan leather options that you can explore as well.
If you're not that interested in the accessories above, have no fear. There are actions you can take to buy devices and accessories you do want while still having a positive impact on the environment. These are guidelines for buying in an environmentally friendly manner:
1. Buy used
I've said it before, and I'll say it again: Craigslist is your friend. It also has the potential to offer up its fair share of strange people, so always be smart when interacting on the Internet. Other places that sell used tech accessories can include flea markets, consignment shops, and even stores like Best Buy or Amazon. A lot of these stores also offer options to trade in your old tech making it available for someone else.
2. Buy refurbished
This is a great way to buy new tech for many reasons. First and foremost, you're buying something that is "used" and therefore already made. You've given new life to something that may have been thrown out and placed in a landfill. The tech you're buying has been inspected and certified to be working as expected. In some cases, you're even replenishing inventory, which can reduce burdens on the supply chain and, as a result, the carbon footprint of a company. Finally, if a company gets something returned, can fix it for less than the cost of making a new one and re-sell it, everyone wins.
3. Target companies that are eco-friendly
This last recommendation could also be known as "be a smart consumer." As a consumer, you get to decide who gets your money, and what you get for that money. Stores are providing you options of what to spend that money on. The stores that you give your money to are ones you are, in a way, investing in. They are going to be more successful and continue to make the same (or similar) decisions based on what they have been successful in doing in the past. A company like revealshop.com is a great example of a company that is selling eco-friendly products, in eco-friendly packaging. I'm not saying you need to go out and specifically invest in them, but think about if you did, they would be more successful than if you did not. And if they are successful, they might continue to make more eco-friendly tech accessories.