If Stephanie Arner isn't your new favorite eco-artist after reading this article, then I'd be very surprised. I am constantly amazed by the people I am able to connect with via writing here at RecycleNation, and she is no exception. I came across Stephanie, thanks to her
website
. Having never heard of this website before, I was intrigued. Was this another Etsy or Storenvy? It's hard to tell what you're in for with these websites. Usually, you end up finding a wide spectrum of artists with varying backgrounds. Some people are just looking to make money and will string together some beads they found at a Michael's or Hobby Lobby, while others devote inordinate amounts of time, passion and energy to their the art. I could tell immediately from the art I saw on Stephanie's page that she fell in this latter category, and I decided to find out more. Spoiler alert: I'm really glad I did. Stephanie is based in one of my favorite parts of the United States, Florida. She is a jewelry artist, multimedia artist, arts advocate/educator, humanitarian, single mother of two teenage boys and a student eagerly waiting to get word on her application to the Arts in Medicine Masters Program at the University of Florida. Stephanie is following her passion and making a career out of it, which, especially for an artist, can seem almost impossible. Stephanie sent me so many different examples of artwork in very different mediums. She has created art using everything from tire debris, egg shells and even dryer sheets. Unfortunately, I could only select a few to share in this article, so make sure to visit the links at the end of this article to see even more of her work. Here are just a few of my favorites: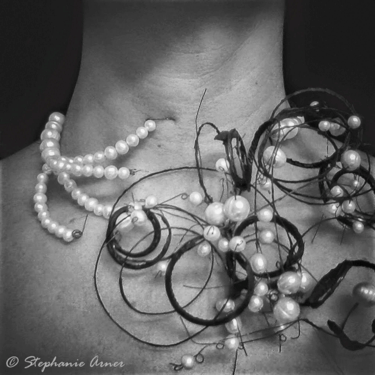 Untitled, 2014
Tire detritus and freshwater pearls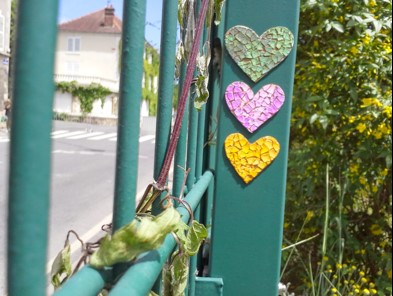 "Heart mosaics (representing me and my two boys) were placed in Auvers-sur-Oise, home of Vincent van Gogh for the final moments of his life. These were left for people to find and keep for themselves during a study abroad trip to Paris in 2013." Her inspirations are nearly as impressive as the work she creates, citing nature, the fashion industry, the people she comes into contact with instructing at the YMCA in North Pinellas and her work as a Hospice volunteer. Stephanie's works at Hospice includes facilitating an art program she coordinated at PACE (Program of the All-Inclusive Care of the Elderly). She says every person she comes into contact with has taught her something valuable: They do not live like they are dying and, instead, are always eager to learn more – no matter what is going on.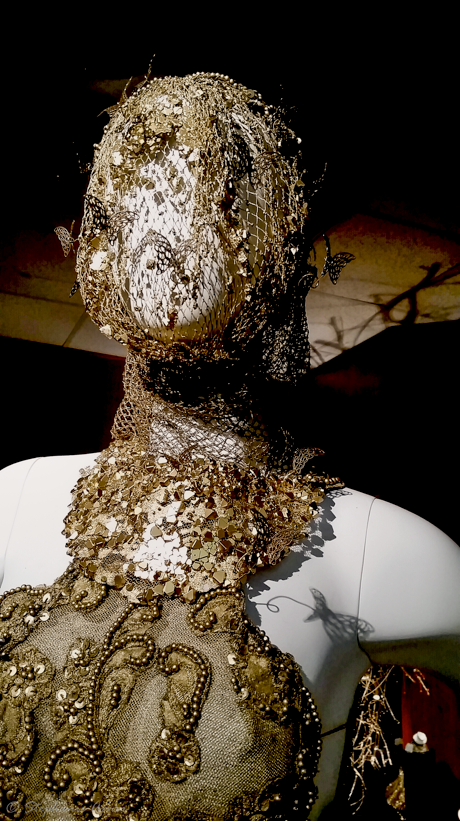 Metamorphosis, 2015
As humans, Stephanie feels we should all do something to make the world a better place, which is why she has chosen to study the Arts in Medicine field, utilizing art-making as a form of wellness. Stephanie is an art instructor for kids at a local YMCA in North Pinellas, bringing concepts like resourcefulness into the work the students produce in class. I think this is one of the defining words of eco-art: resourceful. If eco-artists are anything, they are resourceful. And Stephanie's favorite saying in class? "There's always a way, it's our job as artists to figure it out." Stephanie has the same mindset as all of the artists I have spoken to, stating "Eco-art is on its way; there are many great artists out there making great strides in creating strong Eco-art work."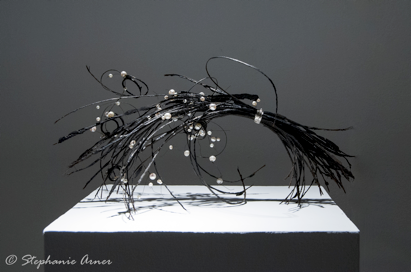 Wildflowers, 2014
Tire detritus, freshwater pearls and fine silver
In her travels, Stephanie has taken notice to see how other places are addressing the issue of recycling. Based on what she has seen, various countries are striving to increase recycling, which is really great, but we can always do better. Human consumption and waste are drastically contributing to landfill issues. One solution she offers up is to find ways to provide more recycling opportunities. Stephanie brought up an example from her own life in which her apartment complex responded to a request for a recycle station with "Where would we put it?" She thinks the message behind the response is a recycle dumpster is not as attractive as a nice new dog park. I chuckled a little at the sarcasm in her next statement. Stephanie said, occasionally, trash piles up on the outside of the complex dumpster and raccoons start raiding the valet trash bins, but boy does that park look pretty! She feels sometimes priorities are skewed and people aren't looking at the big picture. Recycling may not always be pretty, but it needs to get done. Recycling, how to do it and how to get more people involved is an important conversation affecting every single one of us – whether we like it or not. Stephanie uses the word "human" a lot. The future of our planet is something we, as humans, are responsible for: "We made the mess, we clean it up." Future generations, including Stephanie's own children, should not be responsible for the messes of the past.
For more information on Stephanie's work, you can find her on any of the following places around the internet: