Bottle caps are those types of small trash items that seem to end up everywhere. You twist them off of a bottle and leave them without a second thought. Now, before you know it, your kitchen is littered with the things. But they don't have to just become trash. Whether you use plastic bottle caps or classic metal ones, there is an upcycle project or product for you.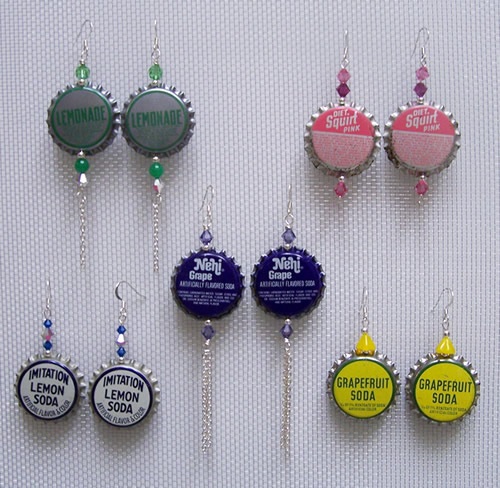 1. Bottle Cap Earrings
Starting off the list is a creative way to use bottle caps in jewelry. These would be great for folks with an artsy, retro look about them. The added beads make these look classy. You can
find the full tutorial here
. As the tutorial says, a good place to find retro bottle caps is at antique fairs and flea markets. Also make sure to check your local grocery store to see if your favorite soda currently comes in vintage glass bottles. These have been pretty popular over the past several years, so they shouldn't be too hard to find.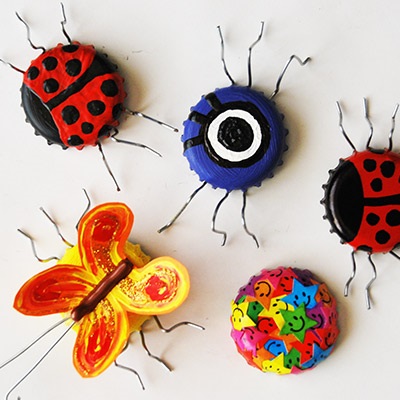 2. Bottle Cap Bugs
This cute project would be great to do with kids, young and old. These actually have small magnets on the back. How cute would these look on the fridge? You can
find the full tutorial here
. Also, be sure to check out other upcycle products by the crafter
here
.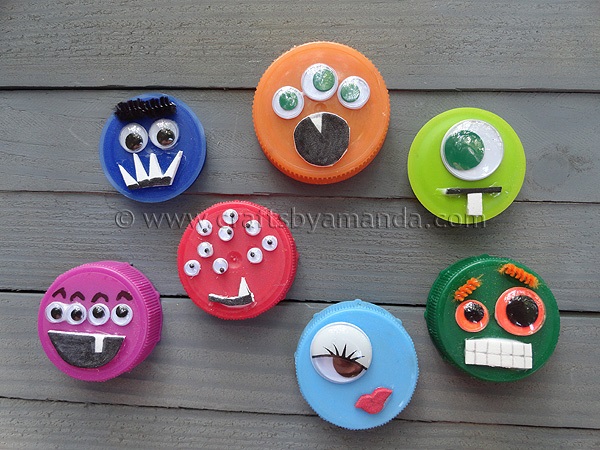 3. Plastic Bottle Cap Monsters
This is a fun project that has some great customization potential. Your monsters will be as fun as your imagination can make them. These creative guys were made mainly with googly eyes, glue, bottle caps and craft foam. You can
find the full tutorial here
.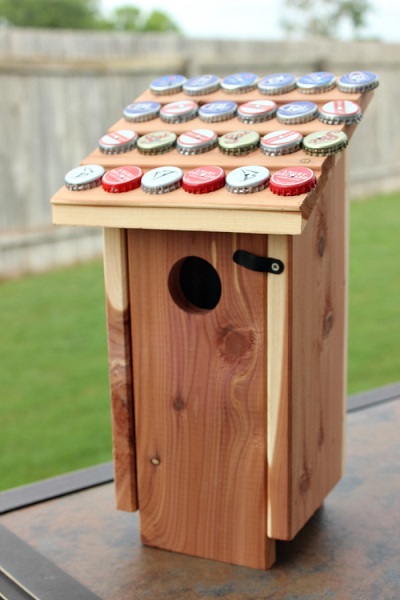 4. Bottle Cap Bird House
This project shows how perfect classic bottle caps act as accent pieces to woodwork. These caps were simply nailed on top. It's a great project for older kids. You can find full details and project photos
here
.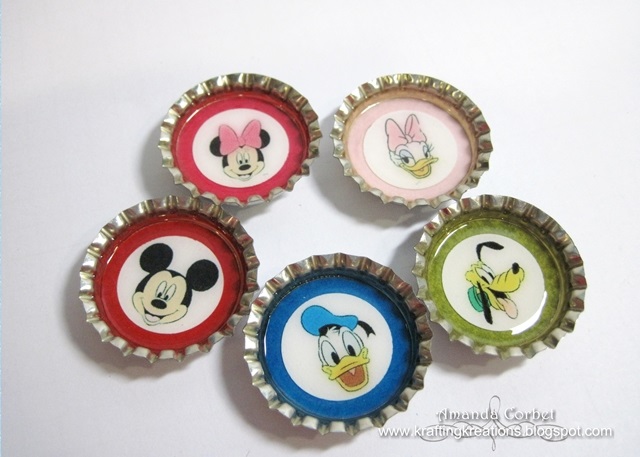 5. Bottle Cap Magnets
This is a great way to feature your favorite characters. These were made by printing character designs off the computer. They're glued onto the caps and the magnets are on the back. You can find the full project details
here
.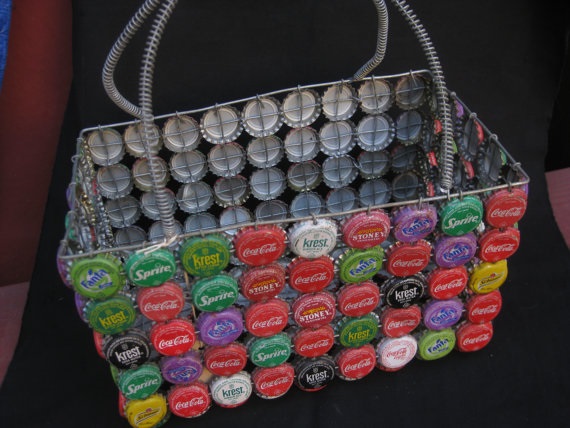 6. Bottle Cap Bag
This bag would make a good addition to any soda lover's life. As the listing says, it would make a great bag, or planter for a windowsill or patio. It was made by
PerpetualMCreations
at etsy.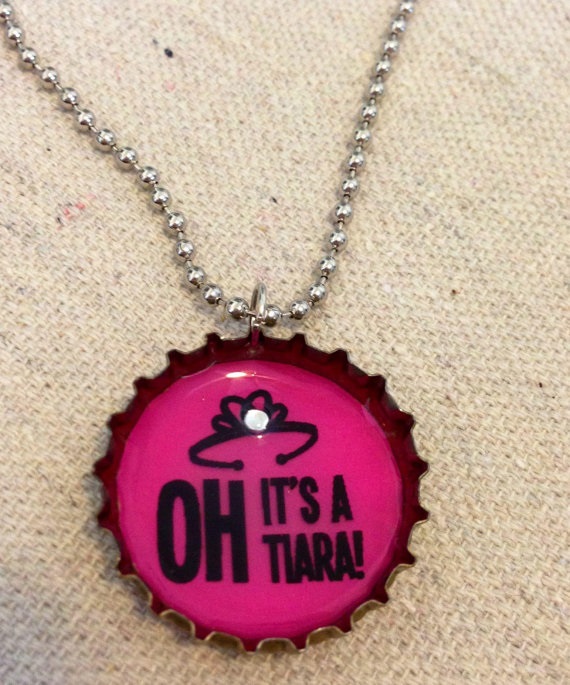 7. Themed Bottle Cap Necklace
Here's another creative, artsy piece of upcycled jewelry. These are made with high quality acrylics to keep the design intact. Half the proceeds from these necklaces go to arts education for orphans in Kenya. It was made by fromSteph at etsy, but you can find more products
here
.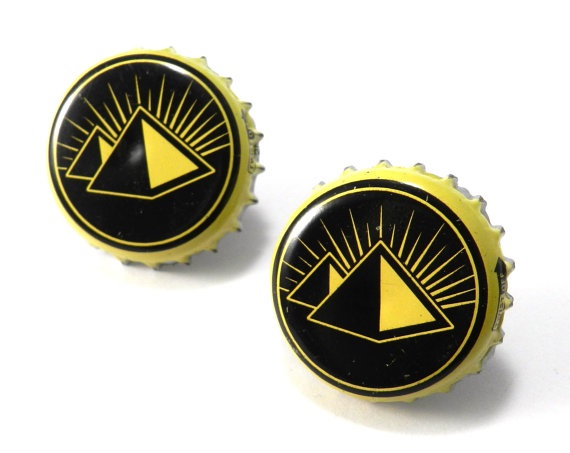 8. Beer Cap Cufflinks
Here's a great idea for the classy man. These cufflinks look plenty sophisticated, yet they're also a way to show off a love for beer. These feature bottle caps from the Stone Brewing Co. They were made by
CompassRoseDesign
at etsy.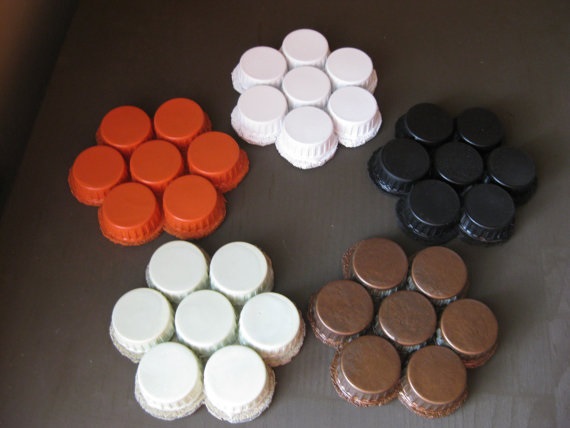 9. Bottle Cap Coasters
These bottle cap coasters would make a great addition to any upcycle enthusiast's home. They're made from plastic bottle caps and come in five colors. You can mix and match what colors you want. You can find them from
theseanymph
at etsy.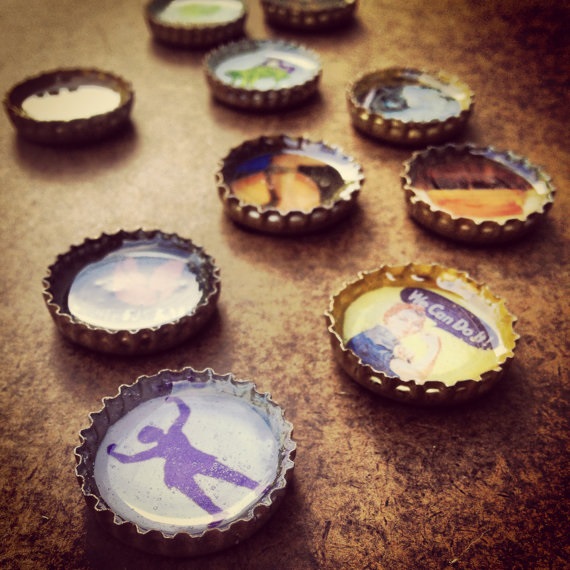 10. Custom Bottle Cap Magnets
This photo shows how good retro graphics look with old bottle caps. Although, you can customize these with any photo that you'd like. You'd just email whatever high resolution photo your prefer or send info from an Instagram post. These are sealed with a clear, casting resin. Perfect for if you don't feel like making your own. You can order these from
bohoFresh
at etsy.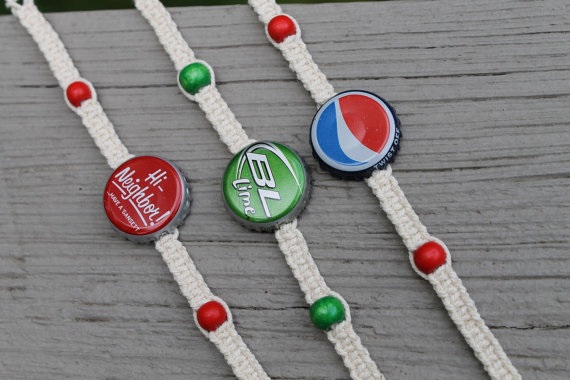 11. Bottle Cap Bracelet
This is a clever use of a bottle cap, a couple of wooden beads and some macramé skills. It's a fun way to show your upcycling pride. These are available from
NillBeanAccessories
at etsy.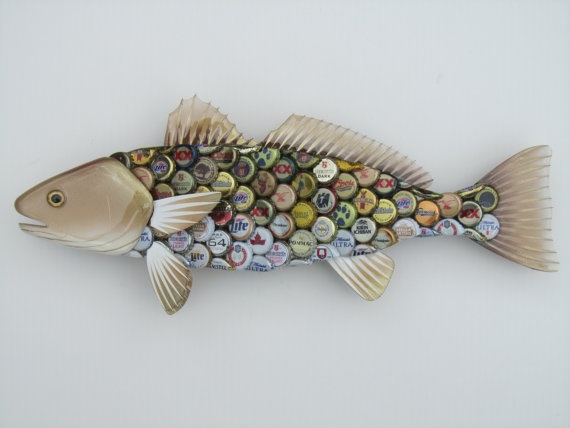 12. Bottle Cap Fish
This fish is a whimsical take on some old bottle caps, which are the perfect size for the scales. The whole piece was made out of bottle caps, cardboard and resin. You can find it from
EricsEasel
at etsy.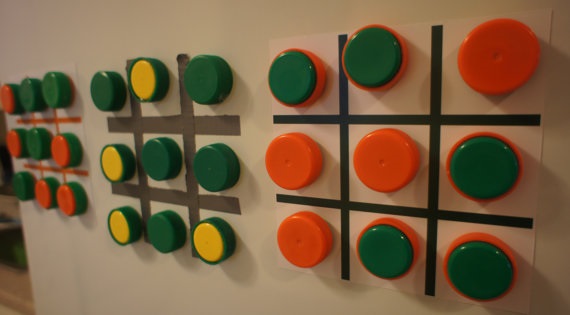 13. Magnetic Tic-Tac-Toe Game
Go ahead, make a game out of your recyclables. This fun tic-tac-toe game would be a good gift for a child and a great way to teach the benefits of upcycling. You can find it available from
RecyclingToys
at etsy.