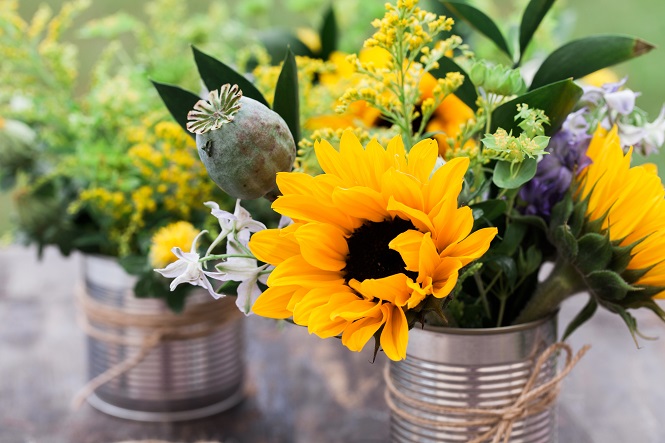 With summer in full swing, people are spending a lot of time outside – both tending to their properties and enjoying them too. If you're lucky enough to have a backyard or patio (even a small one), there are lots of easy DIY projects you can do to jazz up the space. Turn your outdoor area into an oasis, begging for visitors to come and soak up the sun. These five DIY backyard and patio décor projects will take hardly any of your precious time but will make a huge impact on the beauty of your yard.
1. Backyard Fire Pit
Everyone loves sitting around the fire, making s'mores and sharing stories. There's no reason to spend a fortune on a fancy store-bought model – you can make a cool DIY fire pit without the need of a landscaper or cement truck. All it takes is bricks, cinder blocks or another non-flammable material for the actual pit, sand or gravel to place inside, a shovel and a rake. Choose the shape and size of your pit (average fire pits are normally around 40 inches across and 12 inches high) and start building – but make sure you're at least 25 feet away from trees or other structures.
This step-by-step tutorial
will give you all you need to build the fire pit of your dreams.
2. Hanging Flower Pot Lantern
This blogger
challenged herself to make a fun patio light using only dollar store items. After buying a grey clay planter, a hanging bracket, an electric neon light and a few other implements, she turned a plain old pot into a gorgeous hanging lantern. Because the pot is made to withstand water, this lantern will last all year long – regardless of the weather. Follow her tutorial to make your own!
3. Cinder Block Bench
This project is so simple; it will make you say, "Why didn't I think of that?" Gather 12 cinder blocks and four 4x4x10 pieces of lumber. Feel free to paint the cinder blocks in a cute color of your choosing and then slip the lumber in the openings. You can make your own pillows for the bench or throw on a futon mattress – voila! An outdoor bench perfect for lounging! See the
full tutorial here
.
4. Simple Rope Swing
Put that old oak tree in the backyard to good use by building a rope swing! Kids and adults alike will love swirling around on
this DIY rope swing
, made with a pine disc, a carabineer and long piece of thick rope. Drill a hole in the middle of the disc to attach the rope – make sure to add tree-climbing knots! Then carefully hang the swing on a tall branch ensuring everything is secure. Once word spreads that the rope swing is live, your backyard will be full of people looking to play.
5. Tin Can Fence Planters
Now even people with tiny patios or yards can have a lush garden growing – all it takes is some tin cans. If you do not have a fence, you can create the illusion of one by using larger pieces of plywood or a crisscross wooden grid (usually meant for ivy or other long-growing plants). Remove the labels from the cans and then paint the outside and inside with spray paint. Once the cans are totally dry, screw the tins cans onto your fence. Fill halfway will soil, plant the cute flowers, herbs or veggies of your choice, and before you know it, your secret garden will be in full bloom.