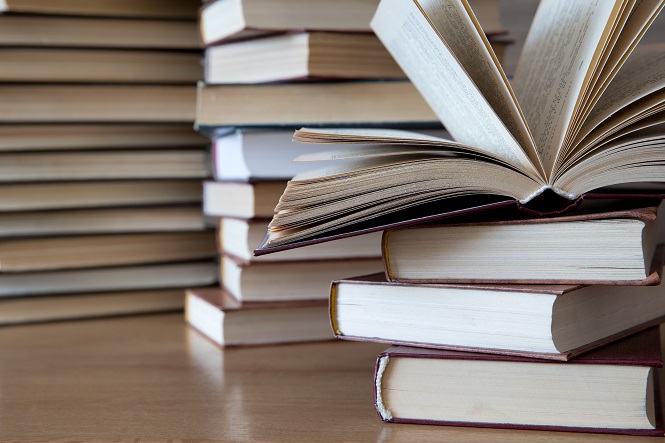 For all of the book lovers out there, it's hard to resist a box of vintage literature for $5 at a yard sale. This often leads to a mountain of books that you may not have the time to read – or the space to store. Or perhaps you no longer need a book but want to keep it because the spine is cool or it has a sentimental meaning for you. Maybe you want to show off your love of books to anyone and everyone you know. Whatever the reason, these five upcycled book projects are wonderful ways to make something new out of your favorite stories.
Book Bins
Everyone can use more storage bins around the house, but those plain plastic containers are a bit boring. Why not jazz them up by covering the face of the bins with the spines of old books? Scrounge around your house for damaged books or pick some out of free piles at yard sales or re-sale stores. Carefully remove the spines from the books with an X-acto knife and then use super-glue to attach them to the face of bin. Boom – that's all it takes! Now you have cute and original bins to store even more books – or anything that needs hiding.
Stacked Books Table Lamp
This adorable DIY books turned lamp project may seem difficult based on the presence of power tools, but you can definitely do it! The idea is to drill the lamp base into one book and then drill a channel through about seven more books in order to attach the light and shade. You can customize this book lamp quite easily – maybe even building a few for your home library! Check out
this site
for a full tutorial.
Vintage Book Clutch
Perfect for book lovers on the go that want to show off their favorite titles will love making their own vintage book clutch. Create a simple purse out of fabric and use a book with its pages removed (pick one with a thicker spine) as the shell of the clutch. Reinforce the book with cardboard before attaching and sew in a zipper that runs around all three sides of the shell. Check out
this step-by-step guide
to see exactly how to craft this hip bag.
DIY Book Headboard
This ambitious headboard project may take a bit of time and skill, but will certainly impress any visitors to your home. Start by collecting a bunch of old books from thrift stores – or your closet – and buying a piece of thicker plywood the size you want for your headboard. Open the books and arrange them on the headboard, hammering them into place. Use double-sided tape to hold the pages in place and voila – you will have a unique yet romantic DIY headboard. Check out
this blog
for full instructions.
Floating Book Shelves
There are many projects out there for folks who want to let their books float freely on the walls without the need of a bulky bookcase. Some projects have you actually screwing books into your walls, essentially destroying them. If you want to have that floating literature look without wrecking the décor, you can make invisible shelves using L-brackets with books piled on top. Yes, the brackets could be seen from directly underneath, but it protects your books. Check out
this Apartment Therapy post
for instructions on this project and other ones like it.