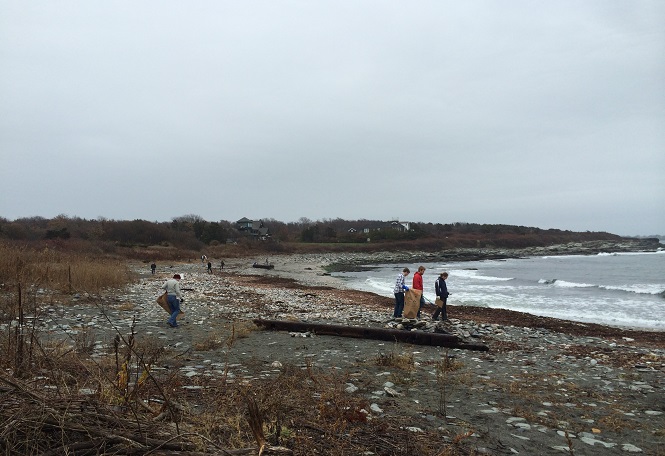 Families from all over the U.S. are traveling to beaches this summer to relax, splash in the water and soak up the vitamin D. But what many people don't realize is that this also means an excess in trash because of what some visitors leave behind. How many times have you been swimming and have seen a sandwich baggie floating in the water? Not only does it litter our beautiful shorelines, but it also washes away into the ocean, wreaking havoc on marine life. According to the Ocean Conservancy, ocean trash ranks as one of the most serious pollution problems of our time. Litter such as cigarettes, food wrappers, straws and bottle caps can have a serious effect on marine life, which can accidentally swallow this trash or feed it to their young. And this is just the tip of the iceberg. But there's good news. We can help prevent ocean debris and litter on our beaches. Here in my Newport, Rhode Island, community, I participate in beach cleanups regularly with a non-profit group called
Clean Ocean Access
. I've found that beach cleanups are a great way to not only do something positive for my city but know that I'm also
helping to protect the marine environment
as well. We usually spend one to two hours collecting trash off various local beaches, recording our findings for the long-term studies that Clean Ocean Access conducts and then weighing the trash at the end. We've found everything from plastic bottles to tires to appliances on our beaches. Balloons, an item frequently pulled from rocks, are a major culprit of harming marine life. They can be swallowed by whales and sea turtles, which, in turn, can clog the animal's digestive tracts, making it impossible for them to eat normally. Fishing line, buoys, traps and rope are items also found in high numbers that can entangle marine life. Do you love the beach and the ocean? Want to make a difference? Then get involved! There are several ways that you can help prevent marine debris:
Find a beach cleanup near you. Ocean Conservancy has a great database of cleanupsstyle="color: happening worldwide.
Organize a cleanup on your own. If you live near a beach, lake, river or waterway, don't hesitate to clean it up yourself. The Ocean Conservancy has some helpful tips

.

If you're visiting a beach or if you're on a boat, don't let your trash blow around.
Dispose of trash if you see it on the beach or floating in the water.
Educate your friends, family and your kids involved, too!
Our "City by the Sea" is packed with people who love the ocean. Whether it's boating, surfing, SUPing or simply sitting on the beach, it's not hard to find a smiling crowd on the weekend, so keeping our shoreline clean and healthy is extremely important. Thanks to the hard work of Co-founder and Executive Director of Clean Ocean Access Dave McLaughlin, the organization has had over 4,200 volunteers, conducted more than 153 coastal cleanups and removed 63,000 pounds of marine debris from our beaches. Clean Ocean Access is just one of many organizations out there that is taking the lead in marine debris. A quick Google search turns up pages and pages of hardworking groups concerned about the health of our beaches, oceans and waterways. Find one near you and get involved! Mark your calendar: Saturday, September 19, marks the
2015 International Coastal Cleanup
, sponsored by the Ocean Conservancy. An astounding 560,000 volunteers in 91 countries picked up more than 16 million pounds of trash during the 2014 event, so join the world's largest volunteer cleanup effort!