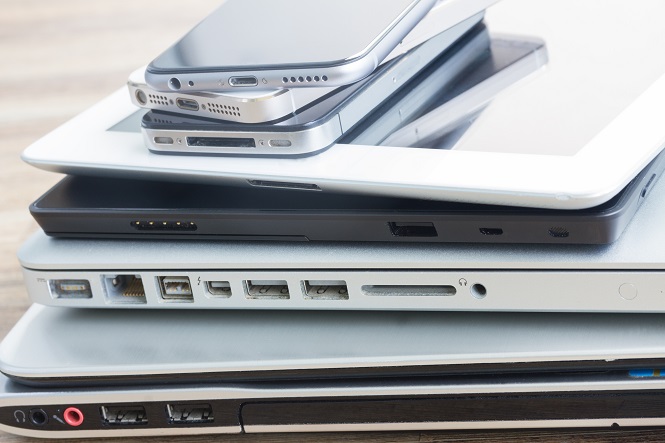 How do you know if the electronics you purchase are environmentally friendly? The Electronic Product Environmental Assessment Tool (EPEAT) is designed to help major purchasers of electronics gauge the sustainability of these products. However, EPEAT was almost
eliminated
at the end of June 2015, according to Waste360. It has since been saved from the chopping block, but why does it matter? What would've happened if EPEAT had gone the way of the dinosaurs?
What is EPEAT?
EPEAT is a resource that
lives on the Web
, according to the U.S. Environmental Protection Agency, and it's targeted toward electronic consumers. The instructional, easy-to-use tool is designed to help institutional purchasers compare electronic items – laptops, desktop PCs and monitors – based on their environmental features. As of June 2007, there were 532 EPEAT-rated products from manufacturers such as Apple, Dell and HP. The EPA developed EPEAT with a grant in 2006, and it is managed by the Green Electronics Council (GEC). The first report pertaining to its benefits was released in June 2007 by the GEC.
How Has EPEAT Made an Impact?
The report
released
by the GEC found that EPEAT saved 13.7 billion kWh of electricity, which could power 1.2 million U.S. households for one year. It also saved 24.4 metric tons of primary materials, and prevented 56.5 million metric tons of air emissions. EPEAT has reduced levels of materials such as cadmium, lead and mercury, which can damage human health when they enter the environment. In 2006, about 118,000 metric tons of water pollutant emissions were kept from contaminating the eco-system. Through EPEAT, the U.S. was also able to avoid the dumping of 41,100 metric tons of hazardous waste. Over the course of the year, about 36 million EPA-approved computer desktops, laptops and monitors were purchased by Americans.
EPEAT Confronts Elimination
Barbara Kyle, the national coordinator for the Electronics TakeBack Coalition, recently voiced concern that EPEAT would take a back seat in the country's
sustainability plan
. In an edition of the White House's latest sustainability policy, specifications for water and energy use were laid out for the 2016 fiscal year. However, there was no mention of EPEAT as the go-to label for federal officials. Kyle feared that EPEAT and its success would be overlooked in the coming fiscal year. However, the federal government altered a
recent executive order
on June 10, specifying the use of EPEAT. "This matters because the federal government is the biggest purchaser of electronics in the country," Kyle told Waste360. "We want to make sure federal dollars are going toward the greenest possible products because it's a lot of dollars." Kyle raised awareness of the issue in April on behalf of the Electronics TakeBack Coalition, as well as its 30 partner organizations. Her efforts were also backed by private and public institutional purchases that use the EPEAT label while shopping. "It's important to recognize that the electronics industry is one of the least sustainable sectors on the planet, using enormous quantities of energy, critical minerals, water and hazardous chemicals," Kyle wrote to Kate Brandt, the federal environmental executive, according to Waste360. "With little focus on designing products that will be long-lasting, safe and easy to upgrade or refurbish, these manufacturers guarantee an astonishing churn of resources unlike any other sector."
Statements from the Executive Order
The updated sustainability requirements
state
that federal purchasers may continue to use the EPEAT registry for product identification. "Unlike prior executive orders, E.O. 13693 does not include a specific reference to Electronic Product Environmental Assessment Tool (EPEAT)," the document stated. "However, EPEAT is currently the only tool available to achieve the electronic stewardship mandates of section 3(l) of E.O. 13693. Any future tools shall meet or exceed current levels of sustainable and environmental performance." In addition to highlighting new specifications for EPEAT, the executive order went on to lay out the foundation for the country's sustainability in the coming years. For example, guidelines were issued for the energy use of computers with power management options. "Agencies shall enable power management features on all eligible, non-exempt computers and displays, which are running or connected to a computer, which is running an operating system capable of power management (including Windows, Mac and Linux operating systems)," stated the document. Standard power conservation methods were also addressed in the executive order. "Agencies are encouraged to consider guidance, policies and procedures for shutting down unused electronics at the end of each work day," the order continued. "Agencies are encouraged to consider the use of smart power strips for reducing the amount of energy used by electronics not actively in use." Finally, the government recommended contacting Energy Star for any assistance that may be needed for the implementation of power management. In short, the executive order laid out its commitment to helping the U.S. become a more energy-efficient country.
Keeping an Eye on the Environment
This is not the first executive order that has been issued by the government with the environment in mind, and it may not be the last. In December 2014, for example, the Federal Environmental Executive
released
the Federal Print Management template for federal agencies and large purchasing organizations. In this document, there are standards for everything from paper printing to font sizes. More importantly, there is information on end-of-life management for electronics that can be recycled after use. Purchasers who are interested in learning more about implementing new devices and phasing out old electronics can also find tips in the document. Finally, there is guidance for IT teams looking to train companies on the responsibilities of employees in terms of sustainability. EPEAT has been saved by the most recent executive order, but there is always more work to do in terms of maintaining the environment. Educating agencies and major electronics purchasers is just one step toward ensuring we're all doing our part to reduce our carbon footprints. For more information EPEAT and the EPA's ongoing work on behalf of the planet, visit the EPA's
website
. Here, you can also find more information on initiatives, such as the Federal Green Challenge and Electronics Product Stewardship.