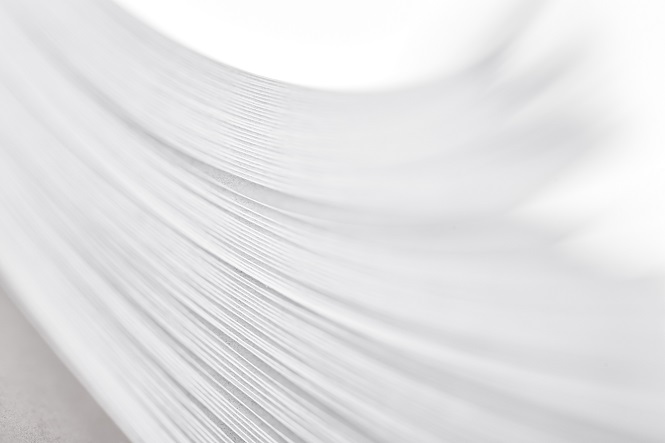 Loose paper is, in theory, one of the easiest things to recycle. After all, just about every curbside recycling program, recycling center and office building in the country will take paper. But exactly what kinds of paper do they mean? The nuances of recycling loose paper can be surprisingly confusing. For example, did you know that construction paper is typically not allowed in recycling bins, or that crafters need to remove things like stickers and metal brads from their card creations before they get recycled? To help the eco-minded office worker or homeowner figure it out, we have developed this handy guide to recycling several types of loose paper. What other types of paper would you like to learn about?
How to recycle office paper
For this example we will assume that office paper means printer paper, both white and colored. This is one category of loose paper that can be tricky to navigate. White printer paper is easy enough; it can go in your normal recycling bin. Most office buildings recycle white and pastel colored paper together, but it is worth recycling them separately if possible. Pure white paper, devoid of both colored paper and other contaminants such as plastic windows from envelopes, fetches the highest price from recyclers because it is the easiest type of loose paper to recycle. Many recycling companies will not accept very brightly colored papers – think the red, teal, fuchsia and lime colored papers sold in the Astrobrights line from Neenah Paper.
This article
in Grist explains that these papers have something called "beater dyes" that paper recyclers cannot include in their systems. A single piece of brightly colored paper can ruin an entire batch of white paper (think about what happens when you accidently throw a dark blue t-shirt in your whites, Grist explains), so make sure these papers do not end up in the recycling bin. Bright colored loose paper can be great for children's craft projects or used in scrapbooks. As long as the paper does not have confidential information printed on it, consider taking it home and putting it back to use.
How to recycle construction paper
In most communities, construction paper falls into the same category as those Astrobrights papers. The dyes used in them are simply too much for paper manufacturers to remove when they turn recycled paper back into new products. Chesapeake, Virginia, is one of few places that allows residents to place construction paper in the recycling bin. Emmet County, Michigan, and Saskatoon have construction paper firmly on their "no" list. Instead of throwing construction paper away, see if you can come up with some creative uses for it. If your kids have already colored on it, they might enjoy cutting it into small pieces and making collages or animal faces with it. Use it to make new paper – a fun project for a rainy day. Or you can avoid buying construction paper by buying easy-to-recycle pastel paper instead. You might even pilfer some from the recycling bin at work if someone has only printed on one side of it (and the paper does not include confidential information).
How to recycle writing paper
Loose writing paper can be the lined paper students keep in their notebooks or the stationary on which your grandmother writes you letters. Whatever form it takes, most writing paper can go in your normal recycling bin. Even writing paper with brightly colored ink is okay. The only reason you might not be able to put loose writing paper in your recycling bin is that it has lots of embellishments on it. See more about that below.
How to recycle decorated paper
Maybe you love making cards with glitter and ribbons, or your kids adore putting stickers on every loose piece of paper they can find. Can that go in the recycling bin? Most recycling centers will not take paper with embellishments like glitter, stickers, foil, metal charms, felt cutouts and ribbon. However, if you tear off those items, the rest of your loose paper can go in the recycling bin. Place the glittery or otherwise decorated portion of the paper in the trash.
How to recycle loose paper receipts
Almost everyone has a ton of loose paper receipts hanging around the house. They also pose a challenge for recyclers. If your receipt is printed on regular paper with regular ink, it can be recycled. If your receipt is printed on that new, slick paper it can pose a problem. Those receipts are made of thermal paper and can contain the plastic BPA, which is known to harm human health. Some communities will take these types of receipts and some will not. Check with your local solid waste district to determine their policy.
How to recycle loose paper junk mail
Almost all types of junk mail can be recycled. The majority of it is printed on normal paper, be it loose computer paper, lightweight cardstock or newsprint, and those are all okay to go in your recycling bin. Watch for these items in your junk mail that cannot be recycled: fake plastic credit cards, sheets of return address labels and envelopes padded with bubble wrap or textiles.