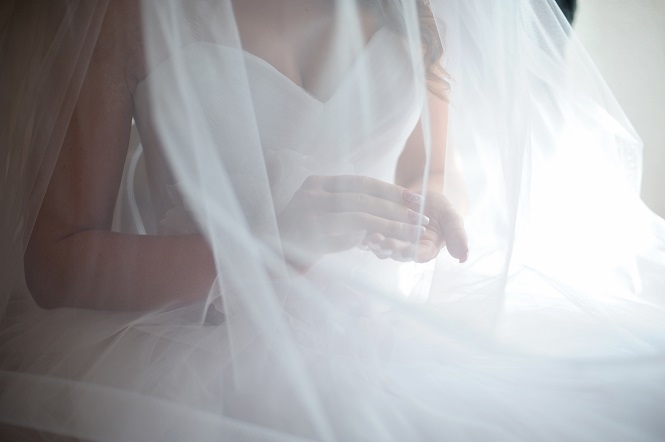 If you have ever seen the movie "27 Dresses" with Katherine Heigl and Malin Akerman, you know that recycling a wedding dress can go horribly wrong. Heigl's character, Jane, dreams of getting married in her mother's wedding dress. Her sister, Tess, is set to wed first (to the man Jane is in love with, no less). When their parents gift Tess the dress, Jane is disappointed. But she is truly heartbroken when Tess takes the dress, cuts it into shreds and uses only one tiny panel in her ultra-modern gown. If done with more consideration, recycling a wedding dress can be great for everyone involved. There are many ways to recycle a wedding dress you no longer need – and that no one in your family still wants. Read on to learn how to make your "something old" into something new and exciting for someone else.
Sell your wedding dress
Selling your wedding dress can be a great way to earn some money to help pay off your post-wedding credit card bills. "Recycling" the dress also gives you the opportunity to make someone else just as happy that they found the perfect gown for their special day. People frequently sell wedding dresses on Craigslist, eBay and similar sites. That is a good place to start. Businesses that rent wedding dresses are becoming more popular. They often purchase secondhand dresses to share with their brides. See if you can find a company in your community and find out if they buy dresses. There are also multiple companies online that purchase wedding dresses for resale. Check out sites like
PreOwnedWeddingDresses.com
and
Tradesy
. If you are looking to sell a family heirloom or other special wedding dress, you might look into a business that specializes in vintage gowns.
Mode Perdue
is one example. The site buys bridesmaid, mother of the bride, flower girl and other special occasion items as well.
Donate your wedding dress
If selling your dress sounds like too much work, you can always donate your dress to charity. Many thrift shops and consignment shops accept wedding dresses and accessories. A number of charities accept wedding dresses and use them to support various causes. Brides Against Breast Cancer sells dresses to fund its wellness and education programs. Wish Upon a Wedding gives dresses to women who are terminally ill and want to get married or renew their vows. Brides Across America donates wedding dresses to military brides who cannot afford to purchase gowns.
DonateMyWeddingDress.com
has perhaps the most complete list of different charities that use wedding dresses to help people in need.
Upcycle your wedding dress
Perhaps you found a dress you love – except for those hideous 1980s sleeves. Or maybe you really want to wear your mother's gown, but the style is so out of date you know you will hardly be able to look at your photographs. That is where upcycling comes in. Upcycling allows you to breathe new life into an old dress. In some ways, that is recycling at its finest. The simplest way to upcycle an old wedding dress is to remove an element that makes it seem dated. Taking the high neck off a turn-of-the-century gown can make a big difference in how the dress appears. Or you can go whole hog and completely reconfigure a wedding dress. Here's a great example of how a talented sewer
refashioned her friend's mother's wedding dress
into a gorgeous new design. I love how
this blogger removed the ruffles
from this lace dress and combined it with a simple tea-length gown to come up with something totally different. Another option is to upcycle your gown after your big day rather than before. When you start shopping for a wedding dress, think about ways you can alter it so it can be worn to future events. By shortening your dress, dying it or just going with a piece that says "celebration" more than "bride to be," you can turn a one-in-a-lifetime dress into one you can wear to all kinds of functions. Getting ideas for upcycling a wedding dress should be easy. Pictures abound on sites like Pinterest and etsy. Finding someone to do the upcycling for you if you cannot do it yourself may be the bigger challenge. Reach out to family members and friends to see if they can help. If not, explore local alterations shops, dress shops, even colleges with design schools. They may have a student willing to share his or her skills.
Reusing a wedding dress
Truly recycling a dress that is in bad condition is a tough thing to do. Textiles are notoriously hard to recycle. Satin, silk, lace and brocade with lots of buttons and beads attached will be even harder to recycle. But wedding dresses can be reused in a variety of ways. A program called
NICU Helping Hands
reuses wedding dresses by turning them into garments for families who lost an infant shortly after birth. It only accepts donations at certain points in the year, but its program is worth checking out. If you want to do the reusing yourself, Pinterest has many ideas for this. Use the high-quality fabrics in an old wedding dress to make baptism clothing, doll dresses, pillows, purses, quilts, stuffed animals, Christmas tree ornaments, even jewelry. Using your wedding dress will infuse these items with such special meaning. Unless you are determined to see your daughter in your wedding dress someday, reusing your gown can create a beautiful, lasting reminder of your special day.