Artists Jen and Tom surprised me recently on a trip to Long Island. I was visiting a friend in Port Jefferson, and the last thing I expected to encounter on this trip was eco-art. It wasn't as if I thought Long Island was some sort of environmental wasteland; I simply just didn't anticipate eco-art to be right in front of my eyes – without me having to even look.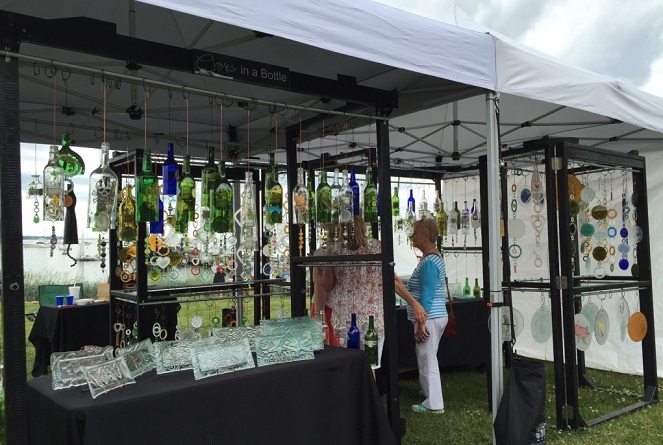 While walking around Port Jefferson, we encountered the 2015
Boater's Maritime Festival
. What a great event! There were real pirates, live bands and even a clam-eating contest. Despite the roar of the children and pirates, we could hear wind chimes. It was to our surprise that among all of the participants at the event, there was an eco-art vendor by the name
Chimes in a Bottle
. Despite its name, wind chimes isn't the only thing it creates. Chimes in a Bottle also create sun-catchers.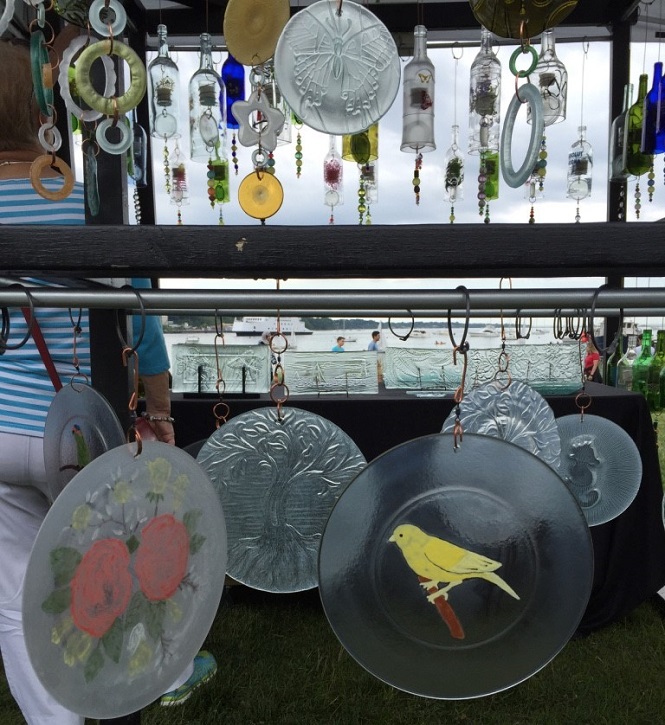 I was in such a rush getting around the event and seeing all of the spectacular vendors, it almost didn't even occur to me what I had seen. Lucky for me,
Chimes in a Bottle has a Facebook page
, where I was able to catch up with the artists that comprise the business and hear a bit more about what they are doing. For starters, these artists are based out of Smithtown, New York and have been creating their art for about three years. Their inspiration is quite simple: the sight of a wine bottle used as a planter. From there, Tom started experimenting with different cut methods, and Jen, who had always loved glass, bought a kiln. They put their heads together, and the result is the wind chimes and sun-catchers you see above. The sun-catchers and wind chimes are made from all sorts of materials. The primary material, of course, is recycled glass. Everything from recycled bottles, window glass and repurposed window glass. In addition to the glass, Tom and Jen use recycled or repurposed electric wiring, paint, reusable stencil film and purchased beads. These materials add accents and character to the pieces to really make them unique. Although Jen and Tom are contractors by trade, they also participate in a number of festivals, showcasing their chimes and sun catchers.
Sag Harbor Harbor Fest
(coming up on September 12-13, 2015) and Port Jefferson Boater's Maritime festivals tend to be the most fun, as they're on the water. The duo has also participated in a wine tasting event at the
Flights of Aviation
museum in Garden City, New York, the Italian Heritage Festival in Smithtown this past weekend and, coming up, they'll be at
Osprey's Dominion Vineyard
in July. Jen offered some interesting thoughts on recycling efforts and eco-art. She is one of many artists who has a lot of faith in the future of this trade. Creating eco-art is something she is passionate about and says a lot of people are often excited to see glass products being re-used and re-purposed, complimenting them on the creativity shown in using different elements. As for recycling, Jen says the world is doing a couple of things very well. For starters, she says labeling what is recyclable is something that is happening and helpful. She also says requiring stores selling recyclable products to provide recycling options for said options is also a great way to increase recycling rates. Last but not least, Jen and Tom want someone to figure out how to
make the millions of Keurig cups recyclable
! Of course, we're all too familiar with the problem over here at RecycleNation.com and couldn't agree more. It was great to see people local to me out there creating eco-art. It's rare I encounter people this close to home, although based on how easy it was to happen upon Chimes in a Bottle, maybe I just need to get a new pair of glasses or open my eyes a little more? I hope more artists are like Jen and Tom and focus on getting out there and spreading the message about eco-art, because it is working!