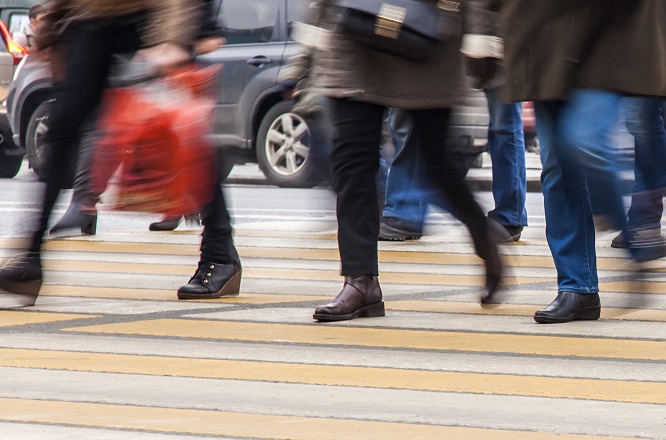 When it comes to the world of tomorrow, Google has some admirable ambitions. When it's not involved with startups that attempt to cure aging or making self-driving cars, it's making headlines with its newest brainchild.
Sidewalk Labs
is a startup founded to try to cure the biggest problems that face the urban landscape in coming years. Notable goals of Sidewalk Labs involve instating smoother transportation, decreasing energy consumption and lowering the cost of living in urban areas, all in the name of making overcrowded city areas livable in a future with an even larger world population. But will it work, what are the plans
exactly
, and are there better options heading our way?
Sidewalk Labs: visions of a smart city
Sidewalk Labs will be located in New York and led by Dan Doctoroff, a former CEO of Bloomberg LP and deputy mayor for economic development and rebuilding of New York City. Of the venture, Doctoroff said, "We are at the beginning of a historic transformation in cities. At a time with rising concerns about urban equity, cost, health and environment, the transformative power of technology will make cities more efficient, responsive, flexible and resilient. We expect Sidewalk Labs to play a big role in the development of technological products, platforms and advanced infrastructure that can be implemented at scale in cities around the world." The company wants to address housing, energy, transportation and governmental issues and expand on what is already underway. It will also have a team at Google led by Chief Executive Larry Page.
The New York Times reported
that, on a more tangible level, Sidewalk Labs will create "technology platforms that people can plug into." That would mean accessing technology for monitoring energy use or changing commuting habits. Doctoroff compared it to a similar early idea: New York City's bike-sharing program, in which residents can rent bikes off of a touchscreen kiosk. The ideas are still in their infancy, but it would seem Google envisions a world where urban living is more of a technological paradise than a general, overcrowded pain in the neck. But is it the best option available?
The critics
Already the venture has its naysayers. After all, it's far from new or unexplored. We can already monitor energy usage via our phones and choose alternative travel methods via bike-share or monitoring traffic patterns on map apps.
Fortune Magazine
made the bold statement that more tech isn't really the answer. We already have tech out the yin-yang. It stated Sidewalk Labs is going to have to do something more impressive. Much more. "I expect – and hope – that given Doctoroff's background, much of the innovation would be focused on policy and urban planning," wrote Katie Fehrenbacher with Fortune. "Whatever emerges would have a tech component rather than being pure tech products. Rapidly developing cities like San Francisco need much more policy and urban planning innovations than they do the latest technologies." She went on to say that the technology component for smarter cities is already being covered by the giants like IBM, General Electric and Cisco Systems, which all use technology to make city systems work efficiently. Energy efficiency in buildings is handled by companies like FirstFuel, WegoWise and Retroficiency. Urban Engines launched to make urban transportation a smoother experience for everyone.
GreenBiz also
listed many companies that are ahead of Google on these initiatives. As far as connecting the smart city, GreenBiz stated, "Incumbent telecom giants are a natural fit to fill this void because of their stores of available capital and experience building out vast networks." Cisco and Sprint are already talking about a smart city
infrastructure deal in Kansas City
. Sprint will build the wireless network and Cisco will run an integrated platform across the city. Also, Veniam focuses on connecting public transportation and infrastructure into a city network. OpenGov helps cities budget by making documents more accessible. In short, Sidewalk Labs will either have to do what's been done far better or come up with some brand new ideas to step ahead of the herd.
The promise of shiny, new smart cities?
Another option out there is to just build brand new cities. It's an extreme, scrap-everything approach that incorporates the latest in technology and construction. Such an example is Masdar City in Abu Dhabi.
The Guardian reported
that it will be raised above a concrete base to take advantage of cooling winds, self-driving electric cars will scoot around tunnels and low-energy appliances and insulation will cut energy consumption down to a quarter of the consumption of a normal city its size. Sounds like a cozy, idealistic sci-fi from the 1950s. The problem? It's expensive, requires three times the amount of infrastructure and would require moving whole populations down the road. Imagine telling all of New York City it needed to move. Plus, already the 2016 finish date has been pushed back to 2025. The solution, as it usually does, lies somewhere in the middle between innovation and existing materials.
The early days of Sidewalk Labs
Already Sidewalk Labs is establishing itself as having a hand in some pretty awesome things. For instance, free city-wide Wi-Fi, anyone? Just last week, on June 23, Sidewalk Labs announced a group of investors, led by Sidewalk Labs, will acquire the merged Control Group and Titan companies. The new company will be called Intersection. It will help carry out the next stages of LinkNYC, which will provide New York City residents with free public gigabit Wi-Fi via 10,000 communications hubs. Residents can then access "communications, informational and municipal services" in the city. It'll be interesting to see what Sidewalk Labs comes up with. Its CEO has experience in both the private sector and working to solve some of the toughest issues New York City faces in his work as deputy mayor for economic development and rebuilding. If anyone's up to the challenge of ushering in a brighter tomorrow, it should be Doctoroff and his Google team.