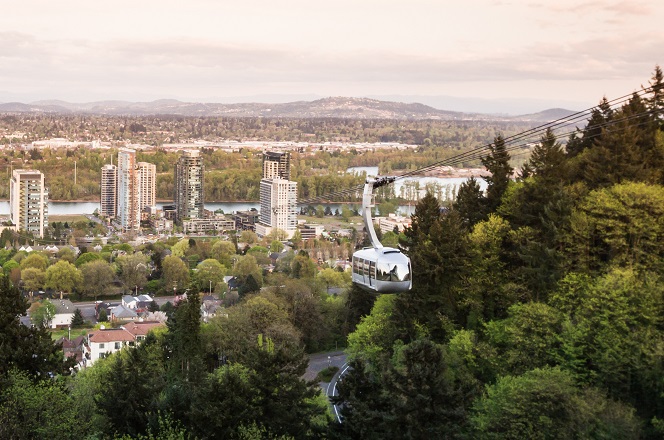 For a variety of reasons – some more obvious than others – it's inevitable: Trees of all species, sizes and shapes need to come down in an urban setting. Perhaps an empty lot is being developed. Or a road is being widened. Or, unfortunately, a specific tree is sick or diseased and needs to be removed. The question in each of these scenarios: What becomes of the removed tree? A growing movement known as Urban Timber is attempting to create an afterlife of sorts for these removed trees. Of course, the wood from trees is used to produce a number of products, some far more obvious than others. By harvesting and manufacturing urban trees, advocates say the effort can shift attention away from deforestation, which continues to ravage large populations of trees in some of the earth's most precious natural habitats.
One case study: Portland, Oregon
As its name suggests, Urban Timber is popular in, well, urban settings.
This article
from Oregon Public Broadcasting puts the spotlight on a Portland man's quest to repurpose cut-down trees throughout the progressive city. "Growing trees in the city for lumber takes logging pressure off our wild forests," David Barmon, who owns a Portland-based landscaping company, told OPB. "There is a smaller carbon footprint when trees are cut down, taken a few miles to a mill and used in the neighborhood." A swath of other cities noted for quickly adopting sustainable practices – including Boston, Minneapolis, San Diego and San Francisco – have also begun adopting some form of Urban Timber.
An emerging concept
In
this Washington Post article
, St. Paul, Minnesota, resident Stephen Bratkovich, who specializes in urban wood use, stated less than 5 percent of the wood harvested from cut-down trees is used to make furniture or go toward building construction. The overwhelming majority of the lumber carved out of trees removed from urban settings goes toward firewood and landscape mulch, based on Bratkovich's professional analysis. The statistics reveal few people see a true intrinsic value in trees removed and harvested in urban settings. While professional woodworkers might see an afterlife for these urban trees, some of the largest players in the market are not yet onboard. Statistics reveal few sawmill operators and large-scale commercial loggers are using Urban Timber for their own operations. The reason: The trees might have staples, nails and other metal pieces that would not wind up in forest-harvested trees. Urban trees, of course, run the risk of doubling as posts for lost pet postings and other community announcements. When a tree with even the most finite metal objects runs through a professional sawmiller's line, the risk of a machinery malfunction is increased ten-fold. Commercial loggers, meanwhile, are notoriously fast-paced in their daily operations regimen. The above not withstanding, there are a few outliers who are trying to break with tradition. Case in point: Urban Timberworks, in Portland, specializes in harvesting trees removed in urban settings so they are used for the most productive purpose possible. Urban Timberworks, incidentally, is described as a logging company.
U.S. Forest Service conducts a tally
According to the
U.S. Forest Service
, the possibilities for repurposing urban trees are abundant. The government agency asserts upward of 3.8 billion feet of lumber can be produced from the different tree species removed in the nation's urban and suburban communities. Borrowing the above case study for a moment, Portland itself is a refuge to a range of different tree species that thrive in urban settings. A sampling: cedar, cherry, chestnut, fir, hemlock, locust, maple, oak, redwood and walnut. Based on their specific wood make-up, these specific tree species can go toward a variety of different purposes. The U.S. Forest Service is not the only organization taking note of the possibilities urban timber possesses. David Macfarlane, a professor with Michigan State University, conducted a study of the Urban Timber supply in southeastern Michigan. After sampling 13 counties in the region, Macfarlane discovered enough Urban Timber is removed to support five local sawmills. But the biggest takeaway, in my estimation, is this golden nugget: If all that tree lumber were used strictly for construction, it could go toward building 362 homes. Macfarlane's Michigan-based research actually was a precursor to a larger-scale study he conducted on forestry management in Kenya. "We have to pay more attention to how we utilize trees because the planet is becoming more urbanized and more deforested, so trees are becoming more of a precious resource," Macfarlane said in a news release posted to Michigan State University's Department of Forestry
website
.
Cost detriments
While there are many plausible reasons to back the Urban Timber movement, I would be remiss if I did not go into some of the drawbacks that could point back to the reason it has not taken off more rapidly. Because of the complexity and density, removing a tree for an urban property is usually costly and time consuming. Cutting down the tree is the easy part. From there, heavy equipment, such as a crane, usually needs to be deployed to remove the heavy lumber and transport it to a sawmill or some other type of processing facility. Great care also needs to be taken because the tree typically abuts buildings and other urban features that are not conducive to easy hauling of anything large, much less a hulking tree. As noted in the Oregon Public Broadcasting story, harvesting an urban tree could cost upward of $20,000. Depending upon what is produced from the lumber, the resale value could be in the ballpark of $3,000. Some of the largest Urban Forestry advocates, however, assert the cause behind the effort trumps the cost. For sentimentally minded persons, having a cherished old backyard tree live on through wood cabinets might not sound so far-fetched – particularly if Urban Timber continues to grow. Of course, every time a woodworking project comes from lumber rooted in an urban tree, it shifts the focus away from forests deep in the natural habitat, which continue to dwindle in size at an alarming rate.