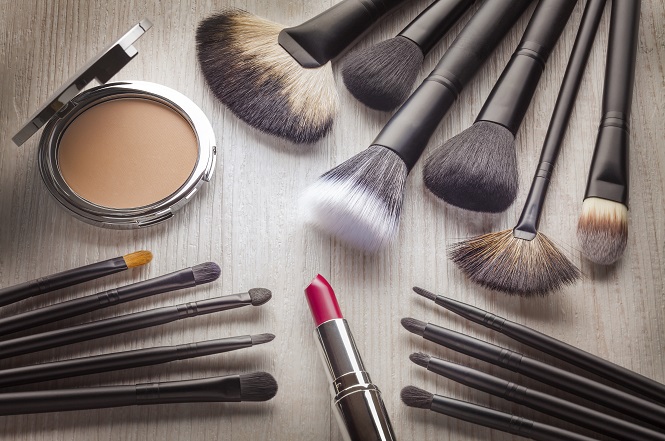 The beauty industry's long been in the public eye for some of the harsh chemicals it puts into its products. If you have sensitive skin, you'll know about this firsthand after the redness that sets in when using certain mainstream products. Even if you haven't had any problems with traditional beauty products, maybe you just want to go more natural to avoid the extra waste from the packaging and marketing or possibly avoid the bizarre chemicals that have more letters than the whole alphabet itself. Below are 10 ways to apply green living habits to your beauty routine.
DIY your teeth
Cut back on the unnecessary packaging (a toothpaste tube in a box, really?) by making your own oral hygiene products. You can find an all-natural toothpaste recipe
here
, which just requires baking soda, peppermint extract, fine sea salt and filtered water. If you don't want to give up a mouthwash habit, there's a good recipe
here
that requires distilled water, baking soda, tea tree essential oil and peppermint essential oil. You can also find an easy recipe for a homemade tooth whitener
here
. It just requires baking soda, hydrogen peroxide and mint extract if desired.
Skip the shower
The average American shower uses
17.2 gallons of water
. Get into
water conservation mode
and cut out some of those daily or every-other-day showers. If you feel like your hair can't take a day of no shampoo, you can always make your own dry shampoo that will soak up the oil. You can find a recipe
here
that uses cornstarch as the main ingredient.
Make your own hair products
Speaking of hair, you can also make your own all-natural hair care products. For shampoo just mix equal parts distilled water and unscented liquid castile soap. A few drops of essential oil of your choice can add a great scent. You can make your own conditioner by getting some plain yogurt and adding a few drops of olive or coconut oil with an optional squeeze of honey. You can also add your own essential oils if you wish. You can find more recipes
here
.
Remember the all-natural hair care
Outside of washing your hair, remember to go natural with other aspects of your hair care. If you can, go with natural hair dye methods like henna, indigo and cassia. There's also a good recipe for a clay hair mask
here
using apple cider vinegar, Redmond Clay, organic lavender hydrosol and a few drops of essential oil of your choice. After she used it, the blogger said her hair was smoother, shiner and had more volume.
Harness the power of tea
Have puffy eyes? Don't forget the old herbal remedy of putting some wet, cool tea bags on your eyes. Leave on for 10 minutes and your eyes should be refreshed. Don't forget the benefits of green tea, either. You can use it as part of a face cream for dry or ageing skin. This recipe is more involved. It uses beeswax, a number of oils and, of course, green tea. You can see the recipe
here
.
Get cool with ice
Get completely back to basics by using ice in your beauty routine. Ice is truly a versatile DIY beauty staple. You can make aloe ice cubes for sunburn relief, numb skin before and during eyebrow tweezing and create an ice cube facial cleanser out of pureed cucumber, a squeeze of lemon juice and a bit of honey. You can find the full list of beauty uses for ice
here
.
Make your own makeup
You can also get crafty with your makeup. There are tons of recipes for every need:
Go for natural oils
Also, remember that natural oils are your friends. It may be tempting to wipe out all oils in an effort to get less oily skin, but the oils can balance out moisture, add nutrients to the skin and prevent the excessive drying that leads to excess oil.
Here's a recipe
that has beeswax and several natural butters and oils in it, which mimics Burt's Bees hand salve. Coconut oil also makes a great conditioning mask before you wash your hair to prevent damage, and washing your skin with olive oil is supposed to help draw the oil out of your skin (since "like attracts like") and add moisture.
Research your products
If you don't have the time or inclination to mess around with DIY beauty, make sure what you're buying from the store is safe from hazardous chemicals. You can research the chemicals in products through
EWG's Skin Deep Cosmetics Database
,
Goodguide's Scorecard
or
Goodguide's reviewed and rated makeup page
.
ShopSmart
also recommended keeping an eye on certain chemicals that are banned or restricted in other countries: Formaldehyde releasers and 1,4 dioxane (possible carcinogens), Phthalates (Diethyl phthalate (DEP) and dibutyl phthalate (DBP) (were both deemed toxic by the Federal Hazardous Substances Act), and Triclosan and Triclocarban (can affect reproductive growth and developmental systems).
Find actual green products
You can, of course, buy green beauty products as well. Consumer Reports recommends watching out for
labels that actually mean something
: USDA Organic, Non-GMO Project Verified, Natural Products Association Certified (NPA) and Design for the Environment (DfE). There are also several shopping apps you can download to help you look at the ingredients in the products you are thinking of buying. Some good choices are Think Dirty, Skin Deep Cosmetics and GoodGuide.