PVC pipe is not limited to only plumbing uses anymore. Before you decide on what end-of-summer craft project to start next, take a look at these inventive uses of PVC pipe. Also, let us know when to bring the popcorn for the outdoor theater. We'll even chip in for the good movie butter kind.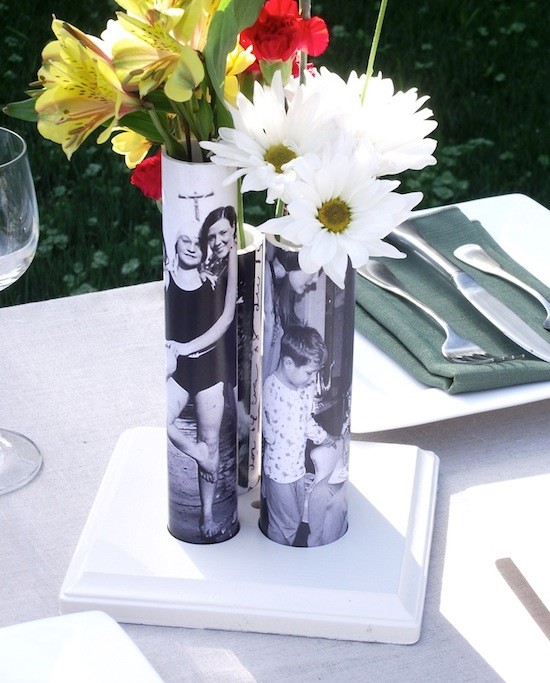 Image:
Mod Podge Rocks!
1. Photo vase
Looking for the ultimate gift for Mom? Look no further than this amazing vase, which will only cost you around $12. The options for customizing the vases are unending. Try varying widths of the pipe, mixed with differently shaped bases. Have the special children in your life use fingerpaint to place their cute prints on the edges of the base for a sweet memento. At the end of the day, you're making a present for the woman who still has the macaroni portrait you made when you were seven. She'll be thrilled.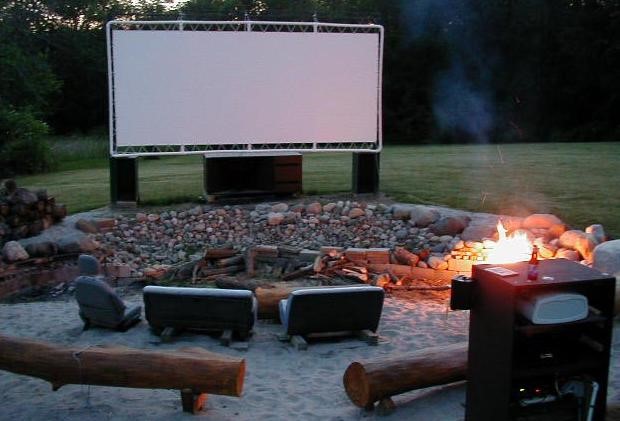 Image:
PVC Plans
2. Movie screen
If your plans of world domination include having the most envied backyard in your neighborhood, then this project is for you. With the cost of projectors and surround sound systems being dramatically lesser than they were five years ago and the cost of pipe being ridiculously cheap, you can surely keep up with the Jones. Plus, with all the money you have saved, you can throw one heck of an end of summer party!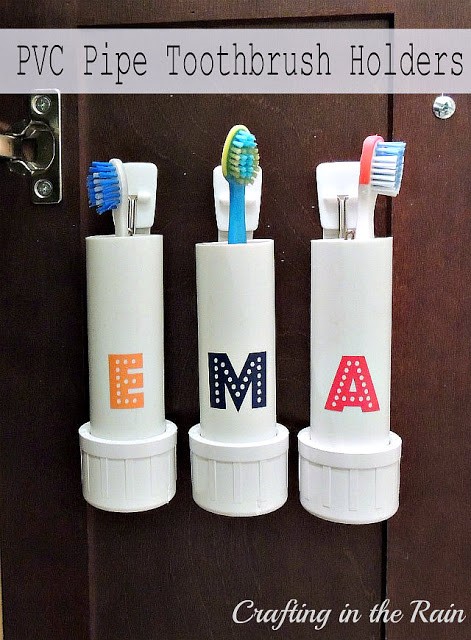 Image:
Crafting in the Rain
3. Toothbrush holders
Small houses and apartment living have one thing in common, abysmal counter space. When one is living with this issue, almost anything on the counter makes it appear cluttered. Pictured above is an awesome way to rectify that! By simply making these adorable toothbrush holders that fit inside your cabinet door, you have created a neater space. Made with only Command Hooks, PVC pipe, and pipe fittings these holders are just another ingenious and inexpensive way to make that small space work for you.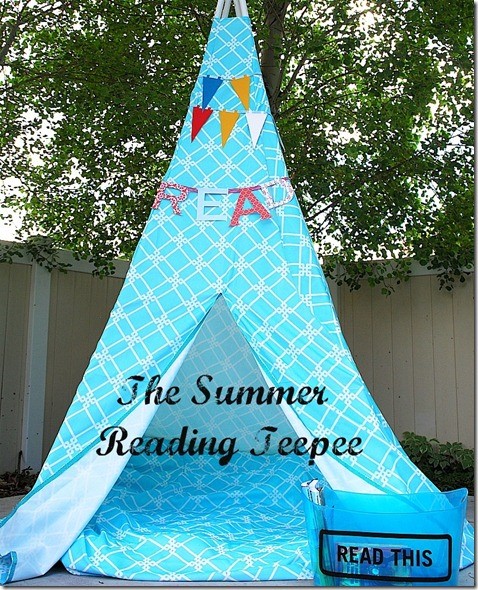 Image:
I heart naptime
4. Reading teepee
Forget about reading comic books under blanket forts, because this PVC-structured teepee takes the cake! If you have a daughter use the cutest fabrics you can find for her new playhouse. If you are kid free, you can still make use of this creation. Try making a romantic cabana poolside, which you could collapse and bring to the beach, if you happen to be pool-less like me. Perhaps you could use camouflage material and bring it on your next camping trip. This simple shelter is only limited by your own imagination!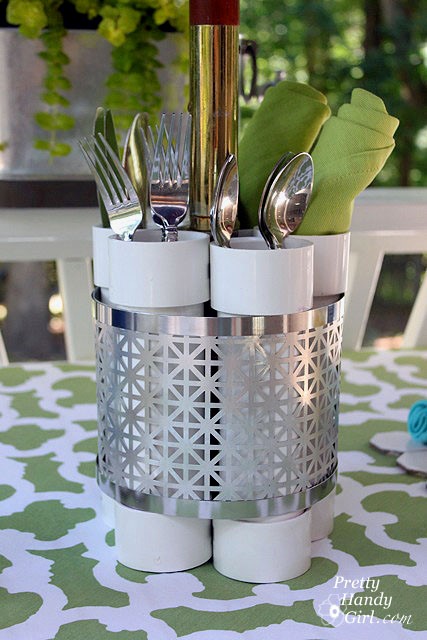 Image:
Pretty Handy Girl
5. Silverware Caddy
This piece practically screams Southern Charm but comes in at practically nothing. Class up your patio table at your next cookout with inexpensive PVC pipe, hose clamps and a radiator screen. It is securely fastened around the pole of your table's umbrella, and you can also use these with flowers as a centerpiece. To use as a silverware caddy, simply place some paper towels in the bottom of each pipe to elevate your silverware. Martha Stewart would be proud.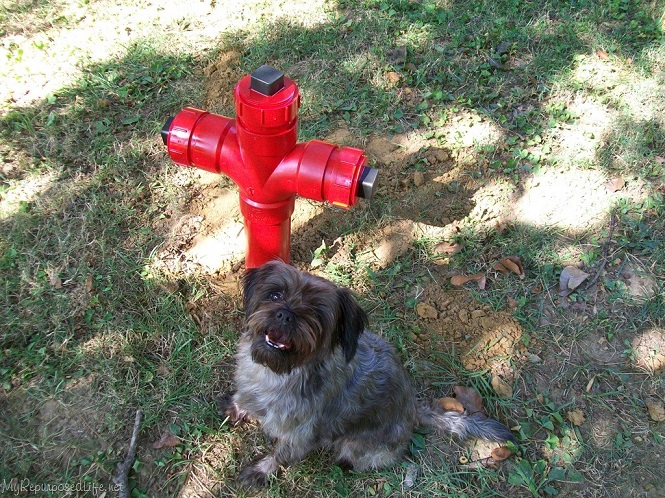 Image:
My Repurposed Life
6. Fire Hydrant
Fido deserves his own designated potty. Save your hydrangea bush and garden gnome some indignity by constructing this stationary fire hydrant made out of a few pieces of PVC pipe, fittings and red spray paint. Puppies love marking their territory and this helps ensure they don't mark
yours.
If you are a football fan, you can always decorate your hydrant with the colors of your rival team. That way Fido can have your back on game day.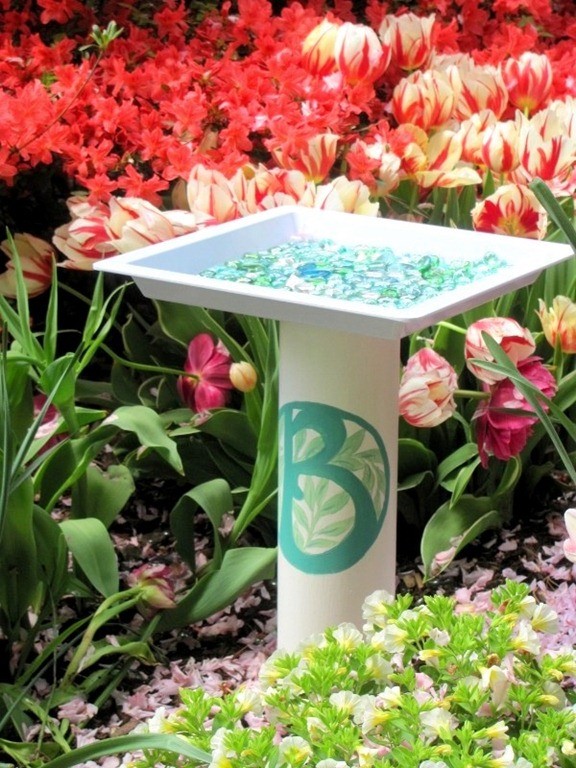 Image:
Crafts a la mode
7. Birdbath
If you are not entirely confident in your crafting skills, then this is the project for you. Made from one pipe with a plastic tray glued to the top; it really cannot get any simpler than this. To make it even more simple, instead of a monogram, why not try some textured spray paint? There are several that are meant to look like concrete when set. Unless someone decided to walk right up and start tapping on your birdbath, they would never know the difference.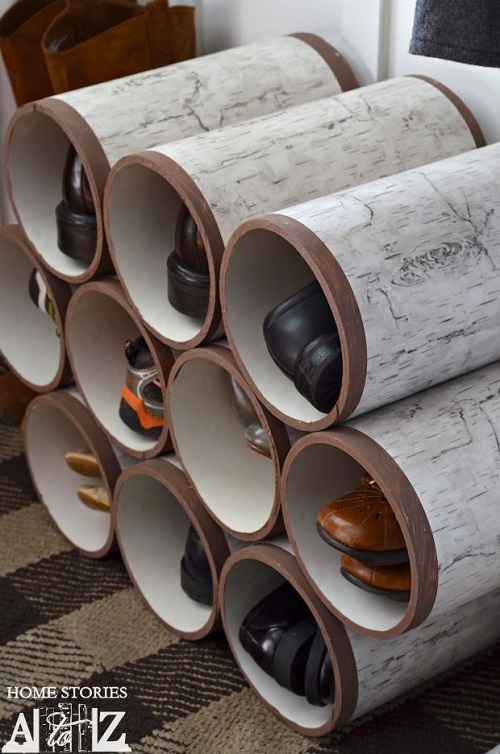 Image:
Home Stories A to Z
8. Shoe Organizer
This organizer would make the perfect addition to any mud room. This stylish and functional piece is made from one big piece of pipe that was cut into 10 pieces and had acrylic paint and wallpaper applied to it for decoration. You could also use this design for cubbies in a playroom or classroom. Experiment with different sizes and wallpaper to get the look as well as the functionality that works for you.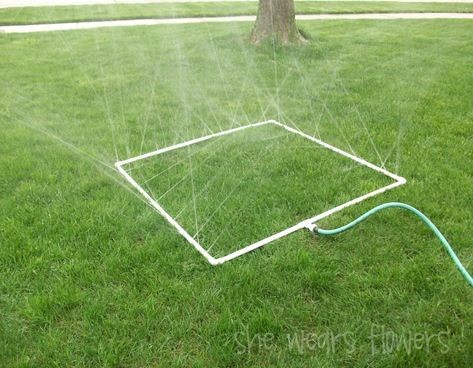 Image:
She Wears Flowers
9. Sprinkler
Summer entertainment for the kids doesn't have to be expensive. For around $10 you can make your own water sprinkler to give the kids hours of fun. Not only is this easy to construct and repair should you have a sprinkler snafu, you can also experiment by making shapes and sizes. Get the older kids involved to help encourage their inner engineer.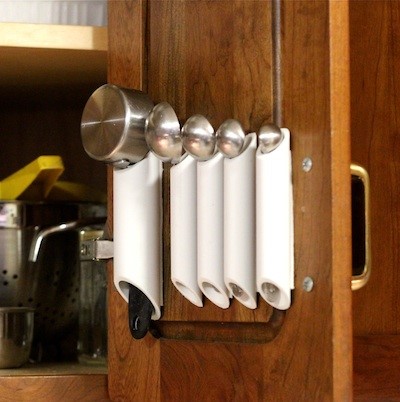 Image:
Ashbee Design
10. Kitchen Organizer
Most of us have a designated drawer in the kitchen where we keep all of our measuring cups and spoons. If you and I are anything alike, you dread opening it. You end up having to pull out more than you actually need, not to mention it takes entirely too long to get everything back in the drawer. With this simple design, your cups and spoons are easily accessible as well as out of your way until needed.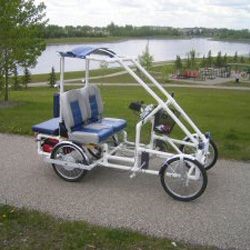 Image:
American Speedster
11. Quadracycle
No, your eyes aren't deceiving you. That, my friend, is a quadricycle made with PVC pipe, being used as a golf cart. Be the most environmentally conscious hipster on the putting green this weekend with just a little elbow grease, some easy to follow instructions and a whole lot of cool. These bikes can also be converted for use with a small electric motor. PVC pipe definitely has many uses. It is lightweight, easy to cut and inexpensive. At the end of the day, only one question remains: When are you having us over to watch a movie on your new projection screen?