You will be amazed by what you can make from an old instrument, such as your drum set, and all you need is a little elbow grease – sometimes a bit more – and some ingenuity! Just check out some of the pieces below for inspiration!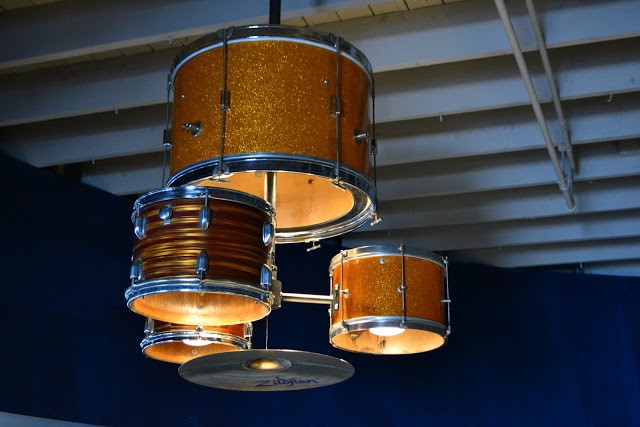 Image:
The Official Blog of JJ's Red Hots
1. Drum chandelier
The drum chandelier is really eye-catching, and would you believe it is made of old drum sets? With the little help of a welder to put things together, you can turn your drum set into a living room fixture. The first thing you need to do is to make a sketch of how you want your drum chandelier to look like. The sketch helps put things in proper perspective. Usually, the kick drum comes first, with the cymbal on the very bottom. Once the pieces are firmly attached to each other, make sure to choose the kind of lighting that will ensure your room is well-lit.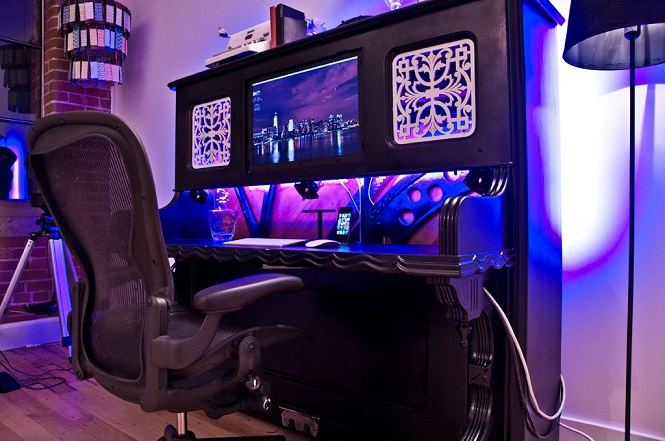 Image:
Mrs. Amber Apple
2. Media desk
The media cabinet is a brilliant way to put a broken piano to better use. You may have the notion that a piano is useless if it can no longer produce music, but even if it is beyond repair, you can still turn it into a piece for your home. If you are short on space, why not convert an old piano into your personal media center? You just need to repaint it and make sure to spray it with a coat of acrylic. You could even add more screens if you so choose.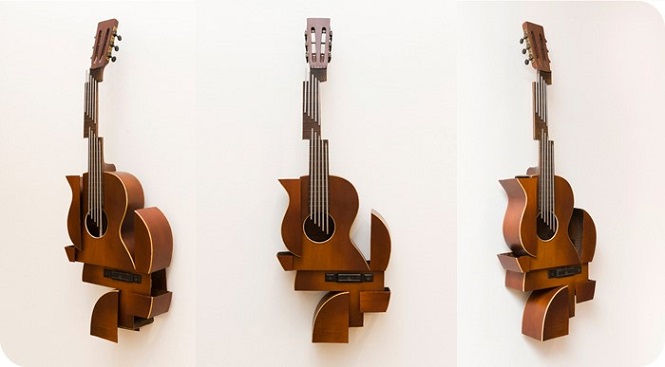 Image:
Ron Ulicny
3. Guitar art
This wall mounted piece of art, crafted from an old guitar, is certainly out of the ordinary. Not only is it creative, but I imagine it was also fun, albeit likely difficult, to make. If you let your mind roam, you will be surprised with the creative repurposes you can come up with for an old guitar.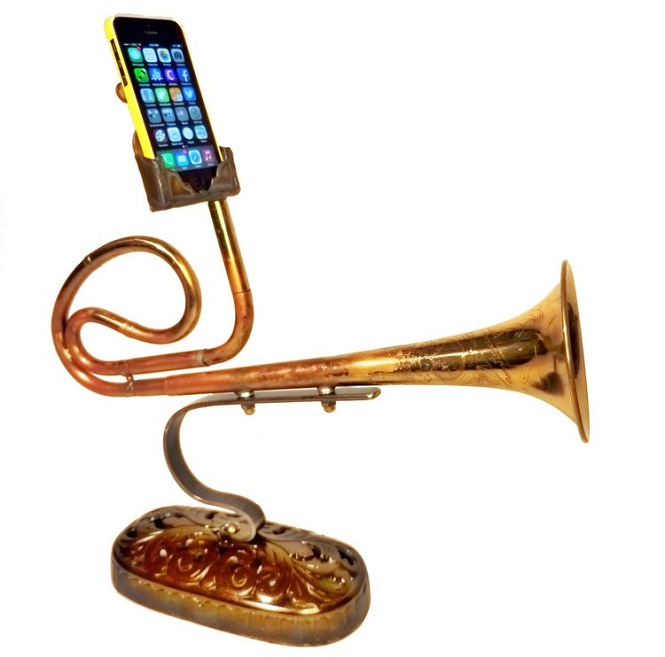 Image:
Heartless Machine
4. Artful amplifiers
These smartphone amplifiers are made from brass instruments that are beyond repair. For example, it can be an old trumpet that you're no longer using. This unique amplifier will direct the music coming from your device into whichever space you choose. The best thing about it is you will no longer have to use an external power source.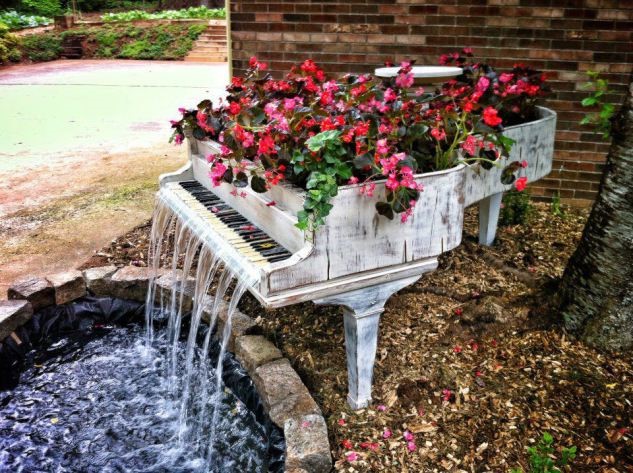 Image:
Design Heroes
5. Piano Fountain
I would love to have this in my backyard! What a stunning piece of functional artwork. It is yet another creative reuse for an old piano that is no longer operational. What a creative mind to imagine a piano not only filled with flowers but also being used as a fountain! It would indeed be the masterpiece of any garden.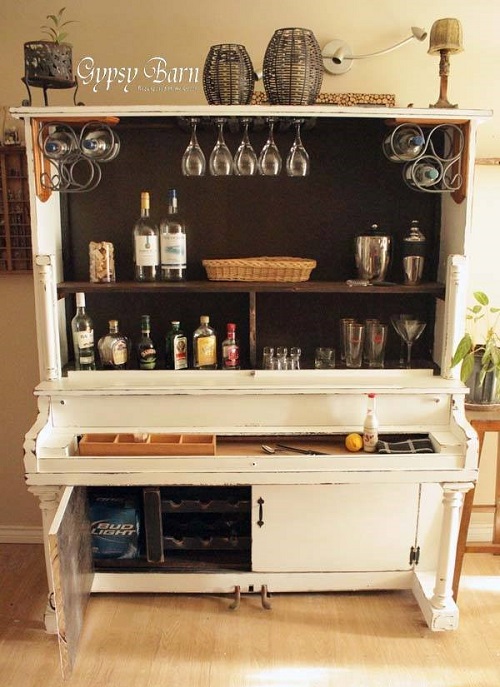 Image:
Gypsy Barn
6. Piano Bar
Without a doubt, a broken piano is one of the most versatile instruments that you can convert into a wide range of home furnishings and fixtures. Not only is it a splendidly charming piece of furniture, but it is also designed to be a superbly functional bar. There is a space for all you need to be the top mixologist in the house – as well as enough space to store some of your other kitchen items.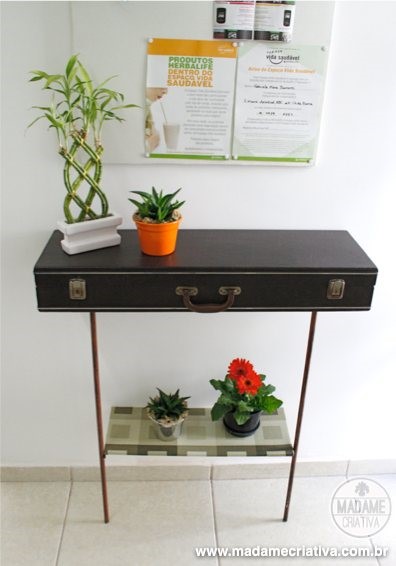 Image:
Madame Criativa
7. Case Table
I had to make certain to add at least one upcycled case. It is not just the expensive items that can be transformed into useful projects. All that is needed are a few additional materials to turn almost any instrument case (of a certain size – sorry, flutists!) into an adorable foyer table. If you find the old case too plain for you, or if there are imperfections, you can add some decorations to give it a little snaz.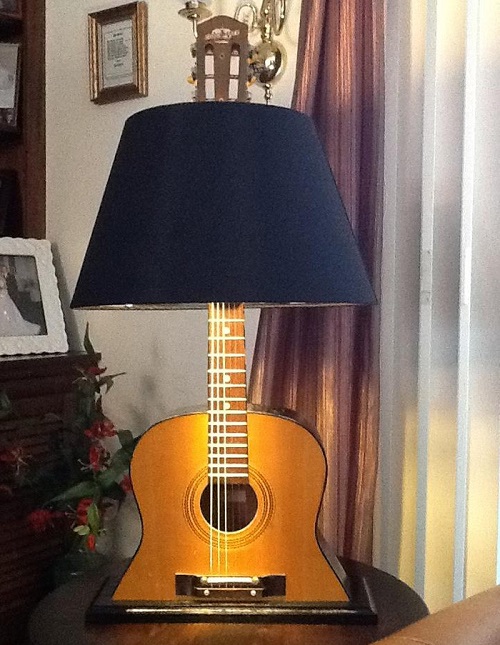 Image:
Design Turnpike
8. Guitar Lamp
This is a pretty cool repurposed lamp that is created from an old guitar. What an artistic gift for the gentleman or country music lover in your life. It would make a wonderful addition to any man cave. It imbues a strong sense of creativity to any space, especially if you want to do away with regular mass-manufactured lamps.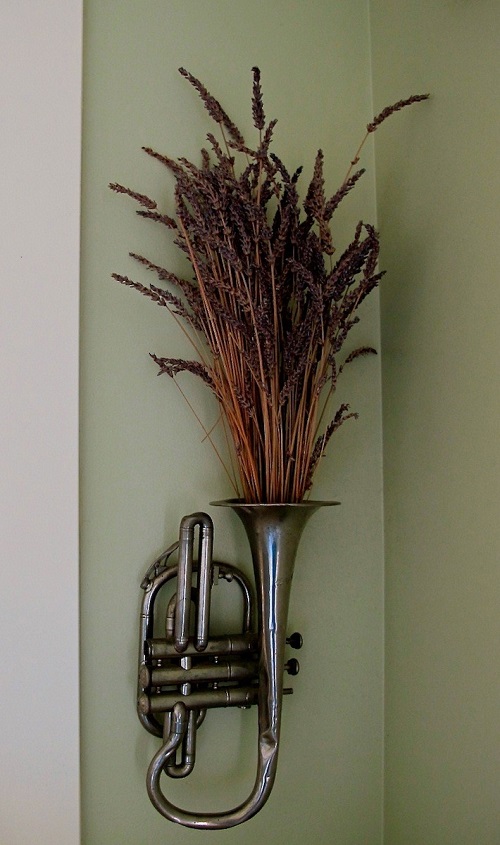 Image:
Home Jelly
9. Trumpet Vase
This salvaged and wall-mounted trumpet vase provides your home with a whiff of fresh air – not only literally but aesthetically as well. You simply attach it to the wall, select your favorite flowers to put into it and enjoy! It may actually be the most simplistic of repurpose ideas of all on this list, but it certainly doesn't look like it.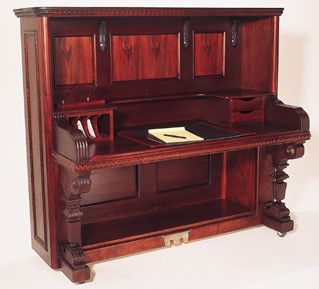 Image:
Tinker Tunes
10. Piano Writing Desk
The piano writing desk is unique and truly awe-inspiring. At a first glance, it may look like an old desk, but when you look closely, you will realize it was once a piano. It does indeed make for a simple desk, however, the carving is extremely detailed. Maybe that's because it is not just any old piano, it was used in a former opera house for over 100 years.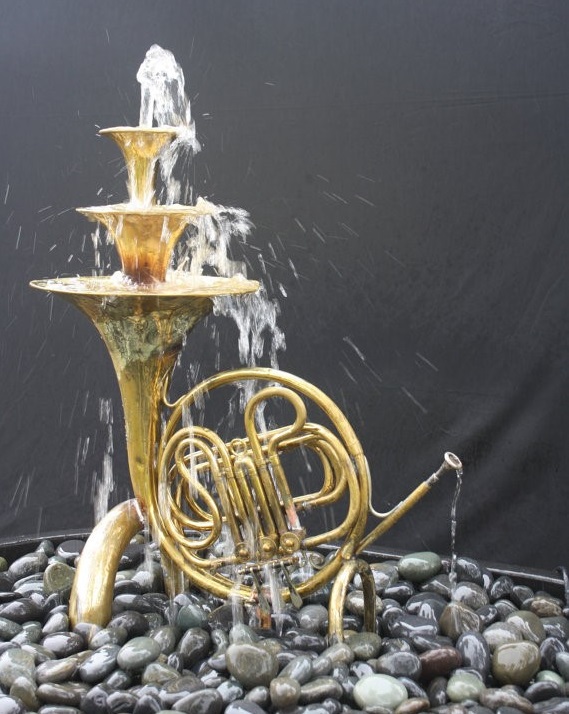 Image:
WyldatHeartCustoms
11. French Horn Fountain
The French horn fountain is about as stunning as a fountain can get. Although it looks simplistic in its beauty, it is actually a well thought out piece of working machinery. It could be used both in indoor and outdoor settings. In fact, I could see this as a piece in the entry way of a musical school or department. The fountain could even be customized depending on your penchant for a particular instrument. It is truly a wonderful thing when you can extend the life of anything from being trashed and hopefully recycled. An added bonus is that because most instruments are made from high quality materials you can naturally expect the creations to last a little longer than most.