Odds are, you go through a fair amount of cardboard boxes each year. From packaging to gifts and shipping boxes – well, that's a lot of cardboard. While recycling them is great, if you could repurpose them into something that would take the place of another item you purchase, that would be even better. Here's a list of projects that utilize cardboard otherwise destined for your recycle bin.
Image:
Justine Paige
1. Decoupage Gift Boxes
Don't throw those bland white boxes out after the holidays. Instead, save them to create unique and unusual gift boxes for special occasions. Using scrapbook paper, wrapping paper or interesting pictures and prints, Justine adds crafty designs to your boxes. Once dry, she glues on buttons or scraps of fabric for something that will be treasured just as much as the gift inside.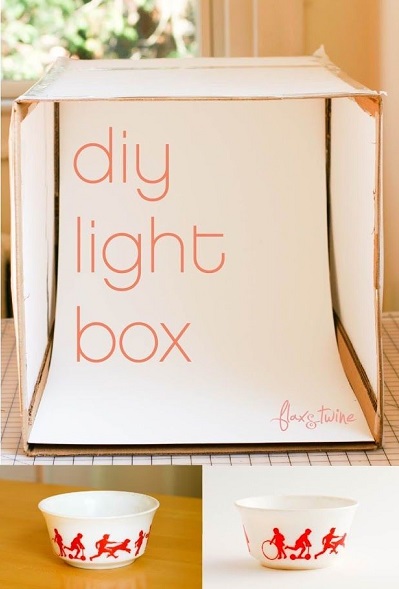 Image:
Flax & Twine
2. Light Box
If you photograph objects for your blog or to sell; having that bright, white, magazine-quality picture can set your items apart from the rest. Why spend hundreds of dollars on photography equipment, when you can build one yourself from a cardboard box? The only other materials needed to complete this worthwhile project are tape, poster board and tissue paper. This entire project will set you back less than $10, and in turn, will position your photos far above the others.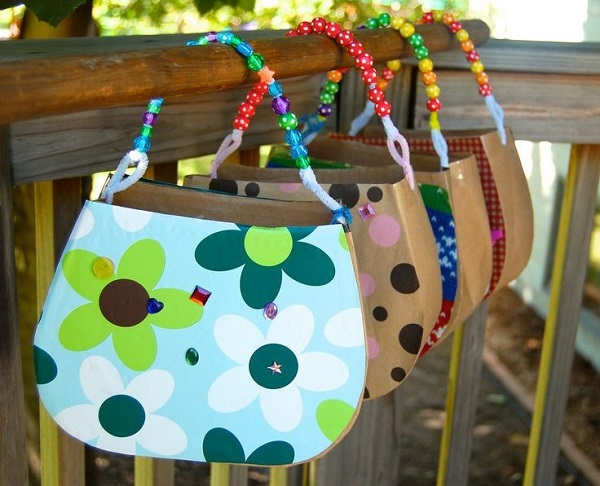 Image:
ikatbag
3. Goodie Bag
When it's time for your child's next birthday don't settle for generic goodie bags at the party store. Grab some old boxes out of the garage and make some of these adorable bags! Have all but the handles pre-made, and let the beading be a party activity that keeps their little minds busy while you finish icing the cake.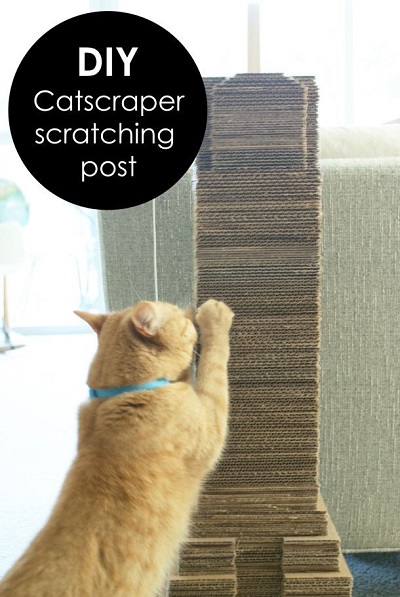 Image:
maison kuotidien
4. Cat Scratch Post
So you're all moved in, the boxes are broken down in the garage and ready to head to the recycling plant. Why not instead make an amazing scratching post that your feline family member will love? If the boxes are printed, flip them upside down so the brown side is what shows. This is a great project to keep the older kids off of their electronic devices when the "I'm bored's" of summer or winter vacation strike.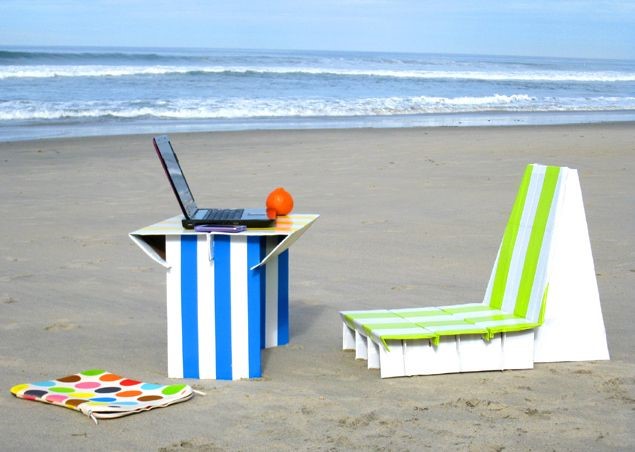 Image:
A Piece of Rainbow
5. Outdoor Furniture
When warm weather hits, the kids want to be outside. Instead of watching them through the patio window while you wrap up your report, head on out to get some vitamin D with them. This chair and desk combo is made out of cardboard boxes and duct tape. I have to say that is one of the more creative and useful repurpose ideas I have seen!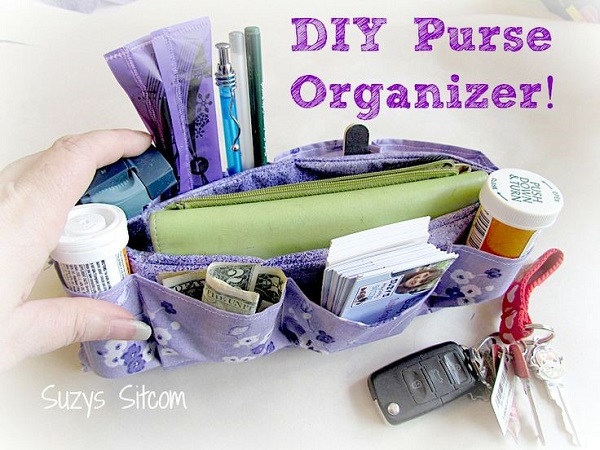 Image:
Suzy's Sitcom
6. Bag Organizer
Thin cardboard adds a source of stability to this bag organizer made from scrap fabric. Keep all your valuables together as you make a quick switch between bags, backpacks, purses, etc. No need to buy an expensive organizer when you can make your own!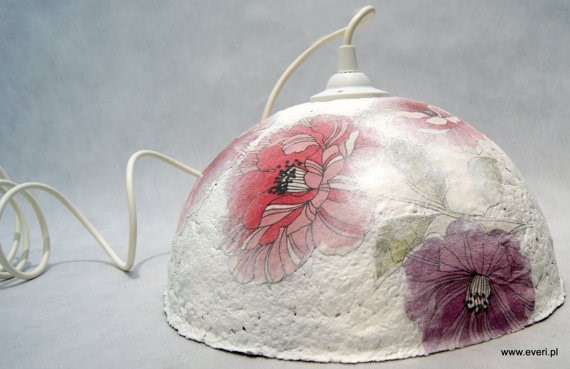 Image:
ReclaimDesignEVERI
7. Cardboard Lamp
Well, this definitely was not something I expected to come across while doing research for this article. A lamp from cardboard, you say? That's pretty interesting; I'll give you that. Now a beautiful, decorative, retro-style lamp that, my friends, is something worth talking about! This would look wonderful hanging in a kitchen or bathroom.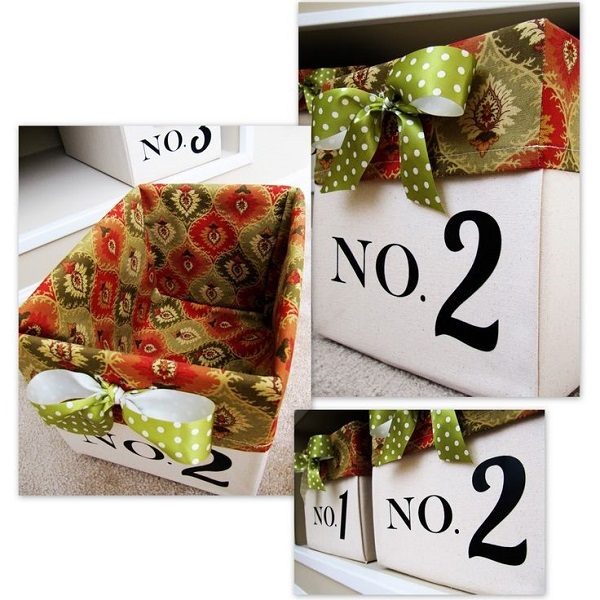 Image:
Positively Splendid
8. Lined Canvas Bins
Organization can be a beautiful thing, and these decorative bins make it even more so. The great thing about them is that they are made simply from diaper boxes. Plus, the liners can be interchangeable to match your seasonal décor. Use spray adhesive to cover the boxes with heavy canvas, adding to their charm and durability. You can leave the boxes plain or stencil whatever you'd like on the front with craft paint.
Image:
Gingerbread Snowflakes
9. Wall Storage Folders
In an office or kitchen setting, you can never have enough filing space. Unfortunately, hanging filing systems leave something to be desired when it comes to matching your décor or tastes. Solve both problems by using cardboard from shipping boxes, fabric, buttons and string. For your office, make two or three in coordinating, contrasting fabrics. When it comes to your kitchen, spray your finished project down with Scotch Guard to prevent moisture from reaching the cardboard.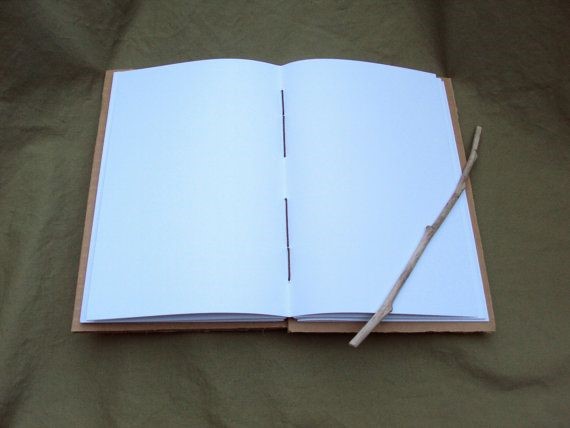 Image:
The Pages Shop
10. Journal
This is the perfect gift for the environmentally conscious person in your life. The materials are quite simple in that it's made with cardboard, copy paper, and cord. Plus, the cover being made from cardboard makes this book completely customizable. Have your child design a masterpiece on the front, write out your favorite poem or just leave it blank. You could also sew a cover for it from an old shirt.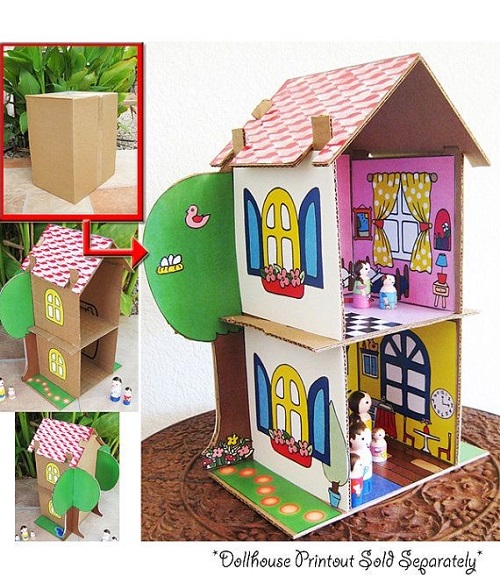 Image:
Dolls and Daydreams
11. Dollhouse
Dolls and their accessories, unfortunately, tend to not only be pricey, but take up a
lot
of space as well. Take care of both of those issues by making a dollhouse from cardboard. Use leftover boxes to build an entire neighborhood, and when you child grows out of it, you simply recycle it instead of letting it collect dust in your attic.