Instead of tossing out all those old clothes, why not upcycle them so that they are useful once more? Here are some excellent examples of clothing that may have worn out their original welcome, but have found a new lease on life.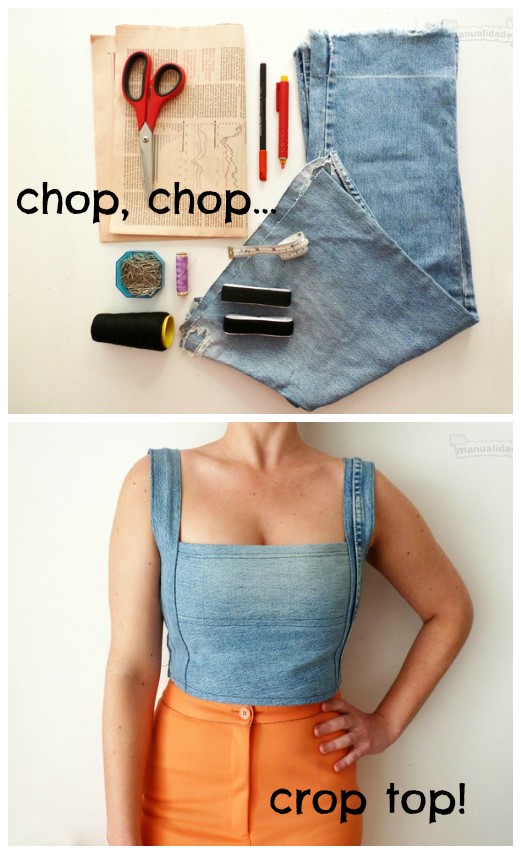 Image:
The Refab Diaries
1. Crop top
Eventually, your favorite pair of jeans will need to go. Whether it's due to worn appearance, a change in size or a style that's no longer flattering. You don't have to just toss them. Make them into something that will look great dressed up or dressed down. With basic sewing skills, you can cut this out Wednesday after work and have it ready to go for Friday night's happy hour.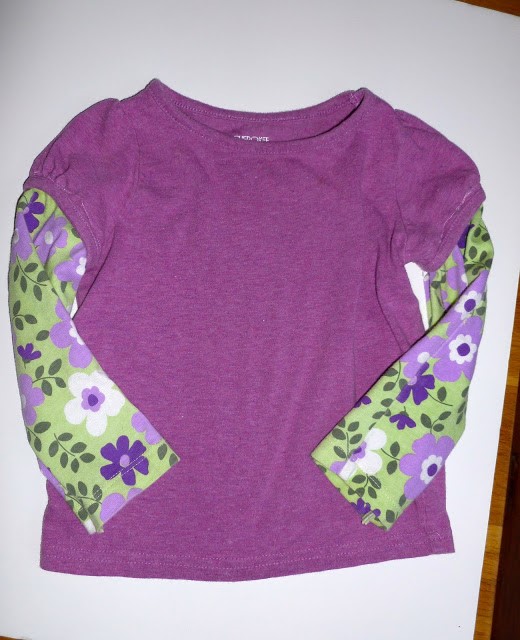 Image:
The Refab Diaries
2. Long Sleeve Shirt from Old Pants
Little ones grow quicker than we'd like. Before you know it, those cute pants are now entirely too short and ready for a flood. Take that summer outfit and convert it into a long sleeved top to keep your kiddo warm in the months to come with this simple sewing pattern. Mix and match outfits to update kids' winter wardrobe all for the cost of thread.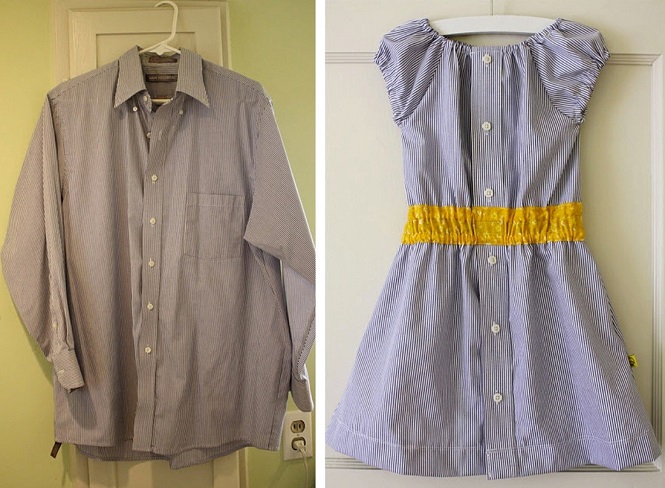 Image:
DanaMadeIt
3. Child's Shirt Dress
Recycle Dad's dress shirts into adorable dresses! To customize this idea, you could change the buttons out for something more colorful, or even add appliques to the bottom, if you so choose. Try shirts with patterns or play around with the elastic waist colors and materials. Most importantly, have fun with it.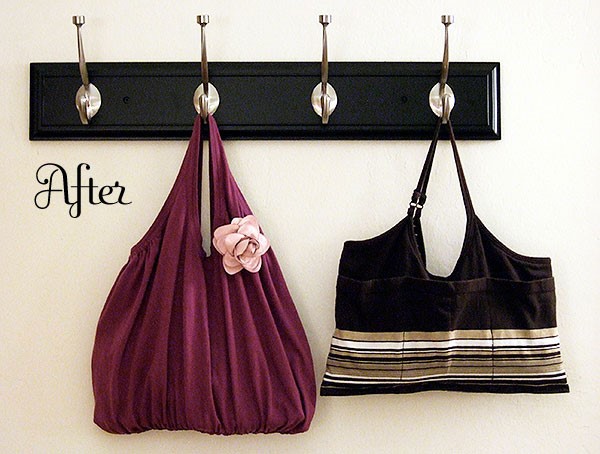 Image:
Crafty Nest
4. Tank Top Purse
Give life back to those worn out tank tops by converting them into one of these lovely purses! If you're like me, you have a tank top drawer. Usually at the bottom of such a drawer, one would likely find a tank that hasn't been worn in a summer or two, and let us not forget the tank with the built in bra that the elastic has worn out on. Turn those seemingly useless tops into totes with a little bit of needlework.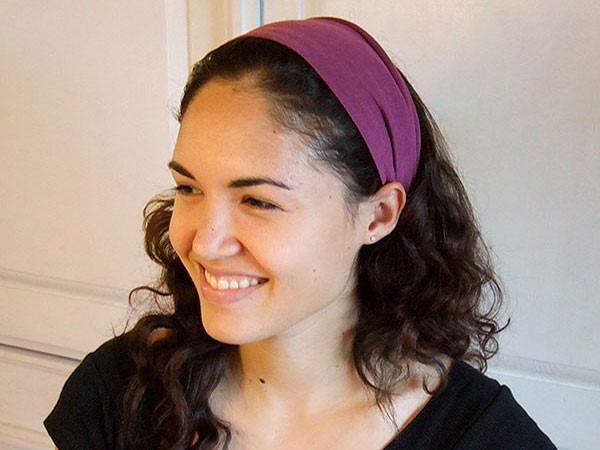 Image:
Crafty Nest
5. Headband
You know the old adage, "Waste not, want not?" Taking heed to that, when you are making the tank top purses above, use the leftover fabric to make a matching headband. This headband requires no sewing, you simply ensure that the fabric edges are smooth. Getting a new purse and matching accessories for the cost of cleaning out your dresser? Sounds like a good deal to me!
Image:
Lil Blue Boo
6. T-Shirt Quilt
Save all those tops your children wore when they were tykes and make them into a blanket to remind your kids of just how cool a mom you are. You can even make one for yourself. Why not use all those old tees with sentiment, that you cannot bring yourself to part with, even though you wouldn't be caught dead in one in public. Either way, this blanket idea is a superb way to preserve memories for years to come.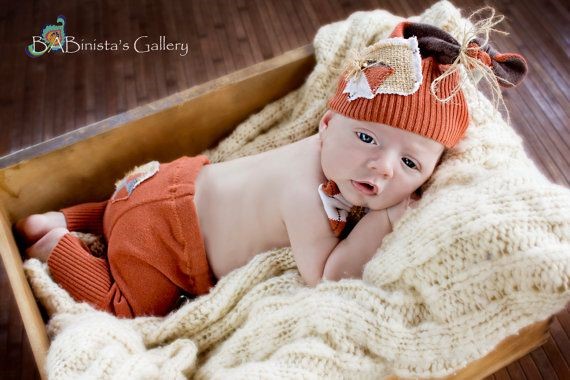 Image:
BABinistavista
7. Newborn Prop Set
The days of boring studio baby pictures are long gone. If you have a new addition to your family, or are a photographer who takes baby photos, then you already know that prop sets are currently very popular. Don't spend hours or in some cases days knitting something up. Make it easier for yourself – and be environmentally friendly at the same time. Grab a sweater that isn't getting any use and upcycle it for photos of that little bundle of joy.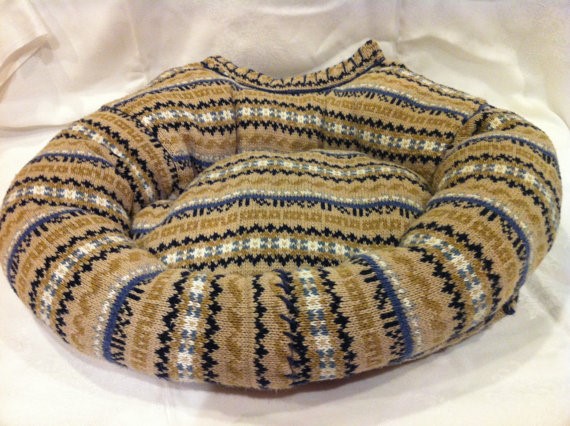 Image:
petdogtrainer
8. Pet bed
Keep your furry family member warm this winter by converting an old sweater that you haven't worn in a while into a plush, comfy bed. With your old sweater, some stuffing and a bit of sewing, Fido will have a bed to burrow in that is nice and snuggly. This would be a great idea for puppies. Wear the sweater a few hours before you construct it, and it will smell like you. If you are keeping your puppy in a confined area at night to limit destruction of the house then this may help them, and you by extension, sleep.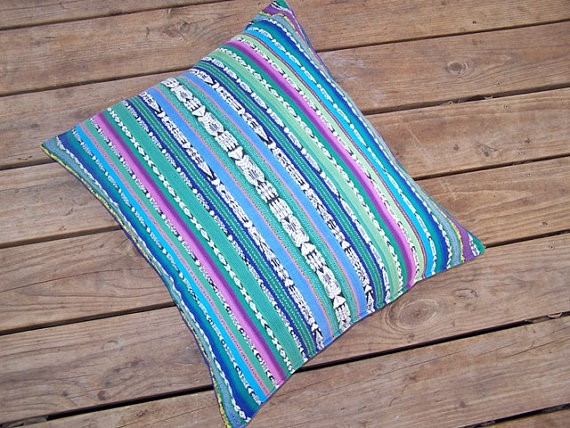 Image:
Mayandogbeds
9. Pillows
These pillows are labeled as dog beds and make an easily portable one at that. However, can you image what beautiful throw pillows they would make? The material Mayandogbeds used is a corte fabric from Guatemala, and it is just gorgeous! If you were to attempt this on your own, you could make throw pillows specifically personalized for your room's décor.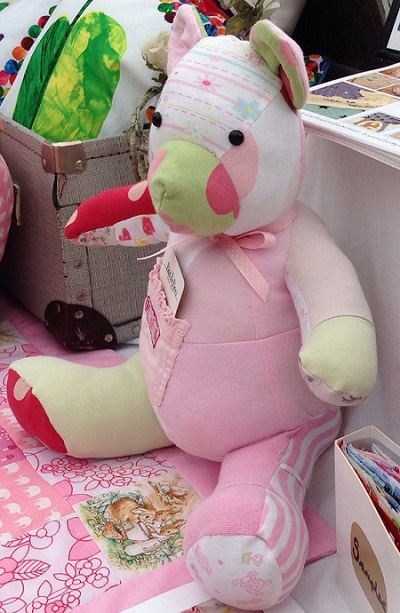 Image:
BiziAndBea
10. Memory Bear
As an expecting parent, it's hard to imagine that your baby will fit into those tiny little clothes as you are putting them in their proper place while preparing for their arrival. Once your little one is here, you dress them up in your favorite outfit, and swaddle them in their precious blankets. Before you know it, though, they've outgrown the clothing that seemed, even from the very beginning, to small to contain a human. Preserve those pieces, and the memories attached to them by making a stuffed animal that can keep them company as they grow.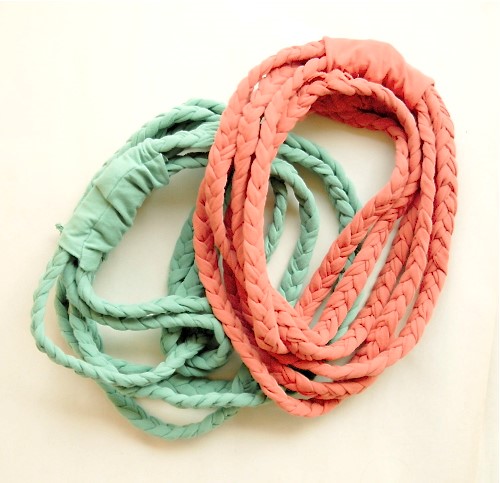 Image:
Melissa Esplin
11. Braided Necklaces
Fabric necklaces are in right now, and these simple braided necklaces are yet another great way to recycle clothing. By cutting the fabric into strips, using simple braiding, as well as your sewing skills, and you can whip these up in no time. Maybe a snagged shirt from your loved one's dresser drawer would be a good choice. I'll leave you to decide if it's better to ask for forgiveness or permission.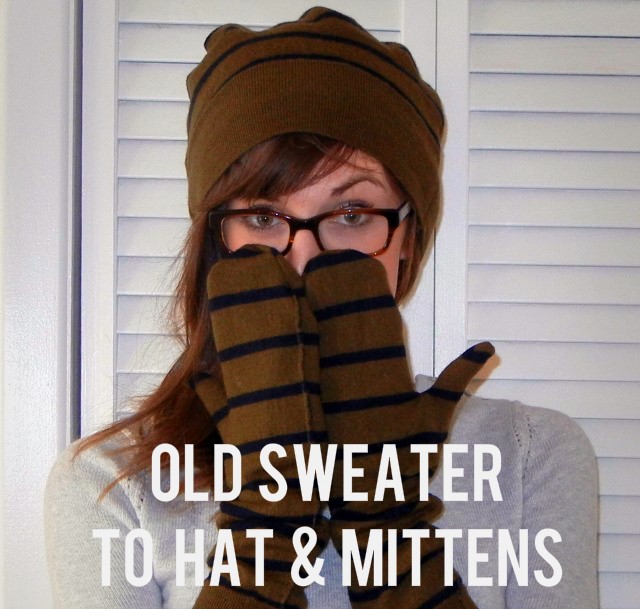 Image:
shrimp salad circus
12. Hat and Mittens
Winter weather calls for warmth, and sometimes that means sacrificing fashion for comfort. If, however, you are able to achieve this warmth with a hat and mitten set that makes you look adorable, then that's a big plus. It is recommended that you use a close-knit sweater for this project, and an intermediate knowledge of how to use your sewing machine is a must. All you will have to worry about is how adorable this set will look while winning the next snowball fight.