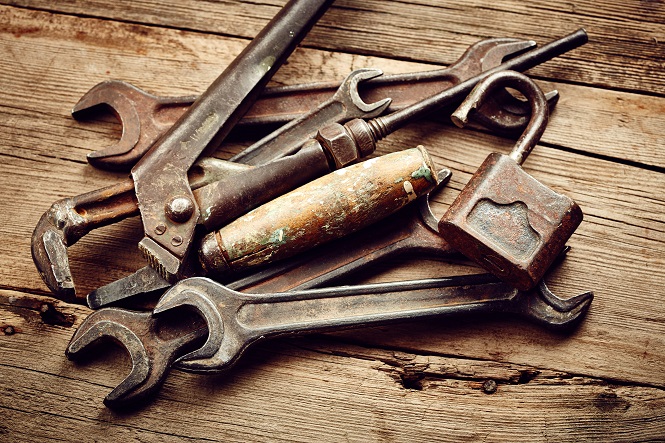 The rustic/vintage décor craze is still running strong; people are turning old planks of wood and antiques into gorgeous home accents that look like a million bucks – but probably cost mere pennies. One group of items that are being upcycled more and more are old tools – think shovels, screwdrivers – you get the drill (no pun intended). While these tools may have been handed down to you or found at the local Savers, there are plenty of ways to give them a whole new life. Try one of these creative upcycles for old tools and add a touch of old-school craftsmanship to your home.
Screwdriver picture frame holder
Older screwdrivers had wooden handles – not the plastic we are used to today. It just so happens that those wood handles and long tarnished metal stems make perfect picture holders.
This blogger
attached the bottom of the screwdriver to a heavy base, hanging framed pictures off of the flathead at the top. She points out that this project could also double as a paper-towel holder for your rustic kitchen space.
Shovel address sign
People who love to garden will definitely want to create
this address sign
made out of an old shovel. Cut the wood handle down, leaving a few inches for a stump. Use a rubber mallet to flatten the shovel down a bit – you can then spray your house numbers on or attach them via screws. Place the sign near your front door in the grass – don't be surprised if you see similar shovel signs pop up in the neighborhood after!
Rake kitchen utensils holder
That old metal rake taking up space in your garage can make a new home in the kitchen as a hanging utensil holder. Remove the metal rake from the wooden base using a saw, and ensure it's clean. Then, hang the rake, spokes out, above your stove or elsewhere in the kitchen. Spatulas, whisks and all the other kitchen essentials can be hung from each spoke –
see how one blogger did it here
! This same project can be used to display wine glasses too!
C-Clamp bookends
Have some vintage C-clamps collecting dust in the basement? Add them to a display ledge to make bookends that no one would expect. Remember to whisk away any loose rust with steel wool – you wouldn't want those nice books getting an orange stain. Twist the clamps in place tightly enough to support the books but not too tight – you don't want to damage the shelf.
Check out this site
for more information on this interesting upcycle.
Ladder bookshelf
This project is so incredibly smart and simple, it's hard not to do it. Take an old wooden ladder and form it into a L-shape, creating a perfect 90-degree angle at the hinges. Mount to a corner in your living room or office and voila! You have a rustic-looking bookshelf! Mix in other wood shelving with the C-clamp book ends and your vintage tool-themed room will be complete.