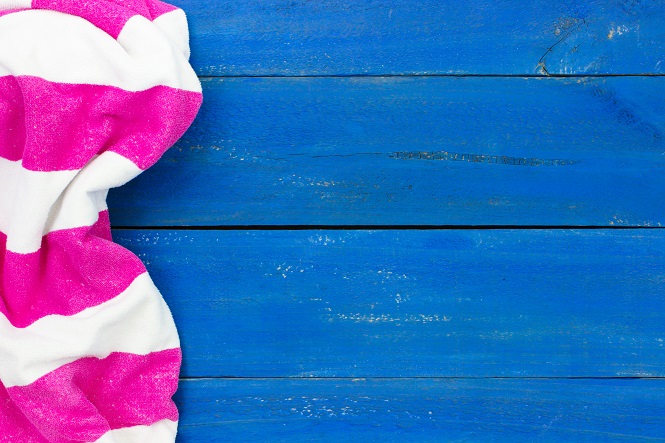 Whether they're meant for the beach, the bathtub or teatime, towels seem to overpopulate the home at least once or twice a year. Many people opt to rip up older towels to use as cleaning rags or perhaps throw them out altogether. But there are so many easy and adorable things you can make out of towels that it makes ripping them to shreds feel simply criminal. Check out some of these awesome ways to upcycle your extra towels – but look out: That rag pile might start to dwindle fast.
Beach Towel Tote Bag
This easy to make and adorable tote bag doubles as a place to lay your head once you've reached the beach. You will need one bath towel and one hand towel of the same color (or switch it up if you really want) and width. After collecting these items, you will need 21 inches of webbing and a hand-sewing kit in order to stitch everything together. The hand towel will make a pocket to hold your phone or sunscreen and everything rolls up into a nice little package when you're done. Check out the
full tutorial
for more information – you'll want to make a tote for every member of the family!
Hooded Poncho Beach Towel
This super simple sewing project will turn a beach towel into a poncho with hood – perfect for the kids after a long stretch of swimming. You will need a larger beach towel and a sewing machine with notions. After cutting off a portion of the towel to make the hood, the poncho is sewn with a small space for the head to poke through. Re-attach the extra piece of towel around the head hole and voila – a perfect and comfy cover-up for all the kiddos (and maybe the adults too!). Check out the
step-by-step instructions
for exactly how to make these ponchos come alive.
Beach Towel Bib
For those with little ones (or little ones on the way), old bath and beach towels make excellent bibs – and you will need a lot, so why not DIY your own? Much like the poncho project, the bibs are created by cutting portions of towels apart, cutting a head hole and adding embellishment.
This blogger
used ribbon to line the head hole, creating a ribbing tube. Within an hour, you could easily make several over-the-head bibs out of one towel. Versatile and basically free, this project is must try.
Towel Wall Art
Wall art out of old beach towels? This idea may seem odd, but is actually a very clever way to class up the bathroom – or really anywhere in the house! Take some scrap wood or foam board and stretch the towel over it – much like you would with traditional fabric wall art. This may be an area where you'll want newer towels to ensure colors aren't faded, so take advantage of those end of summer clearance sales. Use a staple gun to adhere the towel and you're done. Check out
this blog
for some inspiration – the writer was bold enough to use towels to dress up their living room!
Reusable Cotton Paper Towels
Traditional paper towels are so handy but harm the environment, as they are rarely recycled and come from non-renewable resources. More and more people are turning to old-fashioned reusable rags to clean up their kitchens, but making a "roll" of reusable cotton paper towels makes the process sustainable and saves you a pretty penny. There are many ways to go about this project, with
this blogger
cutting up towels and adding snaps in order to create a roll effect. You could also use Velcro, buttons or pile in a cute basket on the counter. Whichever way you decide to create your own reusable cotton paper towels, you will be doing the Earth (and your pocketbook) a favor, in addition to setting a great example of reusing
and
reducing waste.