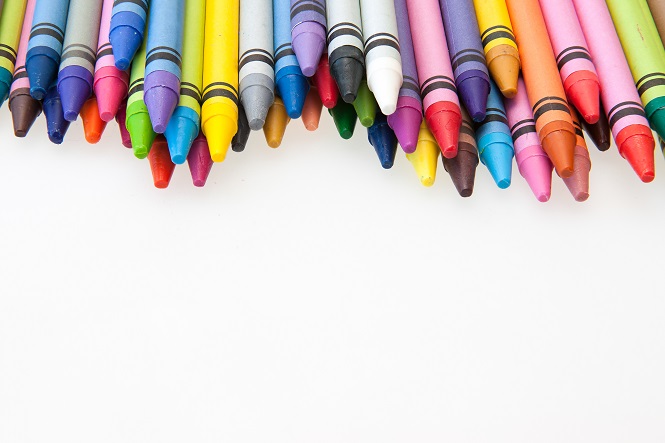 It's the time of year again – kids are getting ready to head back to school, which means lots of organizing and gathering of school supplies. Many students have lengthy lists of items they are required to bring with them on the first day of class, including paper products, pens/pencils and various other supplies based on the grade level of the child. Sadly, the school supply industry is not exactly sustainable, as most people toss out their crayons and half-used notebooks at the end of the year only to buy new ones again a few months later. So for those of you interested in investing in both your child's education and the future of the planet, check out some of these amazing eco-friendly school supplies!
Biodegradable Pens
It may be hard to believe, but these
recyclable pens
will break down completely after only one year. The "plastic" shells are made out of corn starch, meaning the pens can even go in your compost pile. A pack of three retractable pens with blue ink costs only $4.29, which is actually not much higher than other premium pens cost at your big box store. The only difference is these pens don't hurt Mother Earth. The manufacturer also offers several other all-natural school supplies, so plan on spending some time perusing its website.
Solvent-Free Glue Sticks
Glue sticks and bottles of liquid adhesive are a very common school supply and are useful for those at-home creativity activities.
Coccoina
makes solvent-free liquid glue and solid sticks made out of potato starch. The glue works just as well as traditional paste, except that Coccoina's products are 100-percent non-toxic and acid free. The best part is the glue smells like almonds, making arts and crafts time seem more like snack time – with the main dish being marzipan. Yum!
Elephant Pooh Paper
The idea of using paper made out of elephant waste may sound gross, but it's actually an excellent way to support sustainable practices and the economies of those in developing countries.
Mr. Ellie Pooh
offers several different paper products made partially with the dung of elephants in Sri Lanka, but don't worry – the material is finely pulped and cleaned in order to be sanitary. The other components of the paper are post-consumer paper, natural vegetative binding agents and water-soluble salt dyes to color the paper. Mr. Ellie Pooh not only promotes sustainable paper-making, but it also helps create artisan jobs in the areas where the paper is made, ensuring the entire process is fair trade, natural and sustainable.
Wrap-n-Mat Reusable Sandwich Bags
If your kids brown bag their school lunch, you may go through an awful lot of plastic bags for sandwiches, sides and fruits or veggies. While many people are turning to reusable plastic Tupperware containers for their children's lunches five days per week, these containers are not exactly the eco-friendliest and often contain plastics made from toxic chemicals. Luckily,
Wrap-n-Mat
has created a reusable pouch that also doubles as a food mat. This ensures that your child will also have a clean space to eat his or her food on (who knows what's been on that cafeteria table!). The wraps are machine washable and come in tons of different fun colors and patterns, so stop contributing to the 20 million plastic bags that are tossed out every year and make your kids' lunches more sustainable.
Soybean Crayons
Traditional crayons are made from paraffin wax, which comes from petroleum (a non-renewable resource). Billions of crayons are produced and sold all over the world every year, contributing to the oil industry – which is not exactly sustainable. For an eco-friendly way to color those pictures, you can buy your children
Prang Crayons
, which are made out of all-natural ingredients including soybean oil. The crayons are certified non-toxic and actually feature a more intense pigment due to their composition. The company was founded by Louis Prang, one of the main fathers of art education in America, so you know they are meant to be used and loved by all.