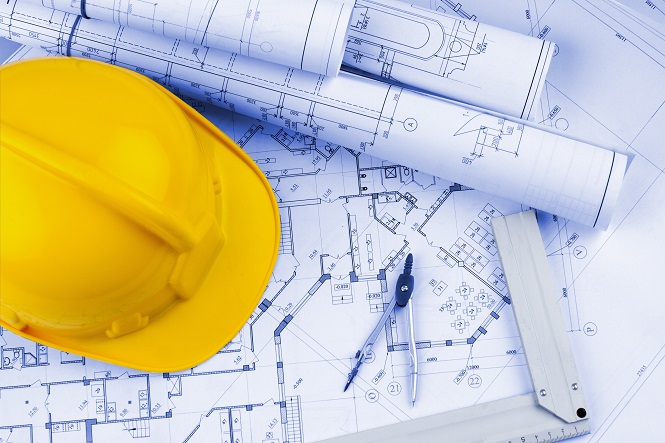 Time to make some home improvements? Maybe you're even building a home from scratch. What better way to live green than from the ground up? But between the new products to watch out for and sourcing truly green building materials, it can get confusing. Luckily it doesn't have to be. Below is your complete guide to building green.
Green building products
The green building industry as a whole has some interesting materials to look into. Here is an outline covering some of the most popular products and trends in green building, now and on the horizon:
Nanocellulose fiberboard
This
completely recyclable and biodegradable material
was developed by Yunting Lin. It's made of plant fibers and naturally fermented nanocellulose. It's meant as a replacement for MDF and molded plastic. The creator even designed three products that could be made with the material: a modular storage system, Bluetooth speakers and interior wall panels. Its future promise really lies in how easily it could be made with existing manufacturing equipment, how moldable it is (requiring less energy than plastic) and the amount of customizable patterns it comes in.
Comfortboard Mineral Wool Board Insulation
This product
is made by Roxul, Inc. The residential version of this product is COMFORTBOARD™IS. It can be used as exterior insulation, and the wool makes it more eco-friendly than the foam-plastic insulation that is usually used.
AinaCore®
This product is more on the construction side, but it leads to stronger, more energy efficient homes with a system that creates zero waste on the job site.
AinaCore®
works as a foam core, which is combined with OSB, plywood, reinforced concrete or steel. It's meant to replace the old method of stick frames and drywall. It's one example of structured insulated panels (SIPs), which are all the rage right now for energy efficiency in homes.
Straw bale homes
If you really want to get back to basics, you can even make your own home out of straw, an ultimate renewable resource. A
straw bale home
is supposed to be three times more efficient than a conventional home. The inside of the walls are insulated with straw, which is then covered by a plaster.
Reclaimed/sustainable lumber
When in doubt, reuse. There are tons of companies that specialize in attractive and high-quality salvaged lumber. Many will also make sure new lumber is sustainably harvested. This list is just for an idea of the most popular trends that are out there in green building materials. You may want something different or come across a new trend. In that case, you'll need to be prepared.
How to source green building materials
It's a wide world out there when it comes to building materials, and looking for sustainable ones makes it all the more tricky. The
EPA lists some good advice
when sourcing green building materials. It lists two "environmentally preferable" building materials that cover consumers: reclaimed building materials and recycled-content building materials. The EPA states, "Construction activities use 60 percent of the raw materials, other than food and fuel, used in the entire U.S. economy. And the nearly 170 million tons of annual building construction, renovation and demolition derived wastes (commonly referred to as C&D materials) account for nearly 60 percent of the nation's non-industrial, non-hazardous solid waste generation… Salvaging building materials and reusing them saves energy and reduces greenhouse gas emissions by minimizing the need to extract and process raw materials and ship new material long distances; it also reduces the economic and environmental impact from waste disposal." Plus, the EPA states that you can find some rare, antique materials that are perfect for creating a uniquely styled home, such as old marble mantels, antique fixtures and old growth hardwoods, to name a few items. So obviously trying to reuse building materials is a safe bet. Some good sources include The
Building Materials Reuse Association
,
Habitat for Humanity
,
Planet Reuse
and
American Builder Surplus
. The other option, buying recycled-content building materials, requires extensive research to see just how much of a product has been recycled, if any at all. You can find out more about official, certified recycled-content materials
here
. But if you're just shopping at the hardware store, like most DIY remodelers, you'll want to keep a few things in mind.
How to watch out for green washing
When looking for sustainable building materials, remember to watch out for the official labels. Companies will try to throw those used, tired words onto products that don't mean anything and aren't independently verified: "organic," "all-natural" and "eco-friendly," to name a few. Real, certified labels to watch out for when looking for home items are broken down by type of product/cause below:
Tools specific to building materials:
Pharos Project
evaluation tool,
BEES
lifecycle assessment software and
Declare
product ingredients declaration database/label (for Living Building Challenge/Red List Free products)
Chemical emissions:
Greenguard
Another option is to do your research through independent companies that certify green products, like
Green America
.
Also, sites of environmental groups with consumer guides include
Environmental Working Group
, the
Center for Environmental Health
and
The Ecology Center's HealthyStuff.org
. You can also try going to the direct websites of the certifications above, which may have some product and builder directories. It's a lot of information to sift through, but taking the extra time will allow you to cut back on your energy costs while helping the environment. And that's a pretty noble way to spend a Saturday afternoon.