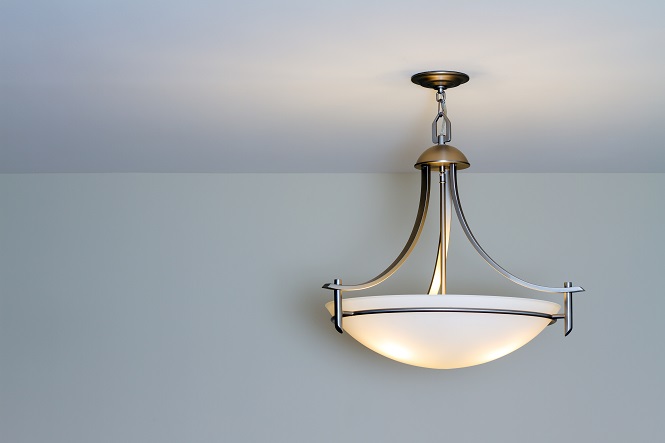 When I bought my house three years ago, it came with the world's ugliest dining room and entryway light fixtures. They were fake brass candelabra-type pieces straight out of the 1970s. They required a gazillion tiny, inefficient light bulbs. The light fixtures also gathered dust and cobwebs like crazy. It took some searching, but I finally found new light fixtures I adore. There were no tears when it came time to get rid of the old ones. After some research, I found that the best way to recycle old light fixtures was actually to upcycle them. While they can be recycled at e-waste collection centers, I went the reuse route because reuse is a higher use than recycling. Believe it or not, there are plenty of people who really want your hideous old light fixtures. Coming up with cool chandeliers, DIY lamps and other lighting pieces is super trendy right now. There are also plenty of nonprofit organizations that take old light fixtures, along with other household items, and sell them to people. So give your old light fixtures a better home than the landfill – even if you think they are junk. Here is how you can do that.
What are light fixtures made of?
The challenging thing about recycling light fixtures is that they are made with so many different materials – not all of which are recyclable. The main part of every light fixture is brass, aluminum, copper or another metal. Inside the fixture is plastic- or rubber-coated copper wires. If they can be separated, all these materials can be recycled. Most light fixtures have glass or paper shades, which cannot be recycled. Older chandeliers may have crystals or beads draped from them, which are also unrecyclable. Ceiling fans have blades made with a mixture of wood, plastic and fabric parts. There can be miscellaneous bits of plastic and other materials mixed in with other parts of the light fixture. And then there are the bulbs. Compact fluorescent lights (CFLs) must be recycled because they contain mercury. However, there are few outlets for recycling other types of light bulbs. Check out the article
How to Recycle Light Bulbs
for more details.
How to recycle light fixtures
If your community has a permanent facility for accepting e-waste (and most places do), they should be able to take old light fixtures off your hands. If your community does not have an electronic waste disposal center, find out if anyone does special e-waste collection days throughout the year. They are often sponsored by local governments, churches and nonprofits. There may be fees associated with disposal at these events, so inquire about that as well. It is a good idea to remove all the bulbs from your light fixtures before taking them anywhere for recycling. This lowers the likelihood that a bulb will break and injure you or a staff member. It is also one less step the recycling company must take to disassemble the light fixture. You might also remove any fabric or paper lamp shades. These cannot be recycled and are a much better candidate for reuse (more on that later).
How to reuse light fixtures
Medium-sized and large communities should have at least one nonprofit organization that reuses and recycles building materials, including light fixtures. Habitat for Humanity has now opened ReStores in hundreds of communities across the country. These social enterprises raise money for the organization's mission of building homes for people in need. They can also be a source of supplies for Habitat homes. There are also plenty of independent nonprofits that sell second-hand building supplies. BRING Recycling in Eugene, Oregon, EcoBuilding Bargains in Springfield, Massachusetts and Reclaim It Atlanta are just a few examples. Your favorite thrift store may be interested in old lamp shades. Sometimes people need them to replace lamp shades on light fixtures they already own. A secondhand store that specializes in selling items for DIY projects may also be interested in lamp shades. Check with them to see if they accept them.
Light fixtures for upcycling projects
The DIY movement has definitely spilled over into light fixtures. Inspired by the popular industrial and steampunk looks, people are finding all kinds of creative ways to repurpose old light fixtures. Here are a few examples:
These light fixtures are great for homes and gardens, but they are also really popular at weddings, parties and other special events. O
ld light fixtures can also become other things. Here is a page showing how the
glass shades on light fixtures are transformed into beautiful bird baths and hanging planters
. Lamp shades, like light fixtures, can really benefit from a DIY makeover.
Tip Junkie
and
Bright Nest
are just a few of the blogs that show examples of lamp shades that were markedly improved by adding fabric ruffles, ribbon, flowers, burlap, paint, even old maps.