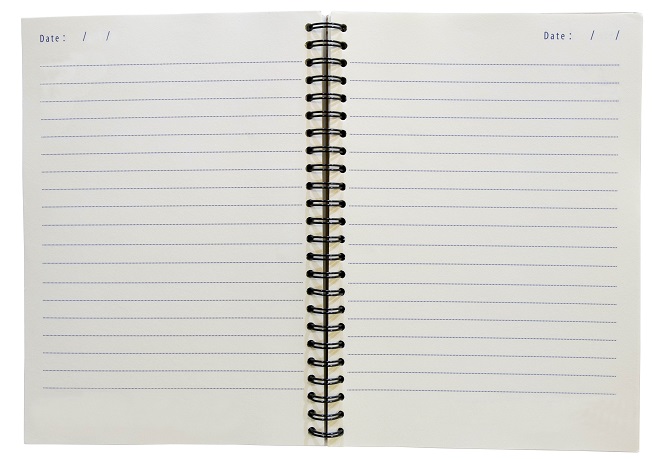 Spiral notebooks are a great tool for everyone from college students to busy professionals. A loose-leaf notebook is a necessity for K-12 students everywhere, and no lawyer could imagine life without a yellow legal pad. But notebooks of all types have a relatively short life. What is the best way to recycle them when they are no longer usable? Since notebooks contain a lot of paper and (sometimes) a little metal, you can recycle almost everything in them. We share some advice for properly recycling notebooks of all types, from spiral notebooks to composition books.
How to recycle spiral notebooks
Spiral notebooks are also known as steno pads, reporter's notebooks and wirebound notebooks. They typically have cardboard covers to protect the paper. While the various types of spiral notebooks come in different sizes, they all have one thing in common: a coil at the top or side holds all the paper together. When spiral notebooks first appeared on the market, that coil was always metal. Now, in some cases, the coil is made of plastic. The white or light colored lined paper inside a spiral notebook can go in your normal recycling bin. Even paper with brightly colored ink is okay. The cardboard on the back of a spiral notebook can also go in your curbside recycling container. Some communities, including New Haven, Connecticut, allow consumers to leave the spiral binding in. In other places, such as Seattle, you will need to remove the spiral binding before placing the notebook in the bin. The metal from spiral bound notebooks can be recycled with other household metal, but you will have to take it to a recycling center rather than recycling it curbside. You can also try to repurpose it in the shop or garden. The plastic from a spiral bound notebook will need to be thrown away. If your spiral notebook came with a plastic cover, make sure you remove it and place it in the trash. Those plastic covers cannot be recycled. For a while it was possible to buy spiral notebooks that contained black or other dark colored paper. Artists could draw on the paper with gel pens or metallic ink. As much fun as those papers are, take note: Most recycling companies will not accept these highly pigmented papers.
This article in Grist
explains that they contain something called "beater dyes," and that those dyes are simply too much for paper manufacturers to remove when they turn recycled paper back into new products. A single piece of dark-colored paper can ruin an entire batch of white paper (think about what happens when you accidentally throw a dark blue t-shirt in your whites, Grist explains), so make sure these papers do not end up in the recycling bin.
How to recycle loose-leaf notebooks
Loose-leaf notebooks are also called 3-ring binders. They hold easy-to-remove, three-hole punched paper and notebook dividers, and they have been a standard for K-12 schools across the nation for years. The plastic cover of a loose-leaf notebook is typically made with polyvinyl chloride, also known as PVC or by the recycling number 3. Attached to it are the metal rings and the contraption that helps the rings open to accept paper and notebook dividers. Inside of the plastic cover are two pieces of cardboard. PVC is extremely difficult to recycle because it contains myriad hazardous chemicals. Plan on putting it in the trash. If you can separate the rings from the plastic, they can be recycled with other metal products at your local recycling center. The notebook paper, dividers, and the cardboard inside the plastic cover of the notebook can be placed in the recycling bin along with all your other paper.
How to recycle composition notebooks and legal pads
Composition notebooks have a speckled cardboard cover, lined paper on the inside and a strip of fabric-feeling material down the side that holds everything in place (this type of binding is called a tape bind). Legal pads, sometimes called perforated notebooks since a line of tiny cuts at the top makes the pages easy to tear out, are held together by a strip of paper at the top. Whether you can recycle these items as-is or need to remove the paper from the cardboard varies from place to place. In Boulder, Colorado, residents are allowed to leave legal pads and composition notebooks in one piece. The University of Iowa requires staff members to separate the paper from the cardboard before placing both items in the recycling bin.
A couple more notebook tips
It is possible to buy spiral notebooks, composition books, and other types of notebooks made entirely with recycled paper. Look for them the next time you are shopping for a notebook. New Leaf is one example of a company that makes really nice notebooks from 100-percent recycled paper. If you are the crafty type, try making your own notebooks at home using recycled paper.
Design Sponge
,
Crème de la Craft
, and
Martha Stewart Living
all have easy-to-follow instructions that show you how to turn unwanted paper, cereal boxes and other common household items into stylish notebooks.