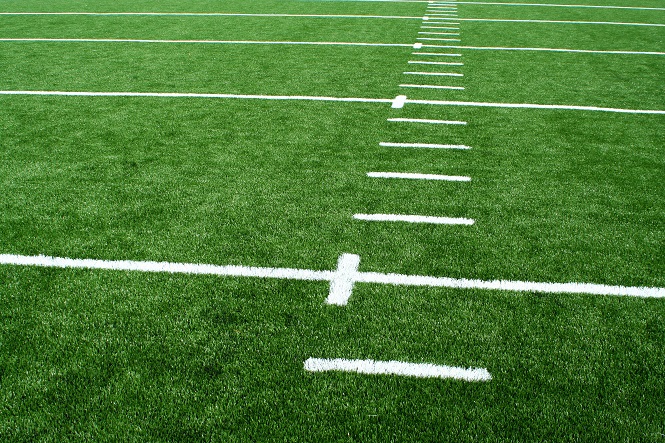 When it comes to sporting events, we sure know how to go big or go home. 2015 has an estimated $14.31 billion in
Super Bowl-related spending
in the U.S. The National Chicken Council estimated a total of
1.25 billion wings consumed
during Super Bowl XLVIII. And Waste Management estimates fans' waste activities from the NFL, MLB, NBA and NHL generate
35,000 metric tons of carbon dioxide each year
. It's a big business, and big business means big consumption and big waste. But sports organizations are aware of the waste and their impact on the environment. From individual team initiatives to league-wide efforts, the world of sports has been making a considerable effort to go green.
Team green
The sports world is full of inspiring stories on going green. For instance, the Detroit Lions have
an official sustainability brand called Repreve
, in which they just entered into their second year in partnership. Repreve uses old plastic bottles to make fabric. "This continued partnership with the Lions provides us a unique platform to educate fans on the importance of recycling and sustainability," said Roger Berrier, president and chief operating officer of Unifi. "Compared to other countries, the United States recycles significantly fewer plastic materials, with less than 32 percent being recycled. Together with the Lions, we can show fans that through the simple act of recycling, they can play a role in transforming plastic bottles into great consumer products." On August 8, during a preseason scrimmage, Lions quarterbacks wore green Repreve jerseys made out of recycled plastic bottles. The company was even there to give fans the chance to win Repreve prizes and tickets to the October 25 game, which is sponsored by Repreve. At that game, Repreve will host the "Make the Smart Throw" challenge, where fans will get the chance to win up to $50,000 for making difficult throws. Repreve will have a national recycling tour later this year. It will go across the U.S., hitting some sports fields along the way, allowing people to donate their old plastic bottles in exchange for Repreve-themed products. Other teams are also going green in ambitious ways. Last spring, Chicago underwent a green campaign as part of the
Sustainable Chicago Sports Project
. The campaign used the handle #greenchisports and also used posters to promote green awareness. The goal of the project is to help implement the best green practices for teams and stadiums, including composting, recycling water, switching stadiums to LED lights and donating food waste. It's all the common sense green initiatives from home applied to the sports world. The University of Chicago also reported the area is already well on its way to being fully green: "The Chicago White Sox, for example, have a permeable parking lot to divert storm water and have made food service operations more sustainable […] by recycling fryer oil and donating leftover food. "Soldier Field, which was the first football stadium to receive LEED-EB – Leadership in Energy and Environmental Design-Existing Building – certification from the U.S. Green Building Council, has a comprehensive recycling and waste diversion program and is currently looking into composting food waste." A larger motivator for the major leagues is also the
Green Sport Alliance
, a nonprofit that helps teams go green and work to curb climate change. Membership now includes 304 total members, 142 teams, 151 venues and 11 leagues, according the Green Sport Alliance website. Events and efforts include
sustainable stadium food
, just to name a couple. As part of these green efforts, the Phillies did Earth Day in a huge way with its Citizens Bank Red Goes Green Night last spring. Activities included giving out free reusable tote bags, letting Shawn Garvin (regional administrator for the U.S. EPA Mid-Atlantic Region) throw out the first ball and assisted recycling collection.
League initiatives
Initiatives also span the major leagues. One common way to achieve sustainability is for leagues to partner with the NRDC. For instance, the NFL's Green Team Committee keeps the
NRDC as an environmental advisor
for all things sustainability. As an example, the NRDC lists some of the assisted initiatives that were set in place for the Philadelphia Eagles at Lincoln Financial Field. The Eagles now obtain 100 percent of its energy needs from purchasing wind energy credits; low-flow bathroom fixtures have cut water consumption by half in the stadium; the field diverts 32 percent of game day waste from landfills towards food donation, recycling and compost; and even employees have received incentives to switch to wind energy at home, to name a few successes. The NFL Green Team in itself is pretty noble. The mission statement reads, "To help ensure that the NFL acts as a responsible steward of the environment by using resources efficiently and minimizing waste. The Green Team's goal is to help improve the NFL's use and management of energy, waste and water at NFL facilities and events, and by providing a set of best practices to NFL clubs." The NRDC also has similar initiatives with the MLB, NBA, NHL, USTA, MLS, GSA and the NCAA. Additionally, the NRDC helps teams give green tips to their fans. The advice includes keeping cars in good condition so fans can get better mileage, commuting to work through public transportation, carpooling or telecommuting, driving smoother (less breaking and accelerating, slowing down and keeping the car light and aerodynamic) to get better mileage, using good motor oil, not using the car unless absolutely necessary, buying in bulk, conserving water, etc. You can
view the full list here
. Different leagues also partner with different sustainability organizations. For instance, the
NBA partners with the Arbor Day Foundation
. One of the events is during the NBA Green Week presented by Sprint, where the NBA and Sprint encourage fans to share via #NBAGreen what they do to "go green." Each time the handle is used, the NBA and Sprint plant one tree with the Arbor Day Foundation.