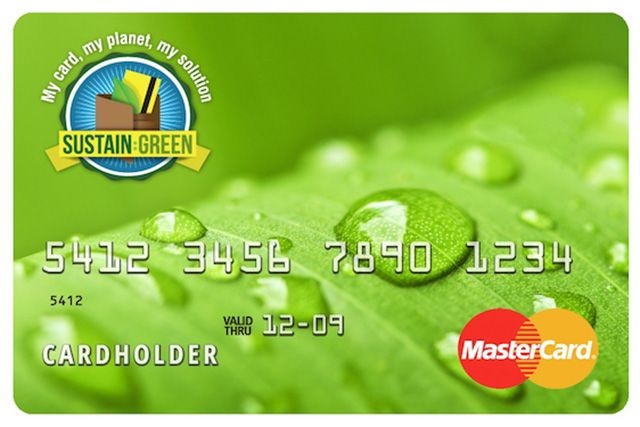 If you have a credit card and are concerned about the environment, there is an option that combines those components into a financial service product with a conscience.
Sustain:Green
is a provider of unique biodegradable credit cards, supported by MasterCard and issued by Commerce Bank, that offer carbon reduction rewards every time you make a purchase. Arthur Newman, co-founder and CEO of Sustain:Green, has a passion for sustainability and, as a former Wall Street Banker, a serious background in finance. He was kind enough to take some time out of his busy schedule to explain some of the benefits Sustain:Green brings to the financial market and the environment. The company was founded on the conviction that social change comes from the small steps individuals take each day and that those small changes in individual actors and actions can lead to major changes in society. According to Sustain:Green, "Change does not come from the top, it comes from people doing what's right." Sustain:Green is committed to giving equal weight to its business, environmental and social missions.
Business Mission
: To create credit and debit cards that generate an environmental benefit every time they are used.
Environmental Mission
: To help foster a healthy environment for current and future generations by using the cards to:
Provide funds to reduce CO2
Provide funds for reforestation
Educate and raise environmental awareness
Promote sustainable practices and lifestyle
Social Mission
: To use the business to generate funds for environmental goals, rather than seeking donations. To look beyond the standard corporate model of profitability, and instead adopt a "triple bottom line," where the social and environmental missions are given equal weight to the economic business mission.
Source:
Sustain:Green
Almost everyone uses a credit card to buy products that have some kind of impact on the environment, so wouldn't it be convenient to use a card that reduces that impact? When consumers use their card, Sustain:Green reduces their carbon footprint by two pounds for every dollar in new merchandise purchases. And on the card's first use (if within 90 days of opening an account), an additional 5,000 pounds of CO2 will be reduced. Carbon offsets rewarded to Sustain:Green cardholders help fund
Mata no Peito
rainforest preservation projects in Brazil. Not only are you reducing your carbon footprint and benefiting the rainforest when using the credit card, the card itself is made of biodegradable PVC. "Biodegradation begins," said Newman, "when the product is introduced into a suitable environment (commercial and home compost, trash dump, or the ground)." Newman added that the credit cards will not dissolve if they simply get wet. In July of 2015, Sustain:Green formed a partnership with
Carbon Trade Exchange
to promote the card and incorporate the CTX global trading platform. "This partnership advances the companies' shared mission of using market-based solutions to address global environmental and social challenges."
Calling on nonprofits and NGOs
Sustain:Green is actively seeking partners, in particular nonprofits and NGO, who are interested in offering their employees, members, supporters and network an eco-friendly credit card that helps advance shared goals of addressing climate change and deforestation. The card reward program also has substantial benefits for businesses and organizations of all sizes seeking to go carbon neutral. The card provides a source of free carbon offsets, which Sustain:Green can complement with direct sales of additional carbon offsets. Sustain:Green can provide employee engagement and education, through its carbon reduction gamification site,
carbonrally.com
, as well as help organizations certify carbon reduction. For more information about Sustain:Green, visit
sustaingreen.com
or
facebook.com/SustainGreen
.