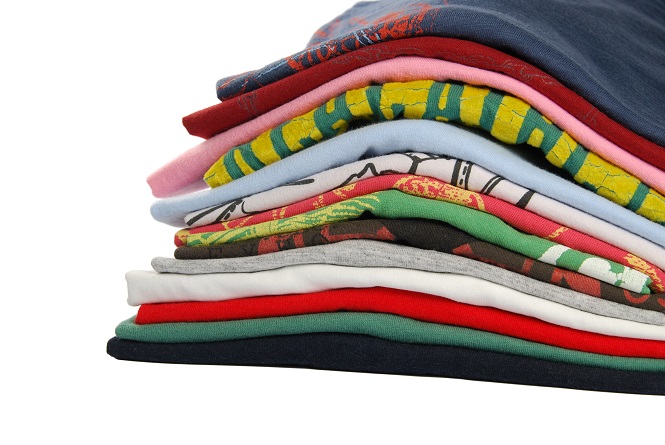 Breakups have at one time or another affected pretty much every adult on the planet, from deciding it isn't working out after a few dates or a few years. There can often be leftover baggage (literally) when a breakup occurs, especially when it comes to random items that belonged to your ex. These items need not be burned but can instead be upcycled into something better! All of those t-shirts laying around (whether yours or theirs) could easily have their destiny changed from bottom of the hamper status to cool new life as a quilt or bag. Try out some of these projects to bring those old tees to life!
No-sew t-shirt tote bag
One of the easiest (and cutest) ways to upcycle an old tee is to turn it into a tote bag. All it takes is the t-shirt of your choice and some sharp fabric scissors. The project involves some minor cuts and some knotting (which can be difficult at first), but
this step-by-step guide
will ease you through the process. Before you know it, you'll be turning every shirt in the house into a tote for every day of the week (and then some). There are many variations of this project, so if you aren't crazy about this one, there are other options towards the bottom of the guide page.
T-shirt dog toy
Dogs love chew toys, especially ones they can play tug-of-war with. Their owners know this, and often shell out a small fortune every year in order to purchase chew toys that end up in small pieces – then the trash. Instead of literally throwing money away, make a dog toy out t-shirts! Much like the tote bag, this DIY dog toy is no-sew. The only materials are two t-shirts and a pair of scissors. The idea is to cut 2-3" inch wide strips into the shirts and then tear upwards. After tying the strips together at one end, you then braid the two shirts together in order to build a fun toy with which Fido to play fetch.
This tutorial
shows just how easy it is to put those old shirts to good use.
T-shirt quilt
This is a very popular project, as t-shirt quilts make awesome gifts and are one-of-a-kind. It's also a great one if you have tons of old t-shirts that were left behind and/or you cannot bear to part with. You will need some sewing know-how in order to complete your quilt, but it's not as hard as you may think. You will need a lot of t-shirts (about 30 or 40), fusible interfacing, sewing machine and notions, rulers, and fabric for the back and inside layer (a thin blanket works nicely for this).
This blog
shows exactly how to make your own t-shirt quilt – but look out! You may begin making shirt quilts for all of your besties.
T-shirt baby romper
Have you ever looked at your husband's old t-shirt collection and thought, "Maybe the baby could wear that?" It's now possible, thanks to this super-easy baby romper project. Cut the sleeves off of a t-shirt, but leave the neck-hole alone (unless it's huge). You will then cut a half-circle out of the bottom for the legs and closure. Attach snaps or buttons around the leg closure and voila! You have a brand-new onesie! Read
this step-by-step guide
(with photos) for a more precise tutorial.
T-shirt aprons
This is by far one of the most adorable upcycling projects for old t-shirts in the universe. It's so simple, you may want to make a baker's dozen. Take a large t-shirt and cut out a large rectangle from one sleeve inseam to the other, ensuring you get the entire logo/design of the shirt inside with a bit leftover at the bottom. You will then fold this end up in order to create pockets for all of your important kitchen tools. Cut strips out of the back remainder of the t-shirt in order to create the waistband ties. Follow
this tutorial
to make your own!
T-shirt pillow
Do you love that old t-shirt feel? Keep it alive by turning a soft shirt into a huggable pillow! This project is excellent for t-shirts of all sizes, and can be a great first sewing project for any age.
This blogger
helped her children cut the front and backs off old shirts and then sewed three sides together, leaving one side open. The kids were then able to stuff the pillow with batting (you can choose whichever material you like) to make it nice and squishy. The open ends are sewn shut and a fun new pillow emerges.