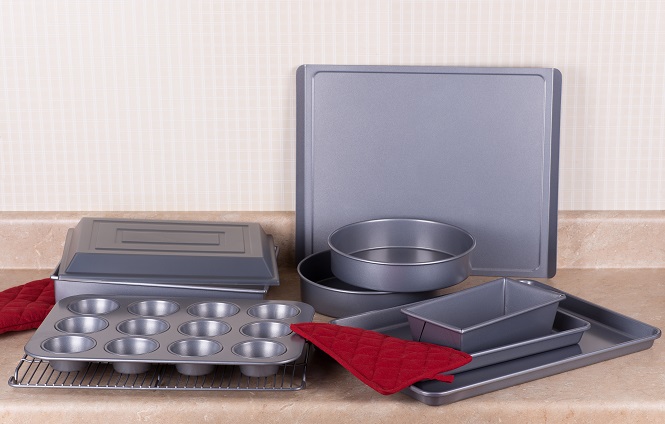 It seems that there comes a point in nearly every person's life where they realize that their pots and pans collection is out of control. If you can barely squeeze everything into that one space under the oven, it's probably time to thin the herd. Besides, a lot of those older metal pieces may have become scratched or tarnished over time, meaning that they may be ineffective or even unsafe to use. And while you could easily donate these pots and pans to a charity or thrift store, you could also give these old pals a new life. Check out these upcycling projects for unwanted pots and pans for some inspiration!
1. Turn a baking sheet into a magnetic command center
When trying to manage life and its very busy schedule, a home message board/command center is essential. This is where keys, family memos, shopping lists, menus and more come together – one single spot where everyone can see what's going on. For a fun magnetic board for your kitchen, take an old baking sheet and spray paint it the color of your choice (you could also use chalkboard paint for a more vintage look). Once the paint has dried, use Command strips to attach the sheet to the wall. Grab some old magnets (or make some, like in
this tutorial
), and ta-da! A brand new home command center that didn't cost a dime.
2. Make a jewelry organizer out of muffin pans
Need an easy and inexpensive way to separate your jewelry? Muffin tins work perfectly – plus they're essentially free if they come from your own cupboard. Otherwise, you can always run to the thrift store and pick up a few extra. You can leave the pans as they are for a more rustic look or spray paint them as you like. This is an especially useful upcycle when holding a garage or yard sale, as you can display items separately and throw a price tag on the pan that says, "$1 each." *The writer of this piece used this method at her recent yard sale and it was a huge hit.
3. Use sauce pans to create funky birdhouses
This ambitious project will get those random sauce pans out of the kitchen cabinet and out into the yard, inviting feathered friends of all types to stop by. The most difficult part of this project is cutting a hole in the pan's lid to create the opening for the birds to get in. However, if you follow
this step-by-step guide
, you'll get the idea in no time. Attach an old doorknob or other cute piece for a perch under the hole and make sure to adhere the lid to the pan using a metal hinge. Hang the new birdhouses you make by their handles, and you'll be hearing the sweet sounds of songbirds in no time.
4. Let a bundt pan house your makeup
Probably one of the easiest – and most useful – upcycles on this list has to be the bundt pan makeup holder. Simply take an old bundt pan (repainted or not) and place it in your bathroom, closet or wherever your makeup lives. The middle of the pan that sticks up is perfect for brushes, while all of the other essentials surround them in the pan itself. Give it an easy spin for handy access to cover-up, lipstick or even hairspray. Check out
this blog
for more inspiration.
5. Create a planter out of a loaf pan
This upcycled loaf pan project is adorable and would perk up any desk or kitchen windowsill. Collect a loaf pan, four wooden craft balls, a drill, paint and adhesive. Paint your pan however you'd like and then let it dry. Afterwards, drill a few drainage holes in the bottom using a small bit. Paint the wooden balls and glue to the bottom of the pan for use as a base. Add some soil and plants or flowers and voila! A cute new planter for your home.
Check out this step-by-step guide
for more information.