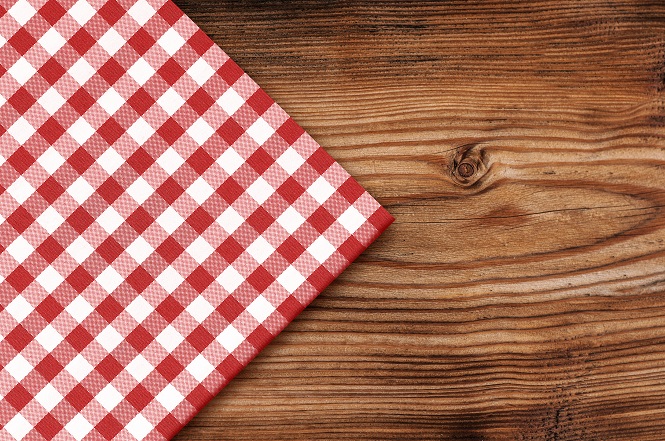 Labor Day: the official end of summer. But as bittersweet as the last hurrah of summer is, it's also a long weekend full of cookouts and fun with family. What better time to get everyone in the green living mode than around some grilled food, when everyone is remembering how great the outdoors are this time of year? Below are 10 ways to have an eco-friendly Labor Day party everyone can enjoy.
Remember the disposables
The easiest and quickest way to have a green Labor Day party is to get rid of all the disposable dishware that are all the rage at cookouts. Break out the plastic, reusable dishware and simply wash the dishes at the end of the night. Get rid of the cans and bottles by serving drinks out of pitchers or kegs. Some good ideas for pitcher drinks include punch, ice water with lemon slices and home squeezed fruit juice. You can also find locally produced wine and reuse the bottle in a fun upcycle project. When looking for decorations, also remember to go for reusable tablecloths and items like reusable string lights.
Go for the outdoor activities
Rather than watching everyone sit around on their cell phones or sitting inside taking up electricity, get people involved in some outdoor sports that take more human fuel than non-renewable fuel, if the weather permits. Games like volleyball, horseshoes, darts, croquet, bocce ball, Frisbee, soccer or badminton all have reusable equipment and can be played with some space in the backyard and good ol' human energy.
Make as much food as possible
Rather than reaching for the pre-packaged tray of brownies, make your own with a reusable tray. The key is to think about less packaging. Instead of getting precut, individually wrapped hamburger patties, buy the meat in a larger serving and press your own patties. Get vegetables and fruit for the party from a local farmer's market and keep it in reusable containers. Fry food at home, like chicken you can buy in bulk and then freeze. You can then reuse the fry oil for other meals later. There's a good guide for reusing fryer oil
here
. For every item that comes prepackaged, you can make a cheaper, tastier version at home.
Opt for a local, healthy and organic menu
Rather than running to the store for potato salad that was made with ingredients shipped from a million miles away, try to make your own recipes based on what is available from the local farmer's market seasonally. A great way to make use of your seasonal produce is to grill up some veggie and fruit kebabs. You can also serve up some healthy salads, lighter veggie-oriented pasta salads and grill up some organic chicken. There's a great list of healthy,
organic recipes at Organic Authority
.
Buy in bulk
When shopping, make sure to buy the food you need for the party in bulk. That equates to less packaging and you can always freeze or store what you don't use at the party for later. A good tip for buying in bulk is to hit up local farmer's markets right before they close to try to score some bulk deals as the farmers are packing up (oftentimes they won't want to pack up and haul away the leftover produce). Otherwise, consider buying fresh meat in bulk directly from a local butcher, buy larger servings at the grocery store or look for bulk retailers and wholesalers.
Grill eco-friendly
Try to grill with gas, which burns cleaner than wood or charcoal. If you're a wood-burning devotee, opt for Rainforest Alliance Smartwood program's certified grilling wood chips. After grilling, wood ash can be used in the garden in conservative amounts, but charcoal ash will need to be disposed of. Also, when you're done grilling your veggies, throw any leftovers into a compost pile. Don't clean your grill with harsh, unnatural grill cleaners. Cleaning the grate before cooking by using
baking soda paste and a wire brush will do the job
. Also, try to scrape the grill while it's hot in order to clean it easier. When in doubt, consider investing in an eco-friendly grill, like the
ones you can find here
.
Use e-vites
Want to get the word out about your party? Skip the mail, save the paper and just send e-vites instead via email. It's easier, it's cheaper (no postage) and it'll save printer ink. If you want to go paper, consider using recycled paper for the invites.
Love your leftovers
Remember to minimize waste by keeping the leftovers. It may seem like a no-brainer, but it's so easy to just chuck something in the garbage rather than getting creative with it later, or worse, putting the party leftovers in the fridge and leaving them until they go bad a week later. Remember to reuse the party food in sandwiches, wraps, casseroles and tasty salads. You can find a
list of leftover recipes here
. Also, don't forget to spread the wealth by having your guests take home some leftovers as well.
Consider a potluck
Another way to get creative is to have your guests bring their own dishes. That way you can encourage your guests to bring organic, sustainable food. You can also keep track of what you bring. For instance, everyone else can bring veggies and you can handle the organic meat.
Green the whole long weekend
You don't need to stop your green activities at the Labor Day cookout. Make the whole three-day weekend green with these family green
projects from blogger Lisa Carey
: get your family involved in starting a compost bin or water garden together, set up rain barrels, plant a tree in honor of all the hard work American workers do for the country since it's Labor Day weekend, plant native plants in the backyard garden, hang laundry out to dry, play outdoors and cook out all weekend to minimize electricity use, collect ink cartridges and old electronics to recycle.